Anna D. Shapiro Will Direct Elton John and Shaina Taub's THE DEVIL WEARS PRADA Musical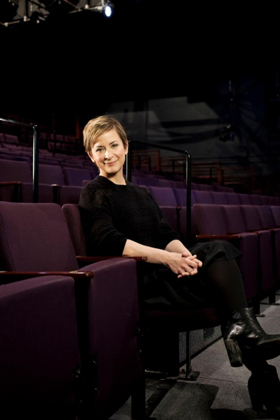 Tony Award-winner Anna D. Shapiro will direct the upcoming musical The Devil Wears Prada, with music by Sir Elton John, lyrics by Shaina Taub, and book by Paul Rudnick.
Based on Lauren Weisberger's best-selling 2003 novel and the 2006 blockbuster film from Fox 2000 Pictures, the new musical is produced by Kevin McCollum, Fox Stage Productions, and Rocket Entertainment.
A production time-line and casting will be announced at a later date.
Anna D. Shapiro, the artistic director of Steppenwolf Theatre Company, won the Tony Award in 2008 for directing August: Osage County on Broadway. She also received a Tony nomination for directing The Motherf****r with the Hat in 2011.
On the announcement, Ms. Shapiro said, "I am truly honored to be a part of this incredible project. Working with Shaina, Paul, and Sir Elton has already proven to be one of the great thrills of my career, and I look forward to bringing Lauren's beloved world to the stage."
The Devil Wears Prada is the story of Andy Sachs, a smart, curious, and innocent young woman making her way in the world. Andy's a few years out of college and, while she's determined to become a serious writer, she's waylaid into a job as a second assistant at Runway, the world's foremost fashion magazine. Andy ends up working for Miranda Priestly, Runway's legendary, notorious Editor-in-Chief. Miranda is brilliant, impossibly demanding, and merciless. She introduces Andy to 15-hour workdays, the glory and complexity of fashion, and the dazzle of Fashion Week in Paris. Along the way, Andy finds friendship, romance, and a killer wardrobe. She also begins to grow up and decide exactly who she truly wants to be, amid the many temptations of a high-octane Manhattan career. The Devil Wears Prada explores a world that's passionate, comic, and touching. As Andy discovers, it's a great ride.
The Devil Wears Prada was released in cinemas in June 2006 and went on to gross $326 million worldwide. Lauren Weisberger's original novel spent six months on The New York Times bestseller list.
Anna D. Shapiro is a Tony Award-winning director and artistic director of Steppenwolf Theatre Company. She has directed several notable productions at Steppenwolf, including August: Osage County (2008 Tony, Drama Desk, and Outer Critics Circle Awards), The Motherf****r with the Hat (also on Broadway, 2011 Tony nomination for Best Director), The Minutes, Visiting Edna, Mary Page Marlowe, and Man from Nebraska. Broadway credits include Larry David's Fish in the Dark, Straight White Men, Of Mice and Men, and the 2014 production of This Is Our Youth. Shapiro is a graduate of the Yale School of Drama and Columbia College, and the recipient of a 1996 Princess Grace Award, as well as the 2010 Princess Grace Statue Award. She is a professor in Northwestern University's Department of Theatre with an endowed Chair teaching in the Directing and Acting MFA programs.
Photo Credit: Frank Ishman