'American Captives: Lena Baker & Sandra Bland' Comes to Dixon Place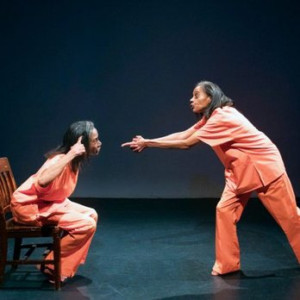 Performances have begun for American Captives: Lena Baker & Sandra Bland, written and performed by Connie Winston and directed by Rhonda "Passion" Hansome. The limited engagement will play at Dixon Place Fridays and Saturdays through October 20 at 7:30pm.
This poignant visceral theatrical experience combines the two stories of Lena Baker and activist -turned victim Sandra Bland. After a one-day trial in 1945, an all-white male jury deliberates for under an hour and sentences Lena Baker to death for killing her abusive lover. Three days after being pulled over by a Texas State Trooper in 2015 for not using a turn signal, Sandra Bland was found dead in a Waller County jail cell. American Captives: Lena Baker & Sandra Bland articulates how little has changed in the relationship between Black women and the United States justice system during the 60 years between the deaths of Lena and Sandra. This unapologetic personal accounting bares new awareness of timeworn atrocities. Click here to access American Captives: Lena Baker & Sandra Bland
Artist/Actor Makeia said, "When I say powerful I'm talking breath-taking. Make sure you have enough air in your lungs when you get there. Don't need anybody passing out." New York City theater-goer Tita said, "Connie [Winston's] writing and acting and Passion's direction connect us so deeply to the people she brings to life that the painful stories become bearable - a healing, communal act of bearing witness in the theater with the hope that knowledge can turn into action. You'll have an incredible experience if you can find your way to Dixon Place (161A Chrystie St - Lower East Side) in next two weeks."
Tickets for American Captives: Lena Baker & Sandra Bland are on sale now at Dixon Place (161A Chrystie Street) in Manhattan. Tickets are $18 in advance, $22 at the door, and $15 for students and seniors. Group rates are available. For tickets and further information please visit www.dixonplace.org or call 866-811-4111 for tickets. This Dixon Place commission is made possible, in part, with private funds from the Puffin Foundation and public funds from the NY State Council on the Arts, with the support of Governor Andrew Cuomo and the NY State Legislature.
The Dixon Place Lounge is open before and after the show. Proceeds from the bar directly support Dixon Place's artists and mission.
Dixon Place is located at 161A Chrystie Street (between Rivington and Delancey), in Manhattan's Lower East Side (By subway: B/D to Grand, F to 2nd Ave, J/Z to Bowery, 6 to Spring St, M to Essex St).
Connie Winston has performed at New York City venues such as La Mama ETC, Dixon Place, New Dramatists, the Ohio Theatre, Soho Rep, HERE Arts Center, Brooklyn Academy Of Music and Lincoln Center; and has worked extensively with the Talking Band. Winston has created numerous original 'docu-drama' performance pieces: My Name is Harriet Tubman (commissioned by Plays for Living), The Autobiography of Dorothy Dean (first presented by Dixon Place), Confession, and On Griffin Alley (workshopped with the Drama Department of Bennington College). She has directed productions of August Strindberg's, The Stronger, Trifles by Susan Glaspell, and No Good War by Tali Ariav, developed with the Playwrights' Workshop at the University of Iowa. She adapted Eudora Welty's short story A Worn Path for the stage, and has been published in the African American National Biography (Oxford University Press) Black Masks Magazine, and Nka Journal of Contemporary African Art. Connie received her MFA in dramaturgy from the University of Iowa, an MA in performing arts from Emerson College and a BA in theatre from SUNY/New Paltz. Connie is seen on re-runs of TV series' Conviction and Law & Order in her recurring role as Judge Shirley Taylor.
Rhonda "Passion" Hansome has directed over thirty-five productions, including Saviour? (Dwyer Cultural Center), Another Man's Poison, Antigone Asata Shakur, T'was The Night Before Kwanzaa (Black Spectrum and Billie Holiday Theaters), and Real Black Men Don't Sit Crosslegged On The Floor (New Federal Theater, Best Ensemble AUDELCO Award.) At the National Black Theater Festival, Bermuda Festival and New Federal Theater she directed Melba Moore's Sweet Songs of the Soul; and in the NY International Fringe Festival she directed Damon & Debra and Black Martian. Other festivals include Voices From The Edge, NYU Festival of New Works, Chekov NOW, Potpourri, Estrogenius, and Going To The River. Hansome is a member of the Workshop Theater Company, Lincoln Center Theater Directors Lab, Women's Project Directors Forum, SDC and is an AUDELCO Outstanding Pioneer Honoree.
An artistic incubator since 1986, Dixon Place is a Bessie and Obie Award-winning non-profit institution committed to supporting the creative process by presenting original works of theater, dance, music, puppetry, circus arts, literature and visual art at all stages of development. Presenting over 1000 creators a year, this local haven inspires and encourages diverse artists of all stripes and callings to take risks, generate new ideas and consummate new practices. Many artists, such as Blue Man Group, John Leguizamo, Lisa Kron, David Cale, David Drake, Deb Margolin and Reno, began their careers at DP. In addition to emerging artists, Dixon Place has been privileged to present established artists such as Mac Wellman, Holly Hughes, Justin Bond, Karen Finley, Kate Clinton and Martha Wainwright. After spawning a salon in her Paris apartment in 1985, founding Artistic Director Ellie Covan pioneered the institution in her NYC living room for 23 years. Covan was a recipient of a Bessie, a New York Dance and Performance Award and a Bax10 Award for her service to the community. Dixon Place received two Obie Awards, and an Edwin Booth Award for Excellence in Theater. Dixon Place has organically developed and expanded into a leading professional, state-of-the-art facility for artistic expression.