Now Playing Onstage in Tulsa - Week of 3/30/2014
View All Show Listings for Tulsa
Click Here to View BroadwayWorld.com Tulsa Calendar
JESUS CHRIST SUPERSTAR
The Sooner Theatre
3/28-4/6/2014
It seems especially fitting that the first rock opera, created as a concept album at the end of the turbulent '60s, should have at its center a social and political rebel. Jesus' meteor-like rise in renown provides, as the title suggests, a parallel to contemporary celebrity worship. As his radical teachings are evermore embraced, Judas increasingly questions the enlightened motives of this new prophet, resulting in betrayal. Christ's final days are dramatized with emotional intensity, thought-provoking edge and explosive theatricality. Propelled by a stirring score, by turns driving and majestic, satirical and tender, JESUS CHRIST SUPERSTAR illuminates the transcendent power of the human spirit with a passion that goes straight to the heart.Lyrics by
Tim Rice
; Music by
Andrew Lloyd Webber
Click Here for More Information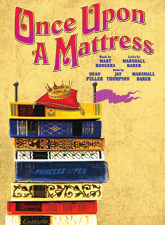 ONCE UPON A MATTRESS
Sulphur High School
4/4-4/6/2014
If you thought you knew the story of 'The Princess and The Pea,' you may be in for a walloping surprise! Did you know, for instance, that Princess Winnifred actually swam the moat to reach Prince Dauntless the Drab? Or that Lady Larken's love for Sir Harry provided a rather compelling reason that she reach the bridal altar post haste? Or that, in fact, it wasn't the pea at all that caused the princess a sleepless night? Carried on a wave of wonderful songs, by turns hilarious and raucous, romantic and melodic, this rollicking spin on the familiar classic of royal courtship and comeuppance provides for some side-splitting shenanigans. Chances are you'll never look at fairy tales quite the same way again.Music by
Mary Rodgers
; Book by
Jay Thompson
&
Dean Fuller
&
Marshall Barer
; Lyrics by
Marshall Barer
Click Here for More Information
JOSEPH AND THE AMAZING TECHNICOLOR DREAMCOAT
Tulsa Performing Arts Center [Chapman Music Hall]
4/1-4/6/2014
One of the most enduring shows of all time, Joseph and the Amazing Technicolor Dreamcoat is the irresistible family musical about the trials and triumphs of Joseph, Israel's favorite son. The first collaboration of composer
Andrew Lloyd Webber
(Jesus Christ Superstar, Phantom of the Opera, Cats) and lyricist
Tim Rice
(Jesus Christ Superstar, The Lion King), JOSEPH blends pop, country and rock into an uplifting, technicolored story of biblical proportions. Broadway and television star
Diana DeGarmo
(Narrator) and Broadway star
Ace Young
(Joseph) lead the production. Retelling the Biblical story of Joseph, his eleven brothers and the coat of many colors, this magical musical is full of unforgettable songs including Those Canaan Days, Any Dream Will Do and Close Every Door.
Click Here for More Information
THE SOUND OF MUSIC
Chandler High School
4/4-4/6/2014
The final collaboration between Rodgers & Hammerstein was destined to become the world's most beloved musical. When a postulant proves too high-spirited for the religious life, she is dispatched to serve as governess for the seven children of a widowed naval Captain. Her growing rapport with the youngsters, coupled with her generosity of spirit, gradually captures the heart of the stern Captain, and they marry. Upon returning from their honeymoon they discover that Austria has been invaded by the Nazis, who demand the Captain's immediate service in their navy. The family's narrow escape over the mountains to Switzerland on the eve of World War II provides one of the most thrilling and inspirational finales ever presented in the theatre. The motion picture version remains the most popular movie musical of all time.Music by Rodgers, Richard; Lyrics by
Oscar Hammerstein
II; Book by
Howard Lindsay
&
Russel Crouse
; Suggested by
Click Here for More Information
HOW TO SUCCEED IN BUSINESS...TRYING
SHAWNEE LITTLE THEATRE
4/4-4/12/2014
Power, sex, ambition, greed... it's just another day at the office. From the authors of GUYS AND DOLLS comes one of the most delightfully irreverent musicals of all time. A satire of big business and all it holds sacred, HOW TO SUCCEED IN BUSINESS WITHOUT REALLY TRYING follows the rise of J. Pierrepont Finch, who uses a little handbook called "How To Succeed In Business Without Really Trying" to climb the corporate ladder from lowly window washer to high-powered executive, tackling such familiar but potent dangers as the aggressively compliant "company man," the office party, backstabbing co-workers, caffeine addiction and, of course, true love.Winner of the 1962 Pulitzer Prize for Drama, HOW TO SUCCEED melds wit, comedy, and romance together to perfection. This show requires a large cast, featuring many roles for all types of performers.
Click Here for More Information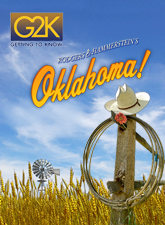 OKLAHOMA!
Broken Arrow Community Playhouse
4/4-4/13/2014
The 'G2K' Getting To Know Series: Uniquely adapted musicals specifically for youth performers.
Rodgers & Hammerstein
's first collaboration remains, in many ways, their most innovative, having set the standards and established the rules of musical theatre still being followed today. Set in a Western Indian territory just after the turn of the century, the high-spirited rivalry between the local farmers and cowboys provides the colorful background against which Curly, a handsome cowboy, and Laurey, a winsome farm girl, play out their love story. Although the road to true love never runs smooth, with these two headstrong romantics holding the reins, love's journey is as bumpy as a surrey ride down a country road. That they will succeed in making a new life together we have no doubt, and that this new life will begin in a brand-new state provides the ultimate climax to the triumphant OKLAHOMA! In this adaptation for pre-high school students, the content has been edited to better suit younger attention spans, but all the elements that make this show a classic are still in place. You and your students will be enchanted by the timeless story and the dazzling score, while at the same time learning about theater and its production. Music by Rodgers, Richard; Book and Lyrics by
Oscar Hammerstein
II; Based on the play GREEN GROW THE LILACS by
Lynn Riggs
; Original Dances by
Agnes de Mille
Click Here for More Information
JESUS CHRIST SUPERSTAR
Oklahoma
City Theatre Company
4/3-4/20/2014
It seems especially fitting that the first rock opera, created as a concept album at the end of the turbulent '60s, should have at its center a social and political rebel. Jesus' meteor-like rise in renown provides, as the title suggests, a parallel to contemporary celebrity worship. As his radical teachings are evermore embraced, Judas increasingly questions the enlightened motives of this new prophet, resulting in betrayal. Christ's final days are dramatized with emotional intensity, thought-provoking edge and explosive theatricality. Propelled by a stirring score, by turns driving and majestic, satirical and tender, JESUS CHRIST SUPERSTAR illuminates the transcendent power of the human spirit with a passion that goes straight to the heart.Lyrics by
Tim Rice
; Music by
Andrew Lloyd Webber
Click Here for More Information
View All Show Listings for Tulsa
Click Here to View BroadwayWorld.com Tulsa Calendar