Now Playing Onstage in Rhode Island - Week of 4/27/2014
View All Show Listings for Rhode Island
Click Here to View BroadwayWorld.com Rhode Island Calendar
DISNEY'S THE LITTLE MERMAID JR
GREYSTONE ELEMENTARY SCHOOL
5/1-5/2/2014
In a magical kingdom fathoms below, the beautiful young mermaid Ariel longs to leave her ocean home to live in the world above. But first, she'll have to defy her father King Triton, make a deal with the evil sea witch Ursula, and convince Prince Eric that she's the girl with the enchanting voice. Adapted from Disney's 2008 Broadway production, Disney's THE LITTLE MERMAID JR. features the hit songs "Part of Your World," "She's in Love," and the Oscar-winning "Under the Sea."
Click Here for More Information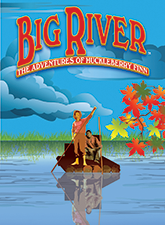 BIG RIVER
La Salle Academy
5/1-5/3/2014
Twain's timeless classic sweeps us down the mighty Mississippi as the irrepressible Huck Finn helps his friend Jim, a slave, escape to freedom at the mouth of the Ohio River. Their adventures along the way are hilarious, suspenseful and heartwarming, bringing to life your favorite characters from the novel-the Widow Douglas and her stern sister,
Miss Watson
; the uproarious King and Duke, who may or may not be as harmless as they seem; Huck's partner in crime,
Tom Sawyer
, and their rowdy gang of pals; Huck's drunken father, the sinister Pap Finn; the lovely Mary Jane Wilkes and her trusting family. Propelled by an award winning score from
Roger Miller
, the king of country music, this jaunty journey provides a brilliantly theatrical celebration of pure Americana.Music by
Roger Miller
; Lyrics by
Roger Miller
; Book by
William Hauptman
; Adapted from the novel by
Mark Twain
Click Here for More Information
LA CAGE AUX FOLLES
Stadium Theatre Performing Arts Centre
5/2-5/4/2014
La Cage Aux Folles! Presented by The Encore Repertory Company After twenty years of un-wedded bliss Georges and Albin, two men partnered for better-or-worse get a bit of both when Georges' son (fathered during a one-night fling) announces his impending marriage to the daughter of a bigoted, right-wing politician. Further complicating the situation is the 'family business': Albin and Georges run a drag nightclub in St. Tropez, where Albin is the "star" performer 'Zaza'. Georges reluctantly agrees to masquerade as "normal" when he meets the family of the bride-to-be. But Albin has other plans, with hilarious results.
Click Here for More Information
OLD LOVE
Granite Theatre
4/11-5/4/2014
"Old Love" by Norm Foster - From the author of THE LOVE LIST, the story spans three decades and half a dozen meetings between Bud, a salesman, and Molly, his boss' wife. One of them is smitten from the very first meeting - the other, let's just say - less so. The story is straightforward, easy and funny. Canada's pre-eminent comic playwright Norm Foster has written a clever and witty dialogue celebrating the pursuit of love, the kind of love that makes you breathe just a little bit faster. Charmingly written, Foster's use of one-liners serve the script well and has the audience smiling, chuckling and laughing throughout the entire play.
Click Here for More Information
VERONICA MEADOWS
Trinity Repertory Co
4/3-5/4/2014
Stephen Thorne
.
Click Here for More Information
THE BOOK OF MORMON
Providence Performing Arts Center
4/29-5/11/2014
Ben Brantley
of The New York Times calls it "The Best Musical of this Century." Entertainment Weekly says it's "the funniest musical of all time." From South Park creators
Trey Parker
and
Matt Stone
, it's The Book of Mormon, winner of nine Tony Awards including Best Musical.
Jon Stewart
of The Daily Show calls it "a crowning achievement. So good it makes me angry."
Click Here for More Information
42ND STREET
Ocean State Theatre
4/23-5/11/2014
Rounding out the season at Ocean State Theatre is the tap dance extravaganza, 42nd Street. Based on the 1933 movie musical of the same name, this timeless, inspiring story focuses on a naive young aspiring chorus girl named Peggy Sawyer, who is plucked out of the chorus to save the show when leading lady, Dorothy Brock breaks her ankle. This classic backstage story celebrates the hard work, talent and love of those involved in Broadway shows. Winner of the 1980 Tony® Award for "Best New Musical" and the 2001 Tony® Award for "Best Revival of a Musical," this family-friendly musical features a hit parade of songs including "Lullaby of Broadway," "We're in the Money," "Shuffle Off to Buffalo" and the spectacular title number. 42nd Street is Broadway razzle-dazzle at its finest!
Click Here for More Information
THE THREE MUSKETEERS
Swamp Meadow Community Theatre
5/2-5/11/2014
Sent largely in Paris in the year 1625, young D'Artagnan sets out to join the King's Musketeers, an elite guard manned only by the very best. Befriending Musketeers Athos, Porthos, and Aramis, the four companions seek to uphold the honor of King Louis XIII by foiling the plots of the Cardinal Richelieu and his spy, Milady. They succeed, but not before escaping harrowing situations and traveling across Europe at the behest of the Queen.
Click Here for More Information
THE BOOK OF MORMON
Providence Performing Arts Center
4/29-5/11/2014
THE BOOK OF MORMON features book, music and lyrics by
Trey Parker
,
Robert Lopez
and
Matt Stone
. Parker and Stone are the four-time Emmy Award-winning creators of Comedy Central's landmark animated series, "South Park." Tony Award-winner Lopez is co-creator of the long-running hit musical comedy, Avenue Q. The world premiere musical is choreographed by five-time Tony Award-nominee
Casey Nicholaw
(Monty Python's Spamalot, The Drowsy Chaperone) and is directed by Nicholaw and Parker. THE BOOK OF MORMON, which follows a pair of mismatched Mormon boys sent on a mission to a place that's about as far from Salt Lake City as you can get, has been nominated for 14 Tony Awards, including Best Musical; 12 Drama Desk Awards, including Best Musical; 6 Outer Critics Circle Awards, including Best Musical and the Drama League Award for Best Musical. THE BOOK OF MORMON is also the recipient of the New York Drama Critics' Circle Award for Best Musical.
Click Here for More Information
TIME STANDS STILL
2nd Story Theatre
4/18-5/18/2014
This wartime drama encompasses universal problems and personal issues with equal compassionate insight. It's an intelligent, perceptive, often funny, sometimes surprising, and always compelling piece of contemporary theatre.
Click Here for More Information
MY HUSBAND'S WILD DESIRES (ALMOST DROVE ME MAD!)
Newport Playhouse
3/27-5/24/2014
The bedroom spark has fizzled for a man and his wife. The man decides to take the bull by the horns and discovers a way to bring the flame back! Throw in the building superintendent and a nervous burglar, and the result is a comedy gone amok that will have you rolling in the aisles with laughter!
Click Here for More Information
PSYCHO BEACH PARTY
2nd Story Theatre
5/2-6/1/2014
This shotgun marriage of Hitchcockian psychological suspense and Beach Blanket Bingovian epics triggers tidal waves of laughter, tsunamis of tsilliness. Is it Gidget goes berserk? Or Marnie goes Maui? You decide.
Click Here for More Information
BLACKBIRD
Gamm Theatre
5/1-6/1/2014
Scottish playwright
David Harrower
's most acclaimed and most controversial play, Blackbird "is theater at its most elemental," says The New York Times. In a littered factory break room, 55-year-old Ray and 27-year-old Una engage in a confrontation so real and raw that you feel you should look away. But how can you? Fifteen years earlier, the two had a sexual affair...when she was 12. Ray has assumed a new identity and a new life following his imprisonment, while Una has not stopped searching for answers to her conflicting emotions. What emerges from the recriminations and explanations is a complex relationship that blurs the boundaries between love and lust, obsession and abuse. Uncompromising, shocking and surprisingly tender, Blackbird will leave you hanging on every word and every uncomfortable silence.
Click Here for More Information
View All Show Listings for Rhode Island
Click Here to View BroadwayWorld.com Rhode Island Calendar