Now Playing Onstage in Portland - Week of 12/08/2013
View All Show Listings for Portland
Click Here to View BroadwayWorld.com Portland Calendar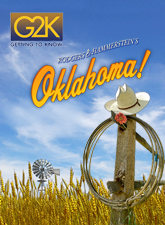 OKLAHOMA!
South Salem High School
12/5-12/14/2013
G2K Oklahoma!The 'G2K' Getting To Know Series: Uniquely adapted musicals specifically for youth performers.
Rodgers & Hammerstein
's first collaboration remains, in many ways, their most innovative, having set the standards and established the rules of musical theatre still being followed today. Set in a Western Indian territory just after the turn of the century, the high-spirited rivalry between the local farmers and cowboys provides the colorful background against which Curly, a handsome cowboy, and Laurey, a winsome farm girl, play out their love story. Although the road to true love never runs smooth, with these two headstrong romantics holding the reins, love's journey is as bumpy as a surrey ride down a country road. That they will succeed in making a new life together we have no doubt, and that this new life will begin in a brand-new state provides the ultimate climax to the triumphant OKLAHOMA! In this adaptation for pre-high school students, the content has been edited to better suit younger attention spans, but all the elements that make this show a classic are still in place. You and your students will be enchanted by the timeless story and the dazzling score, while at the same time learning about theater and its production. PLEASE NOTE: All schools wishing to peruse or perform a G2K musical should apply through the
Click Here for More Information
DISNEY'S ALADDIN JR
SOUTH ALBANY HIGH SCHOOL
12/6-12/16/2013
Welcome to Agrabah, City of Enchantment, where every beggar has a story and every camel has a tail! All of your favorite characters are here in Disney's ALADDIN JR., a stage adaptation of the Disney hit film. Filled with magic, mayhem, and flying carpet rides, audiences' spirits will soar with excitement. Most of all, the tuneful, Academy award-winning score with songs including "A Whole New World" and "Friend Like Me" will certainly make this musical a favorite for many years to come!
Click Here for More Information
ANNIE
THEATRE IN THE GROVE
12/6-12/22/2013
Leapin' Lizards! The popular comic strip heroine takes center stage in one of the world's best-loved musicals. With equal measures of pluck and positivity, little orphan ANNIE charms everyone's hearts, despite a next-to-nothing start in 1930s New York City. She is determined to find her parents, who abandoned her years ago on the doorstep of a New York City Orphanage run by the cruel, embittered Miss Hannigan.With the help of the other girls in the Orphanage, ANNIE escapes to the wondrous and magical world of NYC. In adventure after fun-filled adventure, ANNIE foils Miss Hannigan's evil machinations and befriends President Franklin Delano Roosevelt. She finds a new home and family in billionaire Oliver Warbucks, his personal secretary
Grace Farrell
, and a lovable mutt named Sandy. ANNIE is the perfect family-friendly musical, and an ideal show for a largely female cast. Middle Schools and elementary schools should also take notice of ANNIE JR - a special version of this title expressly designed for younger performers.
Click Here for More Information
THE SECOND CITY'S A CHRISTMAS CAROL: TWIST YOUR DICKENS
Portland Center Stage
11/16-12/22/2013
Main Stage:
Peter Gwinn
, Bobby Mort; dir: Matt Hovde.
Click Here for More Information
DISNEY'S BEAUTY AND THE BEAST
PIXIE DUST PRODUCTIONS
12/14-12/29/2013
Step into the enchanted world of Broadway's modern classic, Disney's BEAUTY AND THE BEAST! Based on the Academy-Award winning animated feature, the stage version includes all of the wonderful songs written by
Alan Menken
and the late
Howard Ashman
along with new songs by Mr. Menken and
Tim Rice
. Your audiences will be transported to the heart of provincial life in a lovely French town. When Maurice becomes lost in the woods on the way to the fair, he seeks shelter in an old castle, but the master of the castle is a horrible beast that takes him captive. Maruice's daughter, Belle, must then give up her freedom to save his life. Belle's taming of the unfortunate Beast and his ultimate transformation back into a handsome prince enthralled Broadway audiences for over 13 years. This "tale as old as time" is filled with spectacular costume and set opportunities, or even more simply staged, Disney's BEAUTY AND THE BEAST offers a great opportunity to bring your entire community together for family theatre at its best.
Click Here for More Information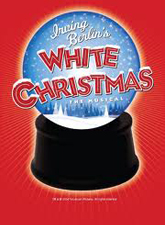 WHITE CHRISTMAS
Coaster Theatre Productions
11/15-12/29/2013
White ChristmasBased on the beloved, timeless film, this heartwarming musical adaptation features seventeen
Irving Berlin
songs and a book by
David Ives
and
Paul Blake
. Veterans Bob Wallace and Phil Davis have a successful song-and-dance act after World War II. With romance in mind, the two follow a duo of beautiful singing sisters en route to their Christmas show at a Vermont lodge, which just happens to be owned by Bob and Phil's former army commander. The dazzling score features well known standards including Blue Skies, I Love A Piano, How Deep Is the Ocean and the perennial favorite, White Christmas. WHITE CHRISTMAS is an uplifting musical worthy of year-round productions.
Click Here for More Information
THE REASON FOR THE SEASON
Artists Repertory Theatre
11/26-12/29/2013
Morrison Stage:
Matt Pelfrey
; dir:
Rusty Tennant
.
Click Here for More Information
THE NIGHT BEFORE CHRISTMAS
Artists Repertory Theatre
11/26-12/29/2013
Morrison Stage:Anthony Neilson; dir: Louanne Moldovan.
Click Here for More Information
A CHRISTMAS CAROL
Portland Playhouse
12/15-12/29/2013
Portland Playhouse:
Charles Dickens
; dir:
Cristi Miles
.
Click Here for More Information
NOISES OFF
Third Rail Repertory Theatre
12/6-1/11/2014
Winningstad Theatre:
Michael Frayn
; dir: Scott Yarbrough.
Click Here for More Information
View All Show Listings for Portland
Click Here to View BroadwayWorld.com Portland Calendar