Now Playing Onstage in Phoenix - Week of 4/20/2014
View All Show Listings for Phoenix
Click Here to View BroadwayWorld.com Phoenix Calendar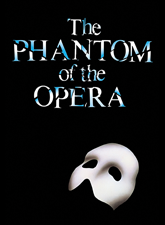 THE PHANTOM OF THE OPERA
Heritage Academy
4/23-4/26/2014
THE PHANTOM OF THE OPERA is composed by
Andrew Lloyd Webber
, with lyrics by
Charles Hart
, additional lyrics by
Richard Stilgoe
, and a book by Lloyd Webber and Stilgoe. Based on the classic novel ?Le FantMusic by
Andrew Lloyd Webber
; Lyrics by
Charles Hart
; Additional Lyrics by
Richard Stilgoe
; Book by
Andrew Lloyd Webber
&
Richard Stilgoe
; Based on
Click Here for More Information
VENUS IN FUR
Arizona Theatre Company
4/5-4/26/2014
David Ives
.
Click Here for More Information
THE PAJAMA GAME
SUN CITY GRAND DRAMA AND COMEDY CLUB
4/18-4/27/2014
The dangers of a workplace romance are explored to hysterical effect in this romantic comedy (from the creators of DAMN YANKEES). Conditions at the Sleep-Tite Pajama Factory are anything but peaceful, as sparks fly between new superintendent Sid Sorokin and Babe Williams, leader of the union grievance committee. Their stormy relationship comes to a head when the workers strike for a 7 and a half cent pay increase, setting off not only a conflict between management and labor, but a battle of the sexes as well. Bright and brassy, this unconventional, fast-paced Broadway favorite is every bit the embodiment of legendary director
George Abbott
at his very best. The energetic score by
Richard Adler
and
Jerry Ross
is brimming with songs and dances, which have become popular and musical theatre standards (among them "Hey There," "Steam Heat" and "Hernando's Hideaway") and features plenty of splashy, fun production numbers, including a comic "dream ballet." For solid, classic musical comedy, it's hard to beat THE PAJAMA GAME!
Click Here for More Information
RENT
ARIZONA STATE UNIVERSITY/LYRIC OPERA THEATRE
4/17-4/27/2014
Set in the East Village of New York City, RENT is about falling in love, finding your voice and living for today. Winner of the Tony Award for Best Musical and the Pulitzer Prize for Drama, RENT has become a pop cultural phenomenon with songs that rock and a story that resonates with audiences of all ages.Based loosely on Puccini's La Boheme,
Jonathan Larson
's RENT follows a year in the life of a group of impoverished young artists and musicians struggling to survive and create in New York's Lower East Side, under the shadow of HIV/AIDS. The physical and emotional complications of the disease pervade the lives of Roger, Mimi, Tom, and Angel. Maureen deals with her chronic infidelity through performance art; her partner, Joanne, wonders if their relationship is worth the trouble. Benny has sold out his Bohemian ideals in exchange for a hefty income and is on the outs with his former friends. Mark, an aspiring filmmaker, feels like an outsider to life in general. How these young bohemians negotiate their dreams, loves, and conflicts provides the narrative thread to this groundbreaking musical.This is theatre at its best -- exuberant, passionate, and joyous. Regional theatres will love the freedom and flexibility that RENT offers; minimal costuming and sets are required. RENT RETURNSVisit the official "Site for Rent" for NYC ticketing and more information on this new production.
Click Here for More Information
DISNEY'S ALADDIN JR
STUDIO 3 PERFORMING ARTS
4/23-4/27/2014
Welcome to Agrabah, City of Enchantment, where every beggar has a story and every camel has a tail! All of your favorite characters are here in Disney's ALADDIN JR., a stage adaptation of the Disney hit film. Filled with magic, mayhem, and flying carpet rides, audiences' spirits will soar with excitement. Most of all, the tuneful, Academy award-winning score with songs including "A Whole New World" and "Friend Like Me" will certainly make this musical a favorite for many years to come!
Click Here for More Information
THE SOUND OF MUSIC
Horizon Community Learning Center
4/25-5/3/2014
The final collaboration between Rodgers & Hammerstein was destined to become the world's most beloved musical. When a postulant proves too high-spirited for the religious life, she is dispatched to serve as governess for the seven children of a widowed naval Captain. Her growing rapport with the youngsters, coupled with her generosity of spirit, gradually captures the heart of the stern Captain, and they marry. Upon returning from their honeymoon they discover that Austria has been invaded by the Nazis, who demand the Captain's immediate service in their navy. The family's narrow escape over the mountains to Switzerland on the eve of World War II provides one of the most thrilling and inspirational finales ever presented in the theatre. The motion picture version remains the most popular movie musical of all time.Music by Rodgers, Richard; Lyrics by
Oscar Hammerstein
II; Book by
Howard Lindsay
&
Russel Crouse
; Suggested by `The
Trapp Family Singers
` by
Maria Augusta Trapp
Click Here for More Information
GUYS & DOLLS
MINGUS UNION HIGH SCHOOL
4/25-5/4/2014
Set in
Damon Runyon
's mythical New York City, this oddball romantic comedy - considered by many to be the perfect musical comedy - soars with the spirit of Broadway as it introduces us to a cast of vivid characters who have become legends in the canon:
Sarah Brown
, the upright but uptight "mission doll," out to reform the evildoers of Time Square; Sky Masterson, the slick, high-rolling gambler who woos her on a bet and ends up falling in love; Adelaide, the chronically ill nightclub performer whose condition is brought on by the fact she's been engaged to the same man for 14 years; and Nathan Detroit, her devoted fiance, desperate as always to find a spot for his infamous floating crap game.Everything works out in the end, thanks to the machinations of
Abe Burrows
and
Jo Swerling
's hilarious, fast-paced book and
Frank Loesser
's bright, brassy, immortal score, which takes us from the heart of Times Square to the cafes of Havana, Cuba, and even into the sewers of New York City. Funny and romantic, GUYS AND DOLLS is ideal for audiences and performers of any age.
Click Here for More Information
OLIVE & THE BITTER HERBS
Invisible Theatre Co
4/15-5/4/2014
Charles Busch
; dir: James Blair.
Click Here for More Information
DANTE'S PURGATORIO
The Rogue Theatre
4/24-5/11/2014
Patrick Baliani; dir:
Joseph McGrath
.World Premiere
Click Here for More Information
9 TO 5, THE MUSICAL
HALE CENTRE THEATRE ARIZONA
4/3-5/17/2014
9 TO 5: THE MUSICAL, with music and lyrics by
Dolly Parton
and book by
Patricia Resnick
, is based on the 1980 hit movie Nine to Five.Pushed to the boiling point by their boss, three female co-workers concoct a plan to get even with the sexist, egotistical, lying, hypocritical bigot they call their boss. They conspire to take control of their company and learn there's nothing they can't do -- even in a man's world. Set in the late 1970s, 9 TO 5: THE MUSICAL is a hilarious story of friendship and revenge in the Rolodex era. Outrageous, thought-provoking, and even a little romantic, 9 TO 5: THE MUSICAL is about teaming up and taking care of business.This high-energy show is ideal for a large, mostly female cast. With its jubilant score and easily relatable characters, 9 TO 5: THE MUSICAL is the perfect show for community theaters or high schools.
Click Here for More Information
THE LAST FIVE YEARS
DESERT STAGES
3/21-5/25/2014
THE LAST FIVE YEARS is a contemporary song-cycle musical that ingeniously chronicles the five year life of a marriage, from meeting to break-up... or from break-up to meeting, depending on how you look at it. Written by
Jason Robert Brown
(PARADE, SONGS FOR A NEW WORLD), THE LAST FIVE YEARS is an intensely personal look at the relationship between a writer and an actress told from both points of view. This intimate musical is perfect for small theatre companies and black box venues. With its two-person cast, acting stamina is a must.
Click Here for More Information
SCHOOLHOUSE ROCK LIVE!
CHILDSPLAY, INC
4/20-5/25/2014
A pop culture phenomenon comes to the musical stage!The Emmy Award-winning 1970's Saturday morning cartoon series that taught history, grammar, math, and more through clever, tuneful songs is not only making a small-screen comeback, it's lighting up stages everywhere -- from school multi-purpose rooms to university and regional theatres all around the country.SCHOOLHOUSE ROCK LIVE! follows Tom, a nerve-wracked school teacher who is nervous about his first day of teaching. He tries to relax by watching TV when various characters representing facets of his personality emerge from the set and show him how to win his students over with imagination and music, through such songs as "Just A Bill,"ť "Lolly, Lolly, Lolly,"ť and "Conjunction Junction."ťWith its minimal band, set, costume and flexible cast requirements, SCHOOLHOUSE ROCK LIVE! may be performed in virtually any space, bringing its infectious zest to a cross-generational audience.
Click Here for More Information
LES MISERABLES
PHOENIX THEATRE
4/23-6/1/2014
This international smash-hit may be the most popular musical in the world. In 19th century France, Jean Valjean is released from 19 years of unjust imprisonment, but finds nothing in store for him but mistrust and mistreatment. He breaks his parole in hopes of starting a new life, initiating a life-long struggle for redemption as he is relentlessly pursued by police inspector Javert, who refuses to believe Valjean can change his ways. Finally, during the Paris student uprising of 1832, Javert must confront his ideals after Valjean spares his life and saves that of the student revolutionary who has captured the heart of Valjean's adopted daughter. His world-view shattered, Javert commits suicide, and Valjean at last attains the peace he has sought for so long.Epic, grand and uplifting, LES MISÉRABLES packs an emotional wallop that has thrilled audiences all over the world. The sung-through pop opera is ideal for a cast of exceptional singers and overflows with melodies that are already standards. A spectacle on Broadway and in London, LES MISÉRABLES is equally effective with a minimal set; it is its powerful affirmation of the human spirit that has made LES MISÉRABLES a popular masterpiece.
Click Here for More Information
View All Show Listings for Phoenix
Click Here to View BroadwayWorld.com Phoenix Calendar