Now Playing Onstage in Omaha - Week of 4/20/2014
View All Show Listings for Omaha
Click Here to View BroadwayWorld.com Omaha Calendar
THE INCREDIBLE ILLUSTRATED IRIS
Beatrice Community Players
4/25-4/27/2014
Iris doesn't really have any friends. But she does have boxes and boxes of her grandfather's old comic books. It is in these books that she discovers the wonderful world of The Incredible Alexander, a land filled with superheroes and monsters, damsels and dragons, a land with adenture waiting at every turn. Iris can't imagine a place she'd rather be. That is, until she finds herself in it.
Click Here for More Information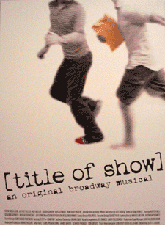 [TITLE OF SHOW]
Sun Theater
4/25-4/27/2014
Jeff and Hunter, two struggling writers, hear about a new musical theatre festival. However, the deadline for submissions is a mere three weeks away. With nothing to lose, the pair decides to try to create something new with the help of their friends Susan, Heidi and Larry on the eighty-eights. With the cast in place, Jeff and Hunter begin a conversation about what to write about. Eventually, Jeff suggests they write about what to write about. They make a pact to write up until the festival?s deadline and dream about the show changing their lives. [title of show]?taken from the space on the festival?s application form which asks for the [title of show]?follows Hunter and Jeff and their friends on their journey through the gauntlet of creative self-expression. In the span of 90 minutes they write and perform their show at the festival and learn lessons about themselves as people, friends and artists. [title of show] is, above all, a love letter to the musical theatre?a uniquely American art form?and to the joy of collaboration. The musical received a Tony AwardMusic and Lyrics by
Jeff Bowen
; Book by
Hunter Bell
Click Here for More Information
RAMONA QUIMBY
The Rose Theater
4/25-5/11/2014
Beverly Cleary's irrepressible young heroine will capture your heart. As Ramona struggles to survive school and her older sister, others in the Quimby family face challenges: Dad's out of work, Mom's role in the family is changing, and Aunt Bea might move away. Growing up-and keeping her family together-may be the toughest thing Ramona will ever do!
Click Here for More Information
RAMONA QUIMBY
Omaha Theater Company
4/25-5/11/2014
dir: Matthew Gutschick.
Click Here for More Information
View All Show Listings for Omaha
Click Here to View BroadwayWorld.com Omaha Calendar