Now Playing Onstage in Minneapolis - Week of 1/12/2014
View All Show Listings for Minneapolis
Click Here to View BroadwayWorld.com Minneapolis Calendar
FIDDLER ON THE ROOF
ST PAUL CONSERVATORY FOR PERFORMING ARTISTS
1/18-1/19/2014
In the
Little Village
of Anatevka, Tevye, a poor dairyman, tries to instill in his five daughters the traditions of his tight-knit Jewish community in the face of changing social mores and the growing anti-Semitism of Czarist Russia. Rich in historical and ethnic detail, FIDDLER ON THE ROOF has touched audiences around the world with its humor, warmth and honesty. The universal theme of tradition cuts across barriers of race, class, nationality and religion, leaving audiences crying tears of laughter, joy and sadness.The show features a star turn in Tevye, among the most memorable roles in musical theatre. Original director/choreographer
Jerome Robbins
' staging is legendary, and available from MTI in a comprehensive choreographic guide. Its celebrated score by
Jerry Bock
and
Sheldon Harnick
, features songs loved the world over: "Sunrise, Sunset," "If I Were A Rich Man" and "Matchmaker," to name a few. FIDDLER ON THE ROOF is simply Broadway at its very best.
Click Here for More Information
REEL TALK: THE MURDER OF EMMETT TILL, A PBS AMERICAN EXPERIENCE SERIES
Penumbra Theatre Company
1/20-1/20/2014
Penumbra Theatre Company:
Click Here for More Information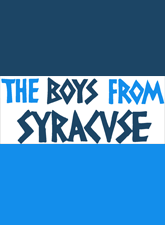 THE BOYS FROM SYRACUSE
St. Paul Conservatory for Performing Artists
1/21-1/22/2014
Twins! More twins! Women-chased and chaste! The first musical ever adapted from Shakespeare remains the most madcap musical farce ever to animate the stage. Antipholus and his wily servant, Dromio, travel to Ephesus in search of their respective twins, from whom they were separated in a shipwreck. Naturally, they are immediately taken for their brothers and we're off and running on a riotous chase from marketplace to marital bed. Perplexed wives, disgruntled courtesans, outraged constables and an audience roaring with laughter are left in its wake before this show's tangled web is unraveled, and Rodgers & Hart & Abbott have triumphed once again!Music by Rodgers, Richard; Lyrics by
Lorenz Hart
; Book by
George Abbott
; Based on
Click Here for More Information
DISNEY'S THE LITTLE MERMAID JR
DULUTH PLAYHOUSE INC
1/16-1/26/2014
In a magical kingdom fathoms below, the beautiful young mermaid Ariel longs to leave her ocean home to live in the world above. But first, she'll have to defy her father King Triton, make a deal with the evil sea witch Ursula, and convince Prince Eric that she's the girl with the enchanting voice. Adapted from Disney's 2008 Broadway production, Disney's THE LITTLE MERMAID JR. features the hit songs "Part of Your World," "She's in Love," and the Oscar-winning "Under the Sea."
Click Here for More Information
CABARET
Theater Latte Da
1/15-2/9/2014
Pantages Theatre:
Joe Masteroff
; lyrics:
Fred Ebb
; music:
John Kander
; dir:
Peter Rothstein
.
Click Here for More Information
THE 25TH ANNUAL PUTNAM COUNTY SPELLING BEE
BLOOMINGTON CIVIC THEATRE
1/17-2/16/2014
Six young people in the throes of puberty, overseen by grown-ups who barely managed to escape childhood themselves, learn that winning isn't everything and that losing doesn't necessarily make you a loser.THE 25TH ANNUAL PUTNAM COUNTY SPELLING BEE is a hilarious tale of overachievers' angst chronicling the experience of six adolescent outsiders vying for the spelling championship of a lifetime. The show's Tony Award winning creative team has created the unlikeliest of hit musicals about the unlikeliest of heroes: a quirky yet charming cast of outsiders for whom a spelling bee is the one place where they can stand out and fit in at the same time.
Click Here for More Information
Mermaid Theatre OF NOVA SCOTIA PRESENTS THE VERY HUNGRY CATERPILLAR AND OTHER ERIC CARLE FAVORITES
Children's Theatre Company
1/14-2/23/2014
UnitedHealth Group Stage:adapt: Jim Morrow; music: Steven Naylor; dir: Jim Morrow.
Click Here for More Information
View All Show Listings for Minneapolis
Click Here to View BroadwayWorld.com Minneapolis Calendar