Now Playing Onstage in Memphis - Week of 3/02/2014
View All Show Listings for Memphis
Click Here to View BroadwayWorld.com Memphis Calendar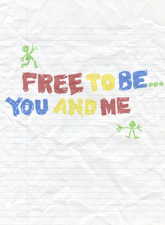 FREE TO BE... YOU AND ME
Playhouse on the Square - Youth
2/18-3/7/2014
Marlo Thomas
conceived a children's book that, instead of telling boys and girls who they should be, would open them to the possibilities of who they could be. She gathered many of her supremely talented friends from various worlds of the arts and the remarkable result is highly regarded as a modern classic of children's literature. Life-enhancing themes are imaginatively blended with music and humor to expand children's personal horizons, enabling them to invent their own futures without limitation, while dispelling some old constraints and worn-out conventions in the process. Parents, teachers and other grown-up friends will delight in sharing this extraordinary and memorable experience with the children in their lives.From the Book `Free To Be... You And Me`; Conceived By
Marlo Thomas
& and Friends; Contributions by Judy Blume & Dan Greenberg &
Carol Hall
&
Sheldon Harnick
& Bruce Hart &
Edward Kleban
& Elain Laron &
Stephen Lawrence
& Betty Miles & Shelley Miller &
Carl Reiner
&
Mary Rodgers
&
Shel Silverstein
&
Peter Stone
& Charlotte Zolotow; Adaptation Written for the Stage by Douglas Love and Regina Safran
Click Here for More Information
ANDY CHILDS
Bartlett Performing Arts and Conference Center
3/8-3/8/2014
There's no one that can do Memphis-music better! A native Memphian with an undeniable star quality that makes him a great ambassador for our city. If you looked close, he was seen on ABC's hit TV show Nashville, in a make believe country band, but it is his Memphis Rock and Rhythm show that's coming to the Bartlett stage.
Click Here for More Information
STOMP
Tennessee Theatre
3/7-3/8/2014
STOMP is explosive, inventive, provocative, witty, and utterly uniquea€"an unforgettable experience for audiences of all ages. The international percussion sensation has garnered armfuls of awards and rave reviews and has appeared on numerous national television shows. The eight-member troupe uses everything but conventional percussion instruments ' matchboxes, wooden poles, brooms, garbage cans, Zippo lighters, hubcaps ' to fill the stage with magnificent rhythms. Year after year, audiences worldwide keep coming back for more of this pulse-pounding electrifying show. As the Boston Globe says, "If you haven't seen STOMP, GO! If you have seen it, take someone and share the pleasure!" STOMP. See what all the noise is about.
Click Here for More Information
THE TRIP TO BOUNTIFUL
Clarence Brown
Theatre
2/20-3/9/2014
A moving and riveting story from one of our country's greatest writers. The air by the river. The song of the red bird. The feel of soil in her fingers! Widow
Carrie Watts
yearns to return to the small Gulf Coast town of Bountiful, where she grew up and raised her family. When she slips away with her latest pension check, the results are both heartbreaking and life-affirming.
Click Here for More Information
BOEING BOEING
Germantown Community Theatre
2/21-3/9/2014
Revised 2008 Broadway Revival Edition. This 1960?s French farce adapted for the English-speaking stage features self-styled Parisian lothario Bernard, who has Italian, German, and American fiancees, each beautiful airline hostesses with frequent "layovers". He keeps "one up, one down and one pending" until unexpected schedule changes bring all three to Paris and Bernard's apartment at the same time.
Click Here for More Information
THE GREAT AMERICAN TRAILER PARK MUSICAL
The Circuit Playhouse
2/28-3/23/2014
The Great American Trailer Park Musical is a two-act musical, written by
David Nehls
and
Betsy Kelso
.
Click Here for More Information
JESUS CHRIST SUPERSTAR
Theatre Memphis
3/7-3/30/2014
Jesus Christ Superstar is a rock opera with lyrics by
Tim Rice
and music by
Andrew Lloyd Webber
. The musical started as a rock opera concept recording before its first staging on Broadway in 1971.
Click Here for More Information
View All Show Listings for Memphis
Click Here to View BroadwayWorld.com Memphis Calendar