Now Playing Onstage in Denver - Week of 2/02/2014
View All Show Listings for Denver
Click Here to View BroadwayWorld.com Denver Calendar
IN THE HEIGHTS
Alexander Dawson School
2/6-2/8/2014
IN THE HEIGHTS tells the universal story of a vibrant community in New York?s Washington Heights neighborhood ? a place where the coffee from the corner bodega is light and sweet, the windows are always open and the breeze carries the rhythm of three generations of music. It?s a community on the brink of change, full of hopes, dreams and pressures, where the biggest struggles can be deciding which tradtions you take with you, and which ones you leave behind. IN THE HEIGHTS is the winner of the 2008 Tony Awards for Best Musical, Best Score, Best Choreography and Best Orchestrations. Music and Lyrics by
Lin-Manuel Miranda
; Book by Quiara Aleg
Click Here for More Information
THE ECLIPSE OF LAWRY
Spark Theater
1/10-2/8/2014
Part myth-making, part absurdist exercise, part political allegory and part youthful hell-raising, this story of three cowboys, whose plot to steal the moon, is a wild and woolly one. A bad of Brecht, a pinch of Freud, a handful of surrealism and a cup of Marx Brothers craziness makes this a rich ethnic broth that's politically piquant. Directed by Phil Luna and Written by local playwright Gwylym Cano. Gwylym is a talented artist with a unique voice. Spark chose this script because we are committed to the recognition of Denver playwrights and bringing local voices to the Spark stage. This play is fresh and enjoyable. The mix of slapstick and philosophical thought is sure to elicit a reaction. The characters of Humphrey, Gezebell, and Dogwould are wonderful guides through this crazy magical story and we know our audience will fall in love with them.
Click Here for More Information
THE WHIPPING MAN
Curious Theatre Company
1/9-2/15/2014
Curious Theatre Company:
Matthew Lopez
; dir: Kate Marie Folkins, Chip Walton.
Click Here for More Information
AMORCITO CORAZON
Su Teatro
2/6-2/15/2014
Frank Trujillo Salon del Arte:Anthony J Garcia; dir: Anthony J Garcia.
Click Here for More Information
DAMN YANKEES
PERFORMANCE NOW THEATRE COMPANY
1/31-2/16/2014
Faust meets professional baseball in the Broadway classic DAMN YANKEES. Middle-aged baseball fanatic Joe Boyd trades his soul to the Devil, also known as Mr. Applegate, for a chance to lead his favorite team to victory in the pennant race against the New York Yankees. As young baseball sensation Joe Hardy, he transforms the hapless Washington Senators into a winning team, only to realize the true worth of the life he's left behind. Joe ultimately outsmarts Applegate, returns to his former self, and shepherds the Senators to the World Series.Light, fast-paced and devilishly clever, DAMN YANKEES is a home-run hit featuring all-American subject matter and an irreverent sense of humor. The perfect choice for a high school's spring musical or community theatre production, DAMN YANKEES is sure to please.
Click Here for More Information
PLAY IT AGAIN, SAM
Colorado Springs Fine Arts Center Theatre Company
1/30-2/16/2014
SaGaJi Theatre:
Woody Allen
; dir: Joye Cook-Levy.
Click Here for More Information
BLACK ODYSSEY
Denver Center Theatre Co
1/17-2/16/2014
The Space Theatre:
Marcus Gardley
; dir:
Chay Yew
.
Click Here for More Information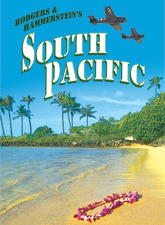 SOUTH PACIFIC: IN CONCERT
Lone Tree Arts Center
2/11-2/16/2014
Set in an island paradise during World War II, two parallel love stories are threatened by the dangers of prejudice and war. Nellie, a spunky nurse from Arkansas, falls in love with a mature French planter, Emile. Nellie learns that the mother of his children was an island native and, unable to turn her back on the prejudices with which she was raised, refuses Emile's proposal of marriage. Meanwhile, the strapping Lt. Joe Cable denies himself the fulfillment of a future with an innocent Tonkinese girl with whom he's fallen in love out of the same fears that haunt Nellie. When Emile is recruited to accompany Joe on a dangerous mission that claims Joe's life, Nellie realizes that life is too short not to seize her own chance for happiness, thus confronting and conquering her prejudices. This concert adaptation was created by
David Ives
for the
Carnegie Hall
benefit concert of SOUTHPACIFIC in 2006.
Click Here for More Information
SHREK
PRAIRIE PLAYHOUSE
2/6-2/22/2014
SHREK THE MUSICAL, based on the Oscar® winningDreamWorks film that started it all, brings the hilarious story ofeveryone's favorite ogre to dazzling new life on the stage. Ina faraway kingdom turned upside down, things get ugly when an unseemlyogre "" not a handsome prince "" shows up to rescue a feisty princess.Throw in a donkey who won't shut up, a bad guy with a SHORT temper, acookie with an attitude and over a dozen other fairy tale misfits, andyou've got the kind of mess that calls for a real hero. Luckily,there's one on hand...and his name is Shrek. Full of all-new songs, great dancing and breathtaking scenery, SHREK THE MUSICAL is part romance, part twisted fairy tale and all irreverent fun for everyone!**AVAILABLE FOR LICENSES FOR PERFORMANCES BEGINNING JUNE 2013**
Click Here for More Information
THE MOUSETRAP
Arvada Center for the Arts and Humanities
1/28-2/23/2014
By
Agatha Christie
Directed by Pat Payne This classic
Agatha Christie
mystery unfolds when a group of strangers find themselves stranded in a boarding house during a snowstorm. Murder is committed and everyone is suspect as a policeman investigates the crime and uncovers their hidden secrets. This is an evening of superb intrigue not to be missed from the most celebrated mystery writer in the world. The Mousetrap recently celebrated 60 years on London's West End making it the longest running play in recorded history.
Click Here for More Information
THE MOUSETRAP
Arvada Center for the Arts & Humanities
1/28-2/23/2014
Black Box Theater:
Agatha Christie
; dir: Pat Payne.
Click Here for More Information
THE LEGEND OF GEORGIA MCBRIDE
Denver Center Theatre Co
1/10-2/23/2014
The Ricketson Theatre:
Matthew Lopez
; dir: Mike Donahue.
Click Here for More Information
HAMLET
Denver Center Theatre Co
1/24-2/23/2014
The Stage Theatre:
William Shakespeare
; dir:
Kent Thompson
.
Click Here for More Information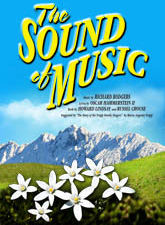 THE SOUND OF MUSIC
Liberty Middle School
2/6-3/1/2014
The final collaboration between Rodgers & Hammerstein was destined to become the world's most beloved musical. When a postulant proves too high-spirited for the religious life, she is dispatched to serve as governess for the seven children of a widowed naval Captain. Her growing rapport with the youngsters, coupled with her generosity of spirit, gradually captures the heart of the stern Captain, and they marry. Upon returning from their honeymoon they discover that Austria has been invaded by the Nazis, who demand the Captain's immediate service in their navy. The family's narrow escape over the mountains to Switzerland on the eve of World War II provides one of the most thrilling and inspirational finales ever presented in the theatre. The motion picture version remains the most popular movie musical of all time.Music by Rodgers, Richard; Lyrics by
Oscar Hammerstein
II; Book by
Howard Lindsay
&
Russel Crouse
; Suggested by `The
Trapp Family Singers
` by
Maria Augusta Trapp
Click Here for More Information
MOONLIGHT AND MAGNOLIAS
OpenStage Theatre & Co
2/8-3/8/2014
Fort Collins Lincoln Center for the Performing and Visual Arts:
Ron Hutchinson
; dir: Justin Batson.
Click Here for More Information
9 TO 5, THE MUSICAL
CANDLELIGHT DINNER PLAYHOUSE
1/16-3/23/2014
9 TO 5: THE MUSICAL, with music and lyrics by
Dolly Parton
and book by
Patricia Resnick
, is based on the 1980 hit movie Nine to Five.Pushed to the boiling point by their boss, three female co-workers concoct a plan to get even with the sexist, egotistical, lying, hypocritical bigot they call their boss. They conspire to take control of their company and learn there's nothing they can't do -- even in a man's world. Set in the late 1970s, 9 TO 5: THE MUSICAL is a hilarious story of friendship and revenge in the Rolodex era. Outrageous, thought-provoking, and even a little romantic, 9 TO 5: THE MUSICAL is about teaming up and taking care of business.This high-energy show is ideal for a large, mostly female cast. With its jubilant score and easily relatable characters, 9 TO 5: THE MUSICAL is the perfect show for community theaters or high schools.
Click Here for More Information
View All Show Listings for Denver
Click Here to View BroadwayWorld.com Denver Calendar