Now Playing Onstage in Costa Mesa - Week of 10/27/2013
View All Show Listings for Costa Mesa
Click Here to View BroadwayWorld.com Costa Mesa Calendar
Sarah Brightman
in Broadway" border="0" height="100" width="100" align="right">
Sarah Brightman
Honda Center
11/2-11/2/2013
Sarah Brightman
's highly anticipated 11th studio album "Dreamchaser" will now be released in North America in April 2013. This will coincide with the timing of her International album release plan that will run through Spring 2013. As a consequence, the North American tour dates will be moved to the fall of 2013, and she will now appear in The Theatre at Honda Center on Saturday, November 2.
Click Here for More Information
VERDI REQUIEM
Segerstrom Center for the Arts, Renee and
Henry Segerstrom
Concert Hall
11/3-11/3/2013
Celebrating Verdi's 200th birthday year,
John Alexander
leads Pacific Chorale, Pacific Symphony and a quartet of stellar soloists for Verdi's dramatic Requiem.
Click Here for More Information
FALLEN ANGELS
The
Laguna Playhouse
10/8-11/3/2013
Julia and Jane are the best of friends and happily married. But before they tied the knot, they each had a brief, torrid affair with Maurice, a charming, handsome Frenchman. While their husbands are away for a day of golf, guess who's back in town and requesting the ladies' company? Fallen Angels is a champagne cocktail of wit, charm and high comedy that set the stage for the likes of female comedic duos such as Lucy and Ethel and LaVerne and Shirley. This is Noel Coward at his inimitable best - you'll laugh yourself silly at the farcical foibles of these fabulous Fallen Angels.
Click Here for More Information
John Watson
'S BODY in Broadway" border="0" height="100" width="100" align="right">
SHERLOCK HOLMES AND John Watson'S BODY
Camino Real Playhouse
10/18-11/3/2013
Award winning playwright C.P. Stancich brings back the suspense and intrigue with this third Sherlock Holmes mystery. Many who have seen these Sherlock plays prefer his work to Conan Doyle!
Click Here for More Information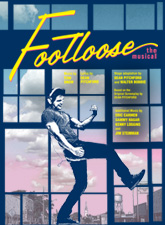 FOOTLOOSE
Irvine Valley College
11/1-11/10/2013
One of the most explosive movie musicals in recent memory bursts onto the live stage with exhilarating results. When Ren and his mother move from Chicago to a small farming town, Ren is prepared for the inevitable adjustment period at his new high school. What he isn't prepared for are the rigorous local edicts, including a ban on dancing instituted by the local preacher, determined to exercise the control over the town's youth that he cannot command in his own home. When the reverend's rebellious daughter sets her sights on Ren, her roughneck boyfriend tries to sabotage Ren's reputation, with many of the locals eager to believe the worst about the new kid. The heartfelt story that emerges is of a father longing for the son he lost and of a young man aching for the father who walked out on him. To the rockin' rhythm of its Oscar and Tony-nominated top 40 score (the soundtrack album reached number one on the Billboard charts and has sold over 15 million copies!) and augmented with dynamic new songs for the stage musical, FOOTLOOSE celebrates the wisdom of listening to young people, guiding them with a warm heart and an open mind.Music by
Tom Snow
; Stage Adaptation by
Dean Pitchford
and
Walter Bobbie
; Lyrics by
Dean Pitchford
; Based on the original screenplay by
Dean Pitchford
; Additional Music by
Eric Carmen
,
Sammy Hagar
,
Kenny Loggins
and
Jim Steinman
Click Here for More Information
YOUNG FRANKENSTEIN
Musical
Theatre West
11/1-11/17/2013
REGIONAL PREMIERE. A big, fat, funny, irreverent hit based on the classic 1974
Mel B
rooks film starring
Gene Wilder
. Iconic lines from the film have been turned into some of the most hilarious musical numbers ever. Add to that the show-stopping "Puttin' on the Ritz" and you'll be in musical comedy heaven.
Click Here for More Information
4000 MILES
South Coast Repertory
10/18-11/17/2013
Vera is 91, an old world Leftie. Her grandson, Leo, is 21, a new age Hippie. After a cross-country trip, Leo turns up at Vera's New York apartment with a backpack, a bike and no money. She agrees to let him spend the night; a few weeks later, he's still there. Leo is at a bad place with his parents, his girlfriend wants to break up, and something terrible happened on his trip. As Vera listens-when her hearing aid is turned on-we listen, with compassion. This odd couple has grabbed our hearts and will not let go. They are, as The New York Times says, "Altogether wonderful."
Click Here for More Information
View All Show Listings for Costa Mesa
Click Here to View BroadwayWorld.com Costa Mesa Calendar