Now Playing Onstage in Cleveland - Week of 8/18/2013
View All Show Listings for Cleveland
Click Here to View BroadwayWorld.com Cleveland Calendar
DISNEY'S THE LITTLE MERMAID JR
CAMBRIDGE PERFORMING ARTS CENTER
8/16-8/25/2013
In a magical kingdom fathoms below, the beautiful young mermaid Ariel longs to leave her ocean home to live in the world above. But first, she'll have to defy her father King Triton, make a deal with the evil sea witch Ursula, and convince Prince Eric that she's the girl with the enchanting voice. Adapted from Disney's 2008 Broadway production, Disney's THE LITTLE MERMAID JR. features the hit songs "Part of Your World," "She's in Love," and the Oscar-winning "Under the Sea."
Click Here for More Information
SONGS FOR A NEW WORLD
MEDINA SR HIGH SCHOOL
8/9-8/25/2013
Jason
Robert Brown
says, "it's about one moment. It's about hitting the wall and having to make a choice, or take a stand, or turn around and go back." These are the stories and characters of today, the SONGS FOR A NEW WORLD.Brown transports his audience from the deck of a 1492 Spanish sailing ship to a ledge 57 stories above Fifth Avenue to meet a startling array of characters ranging from a young man who has determined that basket-ball is his ticket out of the ghetto to a woman whose dream of marrying rich nabs her the man of her dreams and a soulless marriage. With a small, powerhouse multi-ethnic cast and a driving, exquisitely crafted score running the gamut of today's popular music, SONGS FOR A NEW WORLD is a great way to bring the next generation into the theatre.
Click Here for More Information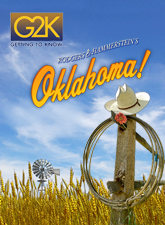 OKLAHOMA!
Brieabi Productions
8/16-8/25/2013
The 'G2K' Getting To Know Series: Uniquely adapted musicals specifically for youth performers.
Rodgers & Hammerstein
's first collaboration remains, in many ways, their most innovative, having set the standards and established the rules of musical theatre still being followed today. Set in a Western Indian territory just after the turn of the century, the high-spirited rivalry between the local farmers and cowboys provides the colorful background against which Curly, a handsome cowboy, and Laurey, a winsome farm girl, play out their love story. Although the road to true love never runs smooth, with these two headstrong romantics holding the reins, love's journey is as bumpy as a surrey ride down a country road. That they will succeed in making a new life together we have no doubt, and that this new life will begin in a brand-new state provides the ultimate climax to the triumphant OKLAHOMA! In this adaptation for pre-high school students, the content has been edited to better suit younger attention spans, but all the elements that make this show a classic are still in place. You and your students will be enchanted by the timeless story and the dazzling score, while at the same time learning about theater and its production. PLEASE NOTE: All schools wishing to peruse or perform a G2K musical should apply through theMusic by Rodgers, Richard; Book and Lyrics by
Oscar Hammerstein
II; Based on the play GREEN GROW THE LILACS by
Lynn Riggs
; Original Dances by
Agnes De Mille
Click Here for More Information
SEUSSICAL
PLAYHOUSE SOUTH
8/9-8/25/2013
Now one of the most performed shows in America, SEUSSICAL is a fantastical, magical, musical extravaganza! Tony winners
Lynn Ahrens
and
Stephen Flaherty
(LUCKY STIFF, MY FAVORITE YEAR, ONCE ON THIS ISLAND, and RAGTIME) have lovingly brought to life all of our favorite
Dr. Seuss
characters, including Horton the Elephant, The Cat in the Hat, Gertrude McFuzz, lazy Mayzie, and a little boy with a big imagination--Jojo. The colorful characters transport us from the Jungle of Nool to the Circus McGurkus to the invisible world of the Whos.The Cat in the Hat tells the story of Horton, an elephant who discovers a speck of dust containing Whos, including Jojo, a Who child sent off to military school for thinking too many "thinks." Horton faces a double challenge--not only must he protect the Whos from a world of naysayers and dangers, but he must guard an abandoned egg, left to his care by the irresponsible Mayzie La Bird. Although Horton faces ridicule, danger, kidnapping, and a trial, the intrepid Gertrude McFuzz never loses faith in him. Ultimately, the powers of friendship, loyalty, family, and community are challenged and emerge triumphant.SEUSSICAL is fun for the whole family! Performers of all ages will be excited to portray the characters from the familiar
Dr. Seuss
fables. This musical provides wonderful creative opportunities for set, lighting, and costume design.More Ahrens and FlahertyFor complet
Click Here for More Information
SHREK
NORTH CANTON PLAYHOUSE
8/3-8/26/2013
SHREK THE MUSICAL, based on the Oscar® winningDreamWorks film that started it all, brings the hilarious story ofeveryone's favorite ogre to dazzling new life on the stage. Ina faraway kingdom turned upside down, things get ugly when an unseemlyogre "? not a handsome prince "? shows up to rescue a feisty princess.Throw in a donkey who won't shut up, a bad guy with a SHORT temper, acookie with an attitude and over a dozen other fairy tale misfits, andyou've got the kind of mess that calls for a real hero. Luckily,there's one on hand...and his name is Shrek. Full of all-new songs, great dancing and breathtaking scenery, SHREK THE MUSICAL is part romance, part twisted fairy tale and all irreverent fun for everyone!**AVAILABLE FOR LICENSES FOR PERFORMANCES BEGINNING JUNE 2013**
Click Here for More Information
LUCKY STIFF
VANITY PROJECT PRODUCTIONS
8/19-8/26/2013
Tony Award winners
Lynn Ahrens
and
Stephen Flaherty
exploded on the musical theatre scene in 1988 with their first off-Broadway show, LUCKY STIFF. Based on the novel The Man Who Broke The Bank At
Monte Carlo
by
Michael Butterworth
, LUCKY STIFF is a zany, offbeat, and very funny murder mystery farce complete with slamming doors, mistaken identities, six million bucks in diamonds, and a corpse in a wheelchair. The story revolves around an unassuming English shoe salesman who is forced to take the embalmed body of his recently-murdered Atlantic City uncle on a vacation to
Monte Carlo
. Should he succeed in passing Uncle off as alive, Harry Witherspoon stands to inherit $6,000,000. If not, the money goes to the Universal Dog Home of Brooklyn, or else to the gun-toting wife of the casino owner! First produced at
Playwrights Horizons
off-Broadway (
Richard Rodgers
Award) the show later went on to win Washington's
Helen Hayes
Award for Best Musical, and is now performed frequently across the country.For complete information on this and other Ahrens and Flaherty shows, as well as links to purchase CDs, vocal selections and other publications, please go to www.AhrensandFlaherty.com.
Click Here for More Information
View All Show Listings for Cleveland
Click Here to View BroadwayWorld.com Cleveland Calendar