Now Playing Onstage in Cleveland - Week of 1/19/2014
View All Show Listings for Cleveland
Click Here to View BroadwayWorld.com Cleveland Calendar
EXACT CHANGE
Cleveland Public Theatre
1/12-1/25/2014
James Levin Theatre:Christine Howey; dir: Scott Plate.
Click Here for More Information
ROCK OF AGES
PlayhouseSquare [Palace Theatre]
1/24-1/25/2014
In 1987 on the Sunset Strip, a small town girl met a big city rockeri¿½and in LA's most famous rock club, they fell in love to the greatest songs of the i¿½80s. It's ROCK OF AGES, an arena-rock love story told through the mind-blowing, face-melting hits of Journey, Bon Jovi, Poison and many more. Don't miss this awesomely good time about dreaming big, playing loud and partying on.
Click Here for More Information
Dr. Seuss
' THE CAT IN THE HAT in Broadway" border="0" height="100" width="100" align="right">
Dr. Seuss' THE CAT IN THE HAT
Phoenix Theatre
FOR CHILDREN
1/17-1/26/2014
From the moment his tall, red-and-white-striped hat appears around the door, Sally and her brother know that THE CAT IN THE HAT is the funniest, most mischievous cat they have ever met.With the trickiest of tricks and craziest of ideas, he is certainly fun to play with. And he turns a rainy afternoon into an amazing adventure. But what will mum find when she gets home...? The National Theatre's production of
Dr. Seuss
's THE CAT IN THE HAT is a lively, engaging "play with sound effects" for performance by adults for young children. Not a word has been touched or added to
Dr. Seuss
's classic, ensuring anyone who's read the story will find themselves transported into the world they've always imagined.
Click Here for More Information
LITTLE WOMEN
ST URSULA ACADEMY
1/23-1/26/2014
Based on
Louisa May Alcott
's own family experiences (and novel), LITTLE WOMEN, follows the adventures of Jo, Meg, Beth and Amy March as they grow up in Civil War America. The beloved story of the March sisters is timeless and deals with issues as relevant today as when they were written. Now, this wonderful narrative has been brought to life as an exhilarating new musical filled with glorious music, dancing and heart. LITTLE WOMEN embodies the complete theatrical experience, guaranteeing a night filled with laughter, tears, and a lifting of the spirit. This powerful score soars with the sounds of personal discovery, heartache and hope -- the sounds of a young America finding its voice. In years to come, we are sure that hundreds of productions by schools and theatres throughout the world will make this stage adaptation of the American classic novel a classic musical theatre treasure in its own right.
Click Here for More Information
A LITTLE NIGHT MUSIC
MARIEMONT PLAYERS
1/10-1/26/2014
Sondheim creates a stunning tour de force when he takes
Ingmar Bergman
's comedy of manners, Smiles of a Summer Night, and turns it into a musical of masterful execution and elegance. With four Tony Awards, this is a musical work that has forever entranced the world of theatre. Set in 1900 Sweden, A LITTLE NIGHT MUSIC explores the tangled web of affairs centered around actress Desirée Armfeldt and the men who love her: a lawyer by the name of Fredrik Egerman and the Count Carl-Magnus Malcom. When the traveling actress performs in Fredrik's town, the estranged lovers' passion rekindles. This strikes a flurry of jealousy and suspicion between Desirée, Fredrik, Fredrick's wife, Anne, Desirée's current lover, the Count, and the Count's wife, Charlotte. Both men -- as well as their jealous wives -- agree to join Desirée and her family for a weekend in the country at Desirée's mother's estate. With everyone in one place, infinite possibilities of new romances and second chances bring endless surprises.A LITTLE NIGHT MUSIC is full of hilariously witty and heartbreakingly moving moments of adoration, regret and desire. This dramatic musical celebration of love is perfect to showcase your highly-trained singers with it's harmonically-advanced score and masterful orchestrations.
Click Here for More Information
CHILDREN OF EDEN
GEAUGA LYRIC
Theatre Guild
1/17-2/2/2014
From
Stephen Schwartz
and
John Caird
comes a joyous and inspirational musical about parents, children and faith... not to mention centuries of unresolved family business! Freely based on the story of Genesis, CHILDREN OF EDEN is a frank, heartfelt and often humorous examination of the age-old conflict between parents and children. Adam, Eve, Noah and the "Father" who created them deal with the headstrong, cataclysmic actions of their respective children. The show ultimately delivers a bittersweet but inspiring message: that "the hardest part of love... is letting go."A large cast is needed to take on the story of the Old Testament in this moving, foot-stomping musical. CHILDREN OF EDEN is a wonderful show to perform for children and students.
Click Here for More Information
YENTL
Cleveland Play House
1/10-2/2/2014
Allen Theatre:adapt:
Isaac Bashevis
Singer,
Leah Napolin
; dir:
Michael Perlman
.
Click Here for More Information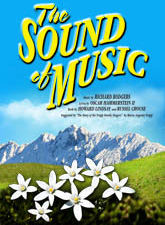 THE SOUND OF MUSIC
Geauga Lyric Theater Guild
1/17-2/2/2014
The final collaboration between Rodgers & Hammerstein was destined to become the world's most beloved musical. When a postulant proves too high-spirited for the religious life, she is dispatched to serve as governess for the seven children of a widowed naval Captain. Her growing rapport with the youngsters, coupled with her generosity of spirit, gradually captures the heart of the stern Captain, and they marry. Upon returning from their honeymoon they discover that Austria has been invaded by the Nazis, who demand the Captain's immediate service in their navy. The family's narrow escape over the mountains to Switzerland on the eve of World War II provides one of the most thrilling and inspirational finales ever presented in the theatre. The motion picture version remains the most popular movie musical of all time.Music by Rodgers, Richard; Lyrics by
Oscar Hammerstein
II; Book by
Howard Lindsay
&
Russel Crouse
; Suggested by `The
Trapp Family Singers
` by
Maria Augusta Trapp
Click Here for More Information
THE ALIENS
Dobama Theatre
1/24-2/23/2014
Dobama Theatre:
Annie Baker
; dir: Nathan Motta.
Click Here for More Information
View All Show Listings for Cleveland
Click Here to View BroadwayWorld.com Cleveland Calendar