Now Playing Onstage in Casper - Week of 8/04/2013
View All Show Listings for Casper
Click Here to View BroadwayWorld.com Casper Calendar
LILA MCCONIGLEY
ARTCORE
8/8-8/8/2013
Lila McConigley still doesn't know what made her raise her hand when she was ten years old and Marcia Patton asked who was trying out for the solo. One year later, Lila was on the stage at Lincoln Center in New York City singing a solo with the American Symphony Orchestra when the Casper Children's Chorale and the Wyoming State Choir performed Carmina Burana. In the next five years, Lila studied voice with Pat Patton, wowed the judges with her pure, sweet voice, which could switch from classical to jazz to pop effortlessly. After graduating from high school, Lila went on to study music at St. Olaf College, and upon graduating, moved to New York City, landing her dream job on the children's television show, Sesame Street. Still greatly inspired by opera, Lila went to Florence, Italy to study with famous maestro and renowned Italian tenor, Franco Pagliacci. For the next three years, she sang all over Tuscany and became fluent in Italian. In the spring of 2003, Lila was accepted into London's famous Royal Academy of Music's post graduate course in Musical Theater. She graduated with distinction and went straight into her West End debut in Lord
Andrew Lloyd Webber
's Bombay Dreams, a show in which she understudied the female lead. One month later, Lila was playing the lead to a sold out audience of 2000 people. "It was amazing to meet and work with
Andrew Lloyd Webber
. I couldn't believe it. I remember being a little girl sitting in a Denver audience of Phantom of the Opera. I never would have believed I would one day be starring in one of his shows!" Since leaving the show, Lila has starred in several shows, commercials, and recorded four albums. She has sung in concert with Sir
Elton John
, at the Royal Opera House, Covent Garden. She is the regular guest Diva of famous British opera group Tenors Unlimited and has performed all over Europe with them. She is married to tenor
Paul Martin
, and they have two wonderful children.
Click Here for More Information
MUSIC & POETRY: ROY HAYFORD / INDIA HAYFORD
ARTCORE
8/12-8/12/2013
Roy Hayford has been making music for more than fifty years. Initially misdiagnosed as a trumpet player, he switched in seventh grade to that fickle mistress the French Horn. He currently plays in the Wyoming Symphony, the Casper College Band, Casper Municipal Band, and any other group willing to put music in front of him. He has also been known to sing in choirs or solo, often while distracting his listeners with drum or guitar. Roy occasionally coaxes India, his wife of more than three decades, to emerge from her studio in order to perform in public. Her written work has appeared in periodicals and literary journals around the country; she is currently working on a book about Yemenite Jewish Embroidery. India is an artist, photographer, and recently celebrated her thirty-fifth year as a belly dancer. The program will include classical music, old cowboy songs, songs India wrote, songs Roy wrote, songs Roy wishes he had written, poetry, prose, and dancing girls. Roy will also share his treatise on "Usage of Animal Horns in Prehistoric Rock Music." Audience participation is encouraged.
Click Here for More Information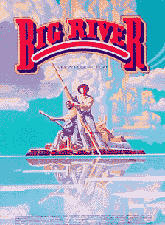 FOOTLOOSE
Diamond G Theatrics
6/13-8/31/2013
One of the most explosive movie musicals in recent memory bursts onto the live stage with exhilarating results. When Ren and his mother move from Chicago to a small farming town, Ren is prepared for the inevitable adjustment period at his new high school. What he isn't prepared for are the rigorous local edicts, including a ban on dancing instituted by the local preacher, determined to exercise the control over the town's youth that he cannot command in his own home. When the reverend's rebellious daughter sets her sights on Ren, her roughneck boyfriend tries to sabotage Ren's reputation, with many of the locals eager to believe the worst about the new kid. The heartfelt story that emerges is of a father longing for the son he lost and of a young man aching for the father who walked out on him. To the rockin' rhythm of its Oscar and Tony-nominated top 40 score (the soundtrack album reached number one on the Billboard charts and has sold over 15 million copies!) and augmented with dynamic new songs for the stage musical, FOOTLOOSE celebrates the wisdom of listening to young people, guiding them with a warm heart and an open mind.Music by
Tom Snow
; Stage Adaptation by
Dean Pitchford
and
Walter Bobbie
; Lyrics by
Dean Pitchford
; Based on the original screenplay by
Dean Pitchford
; Additional Music by
Eric Carmen
,
Sammy Hagar
,
Kenny Loggins
and
Jim Steinman
Click Here for More Information
View All Show Listings for Casper
Click Here to View BroadwayWorld.com Casper Calendar