Now Playing Onstage in Birmingham - Week of 2/02/2014
View All Show Listings for Birmingham
Click Here to View BroadwayWorld.com Birmingham Calendar
THE LAST FIVE YEARS
INDEPENDENT MUSICAL PRODUCTION
2/1-2/8/2014
THE LAST FIVE YEARS is a contemporary song-cycle musical that ingeniously chronicles the five year life of a marriage, from meeting to break-up... or from break-up to meeting, depending on how you look at it. Written by
Jason Robert Brown
(PARADE, SONGS FOR A NEW WORLD), THE LAST FIVE YEARS is an intensely personal look at the relationship between a writer and an actress told from both points of view. This intimate musical is perfect for small theatre companies and black box venues. With its two-person cast, acting stamina is a must.
Click Here for More Information
I DO! I DO!
INDEPENDENT MUSICAL PRODUCTION
1/31-2/9/2014
The story of a marriage is at the center of I DO! I DO! - an intimate and nostalgic work by
Harvey Schmidt
and
Tom Jones
(THE FANTASTICKS).The show begins with Michael and Agnes on their wedding day. Their vows behind them, they look forward to spending the rest of their lives together. We watch as they go through their wedding night jitters, raise a family, and negotiate mid-life crises. Michael eventually admits to his infidelity, and although Agnes is angered by his actions, she forgives him and the couple reconciles. They re-discover how much they really need each other. Then, after 50 years of marriage, the couple leaves their house to the next pair of newlyweds.This touching story of two soul mates navigating the perils of life is set to the strains of a tuneful, charming score. With minimal set and costume requirements, this show is ideal for regional theatre companies on a limited budget and smaller troupes.
Click Here for More Information
MILLION DOLLAR QUARTET
Von Braun Center [Concert Hall]
2/7-2/9/2014
Million Dollar Quartet is the electrifying new musical inspired by the famed recording session that brought together rock 'n' roll icons
Elvis Presley
,
Johnny Cash
,
Carl Perkins
and
Jerry Lee
Lewis for the first and only time. On December 4, 1956, these four young musicians gathered at Sun Records in Memphis for what would be one of the greatest jam sessions ever. Million Dollar Quartet brings that legendary night to life, featuring a score of rock hits that includes "Blue Suede Shoes," "Fever," "That's All Right," "Sixteen Tons," "Great Balls of Fire," "Walk the Line," "Whole Lotta Shakin' Goin' On," "Who Do You Love?," "Real Wild Child," "Folsom Prison Blues" and "Hound Dog." This thrilling musical captures the singular moment when four major talents came together to become a red-hot rock i¿½n' roll band. Don't miss your chance to be a fly on the wall of fame... at Million Dollar Quartet.
Click Here for More Information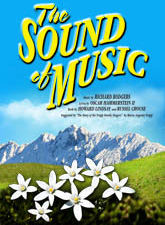 THE SOUND OF MUSIC
Chickasaw Civic Theatre
2/7-2/16/2014
The final collaboration between Rodgers & Hammerstein was destined to become the world's most beloved musical. When a postulant proves too high-spirited for the religious life, she is dispatched to serve as governess for the seven children of a widowed naval Captain. Her growing rapport with the youngsters, coupled with her generosity of spirit, gradually captures the heart of the stern Captain, and they marry. Upon returning from their honeymoon they discover that Austria has been invaded by the Nazis, who demand the Captain's immediate service in their navy. The family's narrow escape over the mountains to Switzerland on the eve of World War II provides one of the most thrilling and inspirational finales ever presented in the theatre. The motion picture version remains the most popular movie musical of all time.Music by Rodgers, Richard; Lyrics by
Oscar Hammerstein
II; Book by
Howard Lindsay
&
Russel Crouse
; Suggested by `The
Trapp Family Singers
` by
Maria Augusta Trapp
Click Here for More Information
FLIGHT OF THE LAWNCHAIR MAN
Faulkner University Theatre Dept.
2/6-2/22/2014
Click Here for More Information
View All Show Listings for Birmingham
Click Here to View BroadwayWorld.com Birmingham Calendar