Now Playing Onstage in Baltimore - Week of 12/22/2013
December 22
10:12 AM 2013
View All Show Listings for Baltimore
Click Here to View BroadwayWorld.com Baltimore Calendar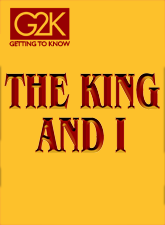 THE KING AND I
Olney Theatre Corporation
11/14-12/29/2013
G2K THE KING AND IThe 'G2K' Getting To Know Series: Uniquely adapted musicals specifically for youth performers. East versus West makes for a dramatic, richly textured and ultimately uplifting tale of enormous fascination. It is 1862 in Siam when an English widow,
Anna Leon
owens, and her young son arrive at the Royal Palace in Bangkok, having been summoned by the King to serve as tutor to his many children and wives. The King is largely considered to be a barbarian by those in the West and he seeks Anna's assistance in changing his image, if not his ways. With both keeping a firm grip on their respective traditions and values, Anna and the King grow to understand and, eventually, respect one another, in a truly unique love story. In this adaptation for pre-high school students, the content has been edited to better suit younger attention spans, but all the magic and beauty of the original are still in place. You and your students will be enchanted by the timeless story and the dazzling score, while at the same time learning about theater and its production. PLEASE NOTE: All schools wishing to peruse or perform a G2K musical should apply through the
Click Here for More Information
THE KING AND I
Olney Theatre Center for the Arts
11/14-12/29/2013
Mainstage:
Oscar Hammerstein
II; lyrics:
Oscar Hammerstein
II; music:
Richard Rodgers
; dir:
Mark Waldrop
.
Click Here for More Information
ANNIE
CHARM CITY PLAYERS
11/9-1/26/2014
Leapin' Lizards! The popular comic strip heroine takes center stage in one of the world's best-loved musicals. With equal measures of pluck and positivity, little orphan ANNIE charms everyone's hearts, despite a next-to-nothing start in 1930s New York City. She is determined to find her parents, who abandoned her years ago on the doorstep of a New York City Orphanage run by the cruel, embittered Miss Hannigan.With the help of the other girls in the Orphanage, ANNIE escapes to the wondrous and magical world of NYC. In adventure after fun-filled adventure, ANNIE foils Miss Hannigan's evil machinations and befriends President Franklin Delano Roosevelt. She finds a new home and family in billionaire Oliver Warbucks, his personal secretary
Grace Farrell
, and a lovable mutt named Sandy. ANNIE is the perfect family-friendly musical, and an ideal show for a largely female cast. Middle Schools and elementary schools should also take notice of ANNIE JR - a special version of this title expressly designed for younger performers.
Click Here for More Information
View All Show Listings for Baltimore
Click Here to View BroadwayWorld.com Baltimore Calendar