Now Playing Onstage in Baltimore - Week of 1/19/2014
View All Show Listings for Baltimore
Click Here to View BroadwayWorld.com Baltimore Calendar
SHREK
CHILDRENS THEATRE OF ANNAPOLIS
1/10-1/26/2014
SHREK THE MUSICAL, based on the Oscar® winningDreamWorks film that started it all, brings the hilarious story ofeveryone's favorite ogre to dazzling new life on the stage. Ina faraway kingdom turned upside down, things get ugly when an unseemlyogre "" not a handsome prince "" shows up to rescue a feisty princess.Throw in a donkey who won't shut up, a bad guy with a SHORT temper, acookie with an attitude and over a dozen other fairy tale misfits, andyou've got the kind of mess that calls for a real hero. Luckily,there's one on hand...and his name is Shrek. Full of all-new songs, great dancing and breathtaking scenery, SHREK THE MUSICAL is part romance, part twisted fairy tale and all irreverent fun for everyone!**AVAILABLE FOR LICENSES FOR PERFORMANCES BEGINNING JUNE 2013**
Click Here for More Information
ANNIE
CHARM CITY PLAYERS
11/9-1/26/2014
Leapin' Lizards! The popular comic strip heroine takes center stage in one of the world's best-loved musicals. With equal measures of pluck and positivity, little orphan ANNIE charms everyone's hearts, despite a next-to-nothing start in 1930s New York City. She is determined to find her parents, who abandoned her years ago on the doorstep of a New York City Orphanage run by the cruel, embittered Miss Hannigan.With the help of the other girls in the Orphanage, ANNIE escapes to the wondrous and magical world of NYC. In adventure after fun-filled adventure, ANNIE foils Miss Hannigan's evil machinations and befriends President Franklin Delano Roosevelt. She finds a new home and family in billionaire Oliver Warbucks, his personal secretary
Grace Farrell
, and a lovable mutt named Sandy. ANNIE is the perfect family-friendly musical, and an ideal show for a largely female cast. Middle Schools and elementary schools should also take notice of ANNIE JR - a special version of this title expressly designed for younger performers.
Click Here for More Information
DISNEY'S BEAUTY AND THE BEAST JR
KENSINGTON ARTS THEATRE
1/25-1/26/2014
Step into the enchanted world of Disney's BEAUTY AND THE BEAST JR. Featuring songs from the Academy-Award winning animated feature, this stage version includes music by
Alan Menken
and the late
Howard Ashman
, along with new songs by Mr. Menken and
Tim Rice
. Your audiences will be transported to the heart of provincial life in a lovely French town. When Maurice becomes lost in the woods on the way to the fair, he seeks shelter in an old castle, but the master of the castle is a horrible beast that takes him captive. Maurice's daughter, Belle, must then give up her freedom to save his life. Belle's taming of the unfortunate Beast and his ultimate transformation back into a handsome prince is a beloved fairy tale about very different people finding strength in one another and learning how to love. This "tale as old as time" is filled with spectacular costume and set opportunities. Even more simply staged, Disney's BEAUTY AND THE BEAST JR. offers students a great introduction to musical theatre, using familiar songs and characters to guide them through their production.
Click Here for More Information
JOSEPH AND THE AMAZING TECHNICOLOR DREAMCOAT
Centennial High School
1/23-1/27/2014
The Biblical saga of Joseph and his coat of many colors comes to vibrant life in this delightful musical parable. Joseph, his father's favorite son, is a boy blessed with prophetic dreams. When he is sold into slavery by his jealous brothers and taken to Egypt, Joseph endures a series of adventures in which his spirit and humanity are continually challenged. He is purchased by Potiphar where thwarting advances from Potiphar's wife lands him in jail. When news of Joseph's gift to interpret dreams reaches the Pharaoh (wryly and riotously depicted as Elvis), Joseph is well on his way to becoming second in command. Eventually his brothers, having suffered greatly, unknowingly find themselves groveling at the feet of the brother they betrayed but no longer recognize. After testing their integrity, Joseph reveals himself leading to a heartfelt reconciliation of the sons of Israel. Set to an engaging cornucopia of musical styles, from country-western and calypso to bubble-gum pop and rock 'n' roll, this Old Testament tale emerges both timely and timeless.Lyrics by
Tim Rice
; Music by
Andrew Lloyd Webber
Click Here for More Information
TARZAN
Milburn Stone
THEATRE AT CECIL COLLEGE
1/24-2/2/2014
Based on Edgar Rice Burrough's Tarzan of the Apes and the smash-hit 1999 Disney animated film, TARZAN tells the story of an infant boy orphaned on the shores of West Africa. Taken in and raised by a tribe of gorillas, the young boy strives for acceptance by his ape father while grappling with his uniqueness. When a human expedition enters their territory, Tarzan - now a man - encounters strangers like himself for the first time. TARZAN features music and lyrics by pop icon
Phil Collins
, including the Grammy and Oscar winning song, "You'll Be in My Heart", and book by Tony Award-winning playwright,
David Henry Hwang
.
Click Here for More Information
THE WILD PARTY
Milburn Stone
THEATRE AT CECIL COLLEGE
1/24-2/2/2014
Adapted from a book-length poem written in and about the Roaring Twenties,
Andrew Lippa
's WILD PARTYtells the story of one wild evening in the Manhattan apartment sharedby Queenie and Burrs, a vaudeville dancer and a vaudeville clown. In arelationship marked by vicious behavior and recklessness (mirroring thetime in which they live), they decide to throw a party to end allparties. As the guests arrive, we meet an assortment of peopleliving on
The Edge
. Queenie and Burrs set out to make each otherjealous, but Queenie begins to fall in love with her conquest namedBlack. After a long night of decadence, Burrs' jealousy erupts and hecomes to a violent end at Black's hand. In the stark light of a newday, Queenie moves out into a brighter world, although not necessarilya brighter future, leaving the passed-out revelers in her wake.An award-winning score by
Andrew Lippa
provides excitement and drive for this tale of passions out of control.Capturing the sound of a bygone era with a nod to the present one, hemakes us realize that moral decadence is not only limited to our past.
Click Here for More Information
CRIMES OF THE HEART
Everyman Theatre
1/8-2/2/2014
Everyman Theatre:
Beth Henley
; dir: Susanna Gellert.
Click Here for More Information
THE FLU SEASON
Single Carrot Theatre
1/22-2/16/2014
Will Eno
; dir: Alix Fenhagen.
Click Here for More Information
STONES IN HIS POCKETS
Center Stage
1/15-2/23/2014
Head Theater:
Marie Jones
; dir: Derek Goldman.
Click Here for More Information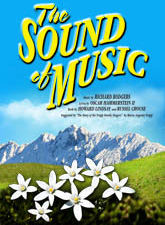 THE SOUND OF MUSIC
Way Off Broadway Dinner Theatre
1/17-3/15/2014
The final collaboration between Rodgers & Hammerstein was destined to become the world's most beloved musical. When a postulant proves too high-spirited for the religious life, she is dispatched to serve as governess for the seven children of a widowed naval Captain. Her growing rapport with the youngsters, coupled with her generosity of spirit, gradually captures the heart of the stern Captain, and they marry. Upon returning from their honeymoon they discover that Austria has been invaded by the Nazis, who demand the Captain's immediate service in their navy. The family's narrow escape over the mountains to Switzerland on the eve of World War II provides one of the most thrilling and inspirational finales ever presented in the theatre. The motion picture version remains the most popular movie musical of all time.Music by Rodgers, Richard; Lyrics by
Oscar Hammerstein
II; Book by
Howard Lindsay
&
Russel Crouse
; Suggested by `The
Trapp Family Singers
` by
Maria Augusta Trapp
Click Here for More Information
View All Show Listings for Baltimore
Click Here to View BroadwayWorld.com Baltimore Calendar