BWW Review: ALAN CUMMING - LEGAL IMMIGRANT - A SCOTTISH AMERICAN CABARET at The Stiefel Theatre For The Performing Arts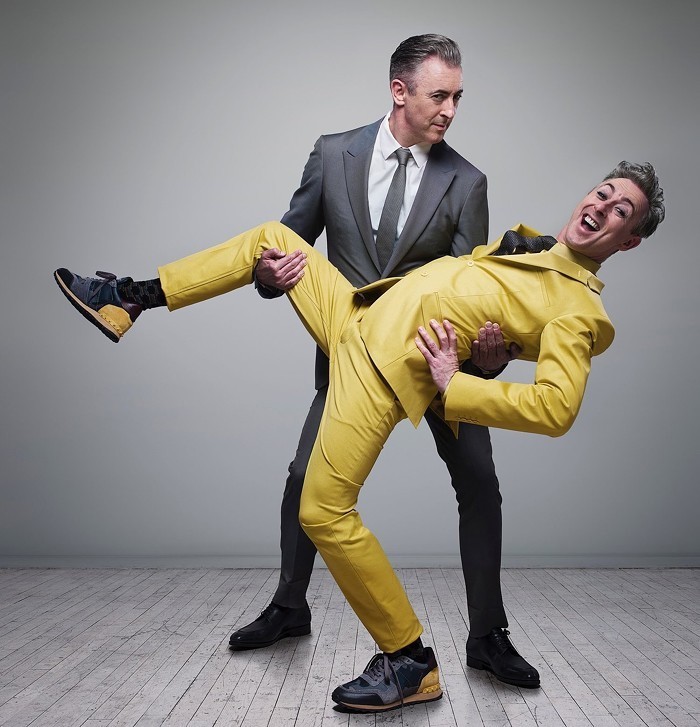 I had the extreme pleasure of attending Alan Cumming's Legal Immigrant, A Scottish American Cabaret, at the Stiefel Theatre for the Performing Arts in Salina, KS, on May 11th, 2018. Mr. Cumming intimated this was only the second performance of the show, a two hour powerhouse performance, but if he had never told us, we wouldn't have known it. He was accompanied by a small combo - cellist Eleanor Norton, drummer/guitarist Chris Jego, and pianist and musical director Lance Horne. Horne, by the way, is from Denver, where they opened their show May 9th. The following day they made their way to Salina, where Cumming gave a fun (and free with a purchased ticket) Q & A on Thursday, May 10th, at 7pm. Kudos to Michael Spicer and the Salina Community Theatre for arranging the event. Friends who attended remarked that Cumming was very gracious and had a wicked sense of humour. The afternoon off also gave cellist Norton time to shop at the local thrift shop, where she purchased a gorgeous full length and fully tailored gold smoking jacket, which she wore during the performance.
The stage was bare save for a triangle of instruments - a grand piano down stage right, drums up center, cellist down stage left, with Cumming dead center. He wore a white jacket with unfinished hems on the cuffs and bottom, allowing the gossamer frayed silk of the hems to delicately waft angelically as he moved about. Underneath said jacket was a light black crew neck sweater with scalloped cut outs at the elbows, along with white pants and comfy black leather slip ons. Armed with a music stand full of notes to his right, a microphone and stand, and several Fiji waters, which he quaffed continuously through the night, Cumming made the intimate setting of the beautiful Stiefel theatre seem like his living room. If you haven't been to the Stiefel, I urge you to go. The unique egg-shaped, wrap around proscenium is like a big red velvet hug.
Okay, now that I've got the facts out of the way, let me wax eloquent about Cumming's performance. It was sublime. This is the first time I've seen him perform live, and from the moment he stepped on stage, I understood why he is so beloved. His genuine warmth and ease with the audience is palpable. Making no effort to conceal his Scottish accent, he used it to great effect, perfectly placing his voice to either delicately spin an intimate moment or belt out a declaration of desire. In an age where many singers rely on ProTools and a sound man to get through a two hour live performance, Cumming's command of his vocal talents is most impressive.
The content of Cumming's show couldn't be more topical. Inspired by his own immigrant experience, which he describes as "privileged," he was mortified when the United States Government removed "The Nation of Immigrants" from their website. "After all, the first people to come to this country were Spanish!" Lamenting the negative rhetoric concerning immigrants, Cumming cited the ethnic backgrounds of his combo, as well as the songwriters of each song he sang. He talked about his own reasons for becoming an American - "the only thing you can't do with a green card is vote" - and also fondly recounted his own Naturalization in 2008.
Other highlights of the evening included his tale of working on the Gender Bender Sondheim, playing Joanne, and making Sondheim cry; his experience on being the first gay lead in American Drama on his new CBS series Instinct - "I have a Fosse gun stance"; and his tale about Club Cumming, which he opened in NYC. Here's where the story has a Wichita connection! Ross "Rose" McCorkell, a fellow expat Scott, and a Wichita State graduate, hosts the Ru Paul Drag nights there. Cumming describes the club as "one big happy family!" Another theme running through this show is ageing. Cumming admits to being 53, and told an hysterical tale of "Scrotal ageing" and "Scrotox." Oh yes, Google "Scrotox." It's a thing.
The highlight of the evening was Cumming's tender yet powerful rendition of Caledonia, a Scottish folk ballad written by Dougie MacLean in 1977. MacLean wrote the song feeling homesick for Scotland, something any one of us who has ever picked up and moved to a new town (or country) can understand. To conclude his program, Cumming sang Tommorow from Annie, putting his own twist on the lyrics at the conclusion of the song - "I just stick out my chin and say RESIST!!!" The audience cheered and Cumming said "I am glad to be a part of our great nation."
Cumming was at the Kaufman Center for the Performing Arts in Kansas City on Sunday, May 13th, and will perform this show one more time at Massey Hall in Toronto, Ontario, on Saturday, June 19th before he opens the show in NYC at the Café Carlyle. The Carlyle show will run June 19-30. The Carlyle show starts at 8:45pm, and will finish in just enough time for Cumming to run downtown to Joe's Pub and do the whole thing all over again, starting at midnight. The Joe's Pub engagement also runs June 19-30. For the rest of his tour dates, visit http://www.alancumming.com/events/
| | | |
| --- | --- | --- |
| | Donations | Arts Orgs |
Related Articles View More Wichita

Stories

Shows
Paula is very excited to be a Contributing Editor for BroadwayWorld.com! Paula earned her Master's Degree in Theatre from Oklahoma State University, where she directed (read more...)