THRILLER LIVE Announces A New West End Booking Period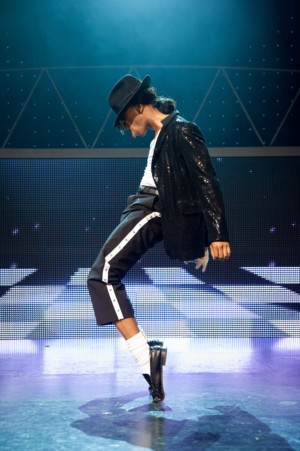 West End hit Thriller Live, a spectacular concert- style show that celebrates Michael Jackson's enduring musical legacy and ground-breaking dance moves, today announces it has opened a new booking period to Sunday 7 April, 2019!
190,000 new seats go on sale today.
The new booking period includes several exciting events and Michael Jackson-related celebrations:
Wednesday 29 August would have been Michael Jackson's 60th birthday.
And on Wednesday September 12, Thriller Live will celebrate its 4000th West End performance at the Lyric Theatre with a special gala show.
Thriller Live now holds the record as the sixth longest running musical currently playing in the West End.
It also recently became the 14th longest running musical in West End history.
The Thriller Live World Tour continues with dates across the UK, Germany, Poland, Kuwait and Dubai through to summer 2019.
Next month Thriller Live will welcome several new cast members:
Dancers Leona Lawrenson, Mari Macleod, Matt Vjestica and Vivian Gayle.
Thriller Live is unlike other West End musicals. There is no script or story, it is instead a eye-popping celebration of Michael Jackson's music and dance legacy, bringing to life on stage his distinctive high-energy dancing and the pulsating sound of many of pop's greatest hits. The show changes each year with new numbers added, and features specially created video footage and effects and dazzling choreography by the show's award-winning director, Gary Lloyd.
Thriller Live first Moonwalked into the Lyric Theatre on Shaftesbury Avenue in January 2009. It holds the record as the longest ever run of a show since the theatre started entertaining the capital in December 1888.
Thriller Live has now been seen by over 4.5 milion people in 33 countries and played over 6,100 performances worldwide, never failing to get a standing ovation!
The rest of the current Thriller Live West End company are:
Lead vocalists: Wayne Anthony-Cole, Charlotte Berry, Jason Brock, Vivienne Ekwulugo, Haydon Eshun, Tyrone Henry, John Moabi, Cordell Mosteller, Stefan Sinclair, Florivaldo Mossi
Dancers: Brett Baxter, Shakara Brown, Peter Cleverley, Ella Coghill, Jamal Crawford, Aisling Duffy (Resident Director) Joel Ekperigin, Jamie Mason, Ashley-Jordon Packer, Ella Redhead, Emma Jane Smith, Sophie Usher, Jorgia Vaughan.,
Young MJs: Triple Caz, Andre Faulds, Isaiah Mason, Christian Posso,
Jay-Jay Prince, Marcellus Virgo-Smith
The band are: Musical Supervisor, Keyboard 2 & Guitar 2 John Maher; AMD, Keyboard 1, Ryan Alex Farmery; Guitar 1 Damien Cooper; Bass Oliver Latka; Drums Mike Bradley; Percussion Adam Kovacs.
The Creative Team are: Director and Choreographer Gary Lloyd, Original concept and Executive Director Adrian Grant, Musical Supervisor and Head Arranger John Maher, Set Designer Jonathan Park, Lighting Designer Nigel Catmur, Associate Lighting Designer Matt Lee, Video Content Designer Colin Rozee and Potion Pictures, Costume Stylists and Supervisors Shooting Flowers, Sound Designer Chris Whybrow, Casting Director Debbie O'Brien, Assistant Choreographer Rose Wild, Associate Choreographer Yasmin Yazdi, Associate Choreographer Jo Dyce, Media Programmer Sam MacLaren.
Producers: Paul Walden and Derek Nicol for Flying Music in association with Adrian Grant for Key Concerts.
Thriller Live was originally conceived and created by Adrian Grant, a long time associate of Michael Jackson.