ONLY FOOLS AND HORSES Takes Over £8M at the Box Office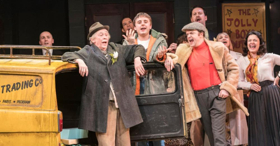 Only Fools and Horses The Musical is the biggest West End opening of the year, having taken more than £8 million at the Box Office and sold more than 150,000 tickets.
The musical, which opened on 9 February, is now the fastest selling show in the history of the Theatre Royal Haymarket and has smashed the Box Office record for the biggest grossing pre-opening advance.
But fans wanting to see the musical will not be left disappointed, as the Theatre Royal Haymarket run has been extended due to the phenomenal demand for tickets and the show is now booking until the end of August this year.
The critical acclaim for the show has also been outstanding, with The Guardian praising "the finest collection of vintage gags on the London stage" and the Daily Telegraph agreed, confirming that "the script drips with gems of gags". The Daily Mirror exclaimed that "the set, costumes and score are fab, and every performance is pukka", whilst the Daily Mail warned "you'd be a fool to miss it". The Sun praised the show in their own inimitable style; "whoever said an Only Fools and Horses musical wouldn't work will be feeling like a right plonker now".
Danny Cohen, President of Access Entertainment, who own the Theatre Royal Haymarket, said: "It's brilliant to see how happily the Trotter family have transferred from Peckham to the West End. We're very proud of Only Fools and Horses The Musical. The reaction to the show has been phenomenal and to take over £8million at the Box Office is testament to the huge love out there for this quintessentially British show."

Nigel Everett, General Manager of the Theatre Royal Haymarket, said: "In all my years of running the Theatre Royal Haymarket, I have never seen such a hugely positive reaction from the audiences. Only Fools and Horses The Musical is enjoying nightly standing ovations and the theatre goers literally Raise the Roof at every performance."