BWW Review: PRESENT LAUGHTER, Chichester Festival Theatre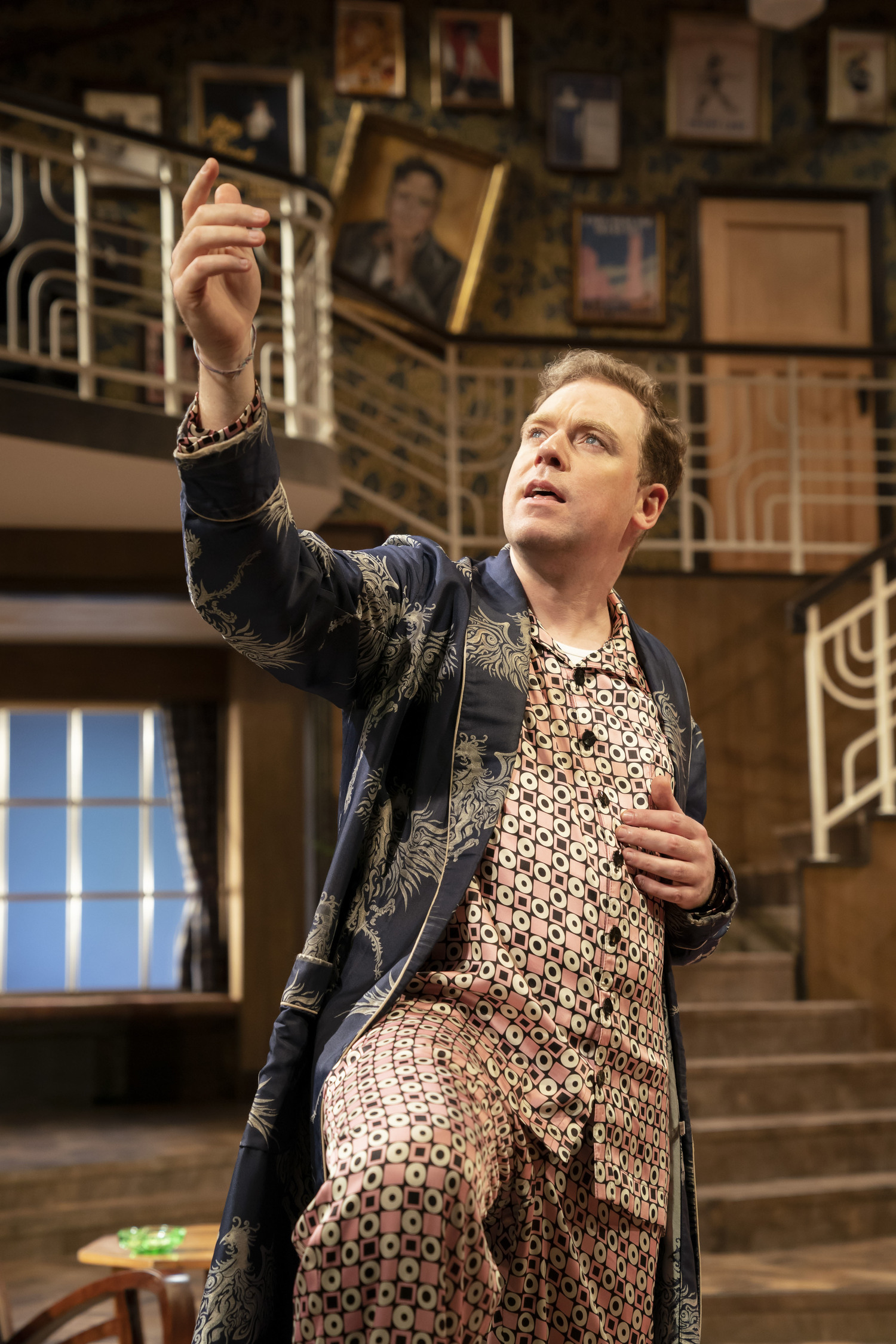 Noël Coward's comic play Present Laughter is said to be his most autobiographical work, dealing with the complexities of a life of fame in the theatre world. It tells of the mischief and misery of actor Garry Essendine (an anagram of 'neediness', as the programme note points out), his household staff and close circle of friends and lovers.
Rehearsals for the original production in 1939 were halted by the declaration of WWII. It later premiered in 1942, when Coward himself produced, co-directed and starred.
The play is set in Essendine's living room. Alice Power's set gives a multi-layered playground for Essendine's eccentrics, with plenty of steps and objects to trip over and doors for characters to enter and leave the room. An impressive collection of hats adorn the lounge.
Rufus Hound graces the stage as Essendine in more silk dressing gowns than I could count. He jumps from elegant charismatic bachelor to manic drama queen, offering a series of finger-wagging rants. Katherine Kingsley is a delight as his estranged wife, Liz, and Tracy-Ann Oberman ably plays his ever-patient secretary, Monica Reed.
Other notable performances include Ben Allen as hilariously erratic Roland Maule, aspiring playwright-cum-stalker of Essendine, and Delroy Atkinson as the perpetually cheery, whistling butler Fred (much to Essendine's annoyance).
Tamzin Griffin is a hoot as dotty old Miss Erikson. Her walk alone has the audience in stitches. Lizzy Connolly bounces her way around the stage as Daphne, a young admirer of Essendine, and Lucy Briggs-Owen commands the stage as suave Joanna Lyppiatt.
Sean Foley's direction ensures maximum entertainment, especially the impeccably timed door-slamming. It complements Coward's writing, where the combination of events and arrivals of particular characters creates a scene of sheer chaos in Essendine's home, much to the audience's amusement.
Power's costumes highlight the luxury of this lifestyle. The finale (choreographed by Lizzi Gee and Phil Bateman) is a wonderful tribute to Coward and the Festival Theatre.
Present Laughter will have you in fits of laughter and is a fabulous opening production for the Chichester Festival Theatre's 2018 season.
Present Laughter at Chichester Festival Theatre until 12 May
Read our interview with Tracy-Ann Oberman
Photo Credit: Chichester Festival Theatre