BWW Interview: Tracy-Ann Oberman Talks PRESENT LAUGHTER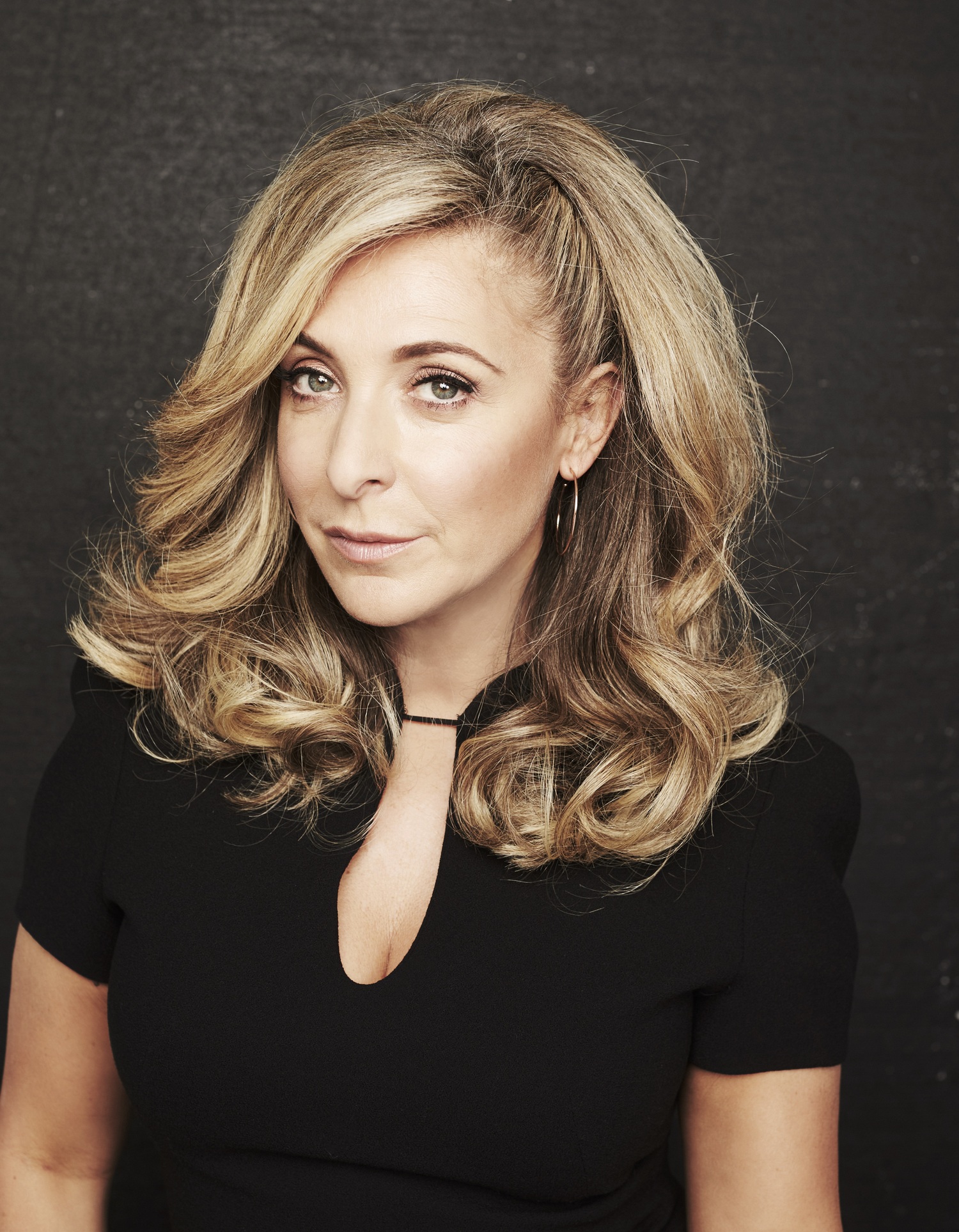 Chichester Festival Theatre is a place of firsts for Tracy-Ann Oberman. Last year, she performed in The Fiddler on the Roof, her first professional musical. This spring, she returns to CFT once again for her first Noël Coward play, Present Laughter.
With tech week coming up, Oberman spoke to us about why she wanted to take on Coward, what else is on her wish list, and what audiences can expect from Present Laughter.
What was your earliest memory of theatre?
Well, we always went to panto at the Palladium every Christmas. But I remember when I was very young, my Mum got tickets to what she thought was Guys and Dolls, but she in fact took my five-year-old sister and me to see Major Barbara.
That's a little different: a big bells and whistles musical vs. George Bernard Shaw play!
It was really different!
But the seminal one which made me want to take up acting was Troilus and Cressida. We were studying it at school, and had been taken by it to see it at the Royal Shakespeare Company. And I was completely blown away.
And you then went on to do a season at the RSC after drama school.
Well, that was quite the training: doing some drama at university, then going to drama school for three years, and then onto the RSC for four years! But it was pretty amazing, I was there with such a good intake: Emily Watson, Sophie Okonedo, Barnaby Kay. And people like Dominic Cooke were just starting out. So it was a really interesting generation to be working with.
After a theatre-heavy beginning to your career, you moved across to screen and radio, both as actress and playwright. Do you have a preferred medium?
You know, that was the funny thing. I remember being at the National Theatre and doing David Mamet's Edmond with Kenneth Branagh. And that opened lots of doors to me for stage work. And weirdly, the choice ended up being going into EastEnders. So then I went through a spate of doing loads of telly.
But I always liked doing theatre, so that's why I now like to do at least one or two plays a year. And what I really appreciate about coming back to theatre is how you're in charge of your own edit. I enjoy the fact that I am in charge of what will happen on that stage for my own character
But I do also like the collective group experience of putting a play on, that company. You do get a sense of that with television, of course. I've just finished the fifth series of Friday Night Dinner, and we've been doing that for six or seven years. So that really does feel like a little family; same with Toast of London.
Is there any other play or theatre which you would like to take on in the future?
Well, I'd like to do a Chekhov. Less driven by stage and more so by directors, but I love Rupert Goold's work. Jamie Lloyd, Vicky Featherstone, Robert Icke, Lyndsey Turner and Marianne Elliott, to name a few whose work I admire.
I would also love to go back to the National (like every actor in the land!). And to play Sheffield too, because that's a really interesting thrust stage. I do love thrusts! Stages like that and here in Chichester.
Because this isn't your first time at Chichester Festival Theatre, is it?
I've been lucky enough to be here a few times before. I was here back in about 1998 on the old main stage and I did Loot and I've played the Minerva a number of times.
And then I came back in November touring with Stepping Out, and then six months later, I came back for Fiddler on the Roof last year. That was an incredible experience. I was rehearsing that while being in Stepping Out, so it was tiring but I absolutely loved it. Working with Daniel Evans, making that play very relevant and very political and not a sort of 'jazz hands' musical. He made it really mean something.
And that was actually the first time I had done a musical. And it didn't actually feel like a musical, it just felt like a very good play with really great music.
What's it like taking on that new challenge later on in your career?
Well it was interesting, because I did Stepping Out where I had to learn to tap dance in five weeks...
Wow!
Yes! And I had never danced in my life before. And then taking on Fiddler at that point, I thought, "You know what? I love this musical and it means a lot to me. Sod it, I'm going to do it!" I think the older you get, the more fearless you get.
And now you're back again at CFT with Present Laughter. How familiar were you with the play?
I was quite familiar, I'd seen it a couple of times. And the thing that I love about the Chichester thing is it starts to feel a bit like a rep, where you get to play lots of different parts at your favourite theatre.
So what I love is that this audience, having seen me in Stepping Out and then six months later in Fiddler, six months after that can see me in a Noël Coward. And I'd always wanted to do a Coward, I really love the language.
Sean Foley has a very specific directing style... I'd call it 'Big Comedy'. It's a very specific style and it's a bit of an experiment, I suppose, to see if Coward and that language lends itself to this very fast-paced comedy. And it does really work.
This is the first Noël Coward play you're working on, then?
Yes and I really wanted to do it. It's so quintessentially English. And I've subsequently become fascinated by Noël Coward, and I'm reading his diaries and his letters.
What an interesting man. To think he was a working-class boy who essentially created himself as 'Noël Coward', and suddenly all of that class that he was aspiring to hang out with, they started to copy him with how they spoke. So all that terribly, terribly posh and smoking and affectation, he made all that himself.
But it was his words, that's why I wanted to do Present Laughter. I think his words and language and wit is like Oscar Wilde, it's so clever. And I think this play is quite an interesting play to do at this time, with #MeToo.
So you feel the play resonates today?
Absolutely. It's about an actor who is aging, and has this reputation of fame and power. And he gets to sleep with lots of women who are crazy about him, but he's not connected to any of them. And he treats them pretty badly, really.
So it's been interesting to see how Sean goes for that and approaches it. And he's just gone for the comedy and it'll be interesting to see how it plays.
Have you updated it to the modern day?
No, we're keeping in the period. But it's very, very high comic. Lots of difficult comedy, very quick lines, lots of visual gags. It's been a very technical and interesting process.
Can you tell us a bit about the character you play?
So I play Monica, his secretary. And she is based on Noël Coward's real life secretary, Lorn Loraine. She was his right-hand woman, she adored him and he adored her. She did everything for him.
So Monica is based on her, and she is the only sane one in a very mad world. Her and the ex-wife are the sane side of Garry, and Monica moves very smoothly.
She is rather disapproving of his choices, but in a loving way. She really tries to keep him on the straight and narrow. But she's funny, because she undercuts him all the time and is very witty.
What have you been up to in rehearsals so far?
So we start teching on Monday. And Sean's room is very, very physical and very, very technical. It's a very technical exercise in timing: it's all about doors opening at the right time, windows slamming at the right time, picking up a cup of tea at the right time. It's all about beats.
And this is your first time working with him as a director.
Yes, but I've worked with him as an actor when he and Hamish McColl were The Right Size. And I did two radio series with him and I really admire him as an actor. So it's now interesting to work with him as a director.
And he does have such a specific style. It's very different because he'll block it first. So you'll go from the outside in, rather than the inside out. That's been an interesting challenge: the picture gets painted, and then you slowly fill it in bit by bit. So it's been fascinating to see how that's evolved.
Do you have any words of wisdom from this rehearsal room?
Well, in this rehearsal room: do learn your lines and don't bump into the furniture!
Present Laughter at Chichester Festival Theatre, 20 April-12 May
Photo Credit: Joseph Sinclair, Johan Persson