BWW Review: KING THE MUSICAL IN CONCERT, Hackney Empire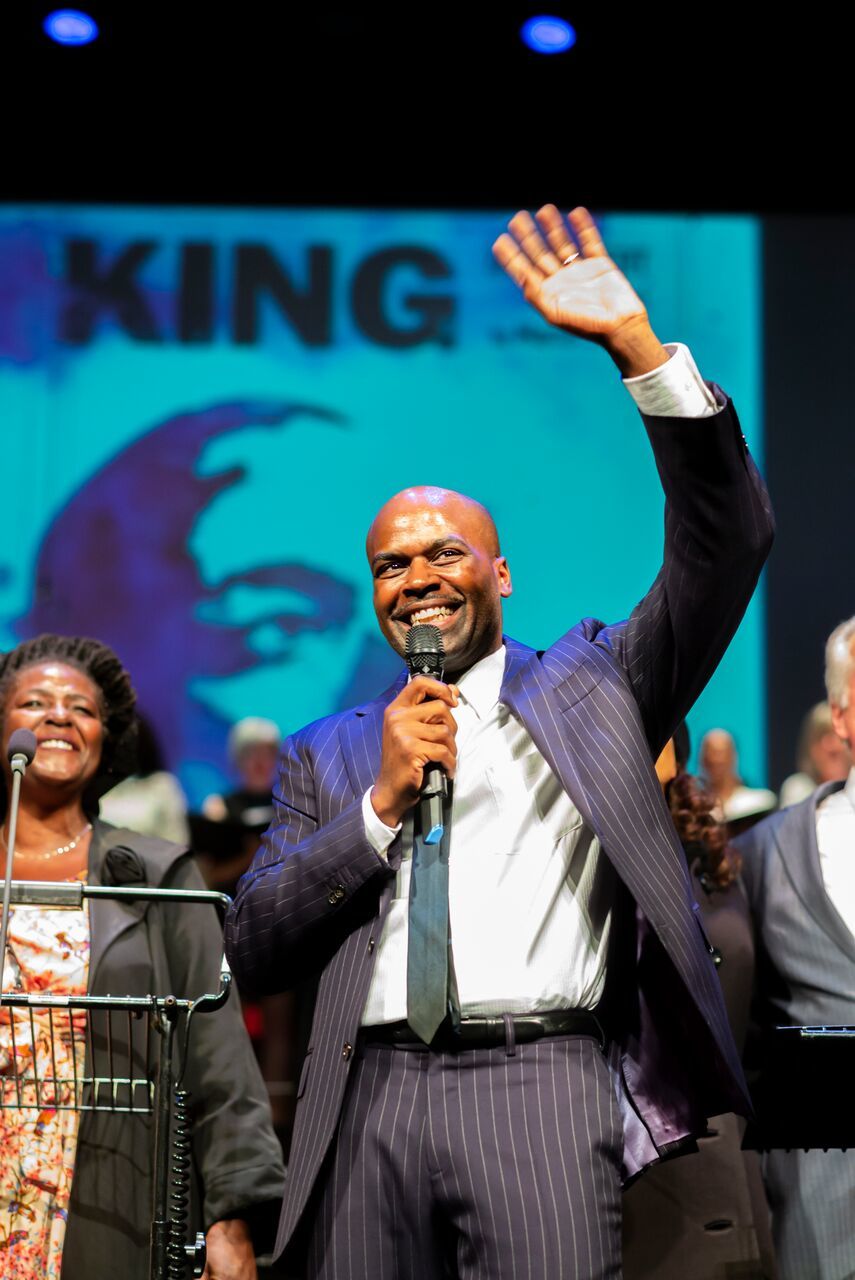 A diverse cast; a score packed with many musical genres, including rap; and a sung-through treatment of an important period of American history...
No, it's not Hamilton, but a superb concert presentation of the late Martin Smith's King The Musical by Hackney Empire and London Musical Theatre Orchestra about Dr. Martin Luther King Jr.
Until this weekend, the piece had only had a single sold-out performance at the Prince Edward Theatre in 1988, a few years before the composer's untimely death.
This autobiographical account of the pastor-cum-activist has now been revived, 30 years later, by director Susie McKenna - with a 22-piece orchestra and mass of singers, including the Hackney Empire Community Choir and Gospel Essence Choir.
Cedric Neal
brilliantly leads the cast as Dr. King, delivering a performance packed with spirit. His voice is pure silk and the part shows off his impeccable riffing skills.
Debbie Kurup is equally passionate as his wife, Coretta Scott King - ever patient and supportive of her husband's convictions and callings, while also protesting racial injustice herself.
Sharon D Clarke plays Martin's mother Alberta with warmth and quiet strength, and Carole Stennett is fervorous as iconic rebellious bus passenger Rosa Parks.
The structure of the show is largely chronological, with useful projected images and text (by Reuben Cook) indicating locations and dates.
But as emphasised by MD Freddie Tapner at the top of the show, the outstanding orchestral and vocal performances are indeed more than sufficient entertainment in this minimal concert staging, designed by Lotte Collett.
Ana Zolotuhin's costumes are smart and appropriate for the setting, defining who is who. Having the choir dressed in black and white, seated separately and then integrated after the interval, is a clever, subtle indication of society's thinking as the piece progresses.
King's structure and numbers present many sides of the ongoing fight for racial equality, from activists to authoritarians. Alexander Hanson and Clive Carter portray John F. Kennedy and FBI director J. Edgar Hoover respectively.
John Barr revels in assuring the audience of ex-Commissioner of Public Safety Bull Connor's political stance in the Elvis-esque number "I'm Bad".
The Freedom Four (Jo Servi, Daniel Balley, Adrian Hansel and Adam J. Bernard) deserve a mention for their tight harmonies and vocal acrobatics at various a-capella interludes throughout the piece. The remainder of the talented cast and choir provide strong performances as protestors, police officers, churchgoers and more as the tale charts MLK and Coretta's first meeting at Boston University in 1952 through to his tragic assassination at a rally in Memphis in 1968. Martin's score is packed with rousing protest songs, marvellously orchestrated by Simon Nathan for this production. "Sing Your Song of Freedom" was a particular highlight and "We Ain't" literally took the audience at the Hackney Empire to church. King in Concert is a triumph for all involved.
King the Musical in Concert played Hackney Empire 30 June and 1 July
Read our interview with MD Freddie Tapner about London Musical Theatre Orchestra's 2018 Season
Photo credit: Nick Rutter