2018 Year in Review: Aliya Al-Hassan's Best of Theatre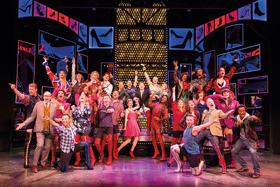 What a bizarre year 2018 has been. In the months that saw too much Trump, devastating Californian wildfires, an escalation in the refugee crisis, not to mention the dreaded 'B' word, it makes me more grateful than ever for the pure escapism that live theatre so often provides.
I'll start with the big guns. The fantastic Dreamgirls and Kinky Boots will leave the West End on 12 January. I attended the latter's third birthday performance in July and had the opportunity to interview some of the cast members about the show and the national tour that's doing the rounds now.
I was particularly struck with what Simon-Anthony Roden, who plays a peerless Lola, thought about the show's departure. Other cast members said they were sad though happy to hand it over, but Roden said he was very disappointed, as he thought the West End needed shows like Kinky Boots - the message that it's OK to be different is as necessary now as it ever has been.
I was personally delighted that Roden won BroadwayWorld UK's Best Long-running West End Show Performer (Male) this year, as I think his version of Lola is flamboyant and fabulous, but also so nuanced. It is genuinely sad that the show is closing in London, but I can't wait to see what the touring production has to offer.
Peter Shaffer's masterpiece Amadeus returned to the National Theatre in January and boy does it still deliver. Lucian Msamati reprised his role as Salieri in a mesmerising performance, brimming with acerbic bitterness and regret. The Southbank Sinfonia were on top form, as they integrated themselves so much into the show that they became as intrinsic to the performance as Mozart himself.
Amadeus Live! on the big screen (literally) was also a highlight from the Royal Albert Hall's clever series of blockbusters played with a live orchestra. Here the film was accompanied by the Philharmonia Chorus and the Academy of St Martin the Field, the very orchestra who played the film's soundtrack. It's a unique and captivating way of repeating film classics that I'm sure will prove just as popular in 2019.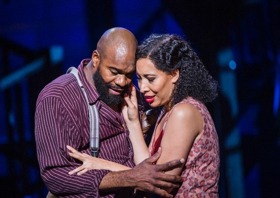 Carrying on the music theme, the new English National Opera season got off to a shaky start with a bizarre feminist take on Salome, but quickly redeemed itself with a riotous version of Porgy and Bess.
You could almost feel the stifling heat of South Carolina in the sparkling and passionate conducting from John Wilson, who made his ENO debut.
Eric Greene was sublime as the wronged Porgy and Nadine Benjamin's rendition of "Summertime" was breathtaking. It was also great to see her on the Coliseum's stage again so quickly as a Musetta full of attitude in La boheme.
I have a big soft spot for the tiny but mighty Orange Tree Theatre in Richmond, which stages some of the most interesting work in the capital. The fact that it's independent makes a huge difference to the choice of plays; they can be more eclectic and take risks that commercial theatres would never dare to do.
Back in April, they returned to championing brand new talent and staged a debut play from Joe White, an Orange Tree Writers Collective alumnus, called Mayfly. With a cast of just four, it explored the effects of grief in a tender and often devastating manner. There was nothing particularly ground-breaking about the production, but it was executed with such sensitivity and care that it showed just how important it is for theatres to take a chance on new writers.
The Orange Tree also staged a revival of Martin Crimp's unsettling Dealing With Clair, which was unnerving and uncomfortable in equal measure, as it analysed our continued national obsession with property and the morality (or lack of it) that comes with it. The production also featured fantastic performances by Tom Mothersdale and Hara Yannas as the horrendous middle-class couple of nightmares.
My geographical bias is to south-west London, and so Richmond Theatre is an almost weekly jaunt. Their season has been mixed, to say the least, but there have been some real gems, such as Jessica Swale's touching and fresh take on The Jungle Book. Joe Stilgoe's excellent song-writing skills were in evidence with tracks you were humming all the way home, and Keziah Joseph made a fantastic Mowgli.
There was also a haunting and quietly brilliant performance of Connor McPherson's intimate Irish play The Weir, and a rare five-star review from me for Alan Bennett's perfectly realised The Habit of Art with a superb cast, including a wonderfully acerbic Matthew Kelly as W. H. Auden and a woolly David Yelland as Benjamin Britten.
These are the sort of productions that will attract a new audience to Richmond Theatre, rather than mediocre touring fillers.
One of the most memorable performances I saw this year was also the most simple. It belonged to two young actors on a tiny stage in the back of a pub in Islington on a boiling hot July afternoon. Did It Hurt? was a truly thought-provoking and sensitive play, staged as part of the King's Head Theatre's Playmill festival.
Michael Faulkner and Joshua Poole make up the performance duo Seventy30 and put on a short, sharp play exploring toxic masculinity and male mental health. It was simple, quiet and played to a minute audience, but reminded me that good theatre comes in all shapes and forms and can be appreciated whether or not it has a multi-million-pound budget.
So here's to celebrating theatre and performance in every form. Talent and greatness can be found in the strangest places, and I can't wait to see more of the brave and gifted people who make up this weird and wonderful industry giving it their all in 2019.
My thanks and admiration goes out to all of them. It also extends hugely to my colleagues at BroadwayWorld, who travel far and wide to bring our readers the best possible coverage, and to my editor Marianka Swain, who tolerates my sometimes odd suggestions with grace and generosity!
What are your favourite theatre experiences of 2018? Let us know here or on Twitter
Photo credit: Helen Maybanks, Tristram Kenton, Darren Bell