BWW Review: THE JUNGLE BOOK, Richmond Theatre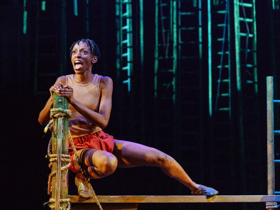 For many people, their first introduction to The Jungle Book is the Disney film of the same name. This new adaptation from Olivier award winner Jessica Swale deserves the effort of disassociation, as it rewards in numerous ways. Swale has adapted Rudyard Kipling's beloved story of the boy Mowgli being raised by wolves in the jungle into a modern, relevant and hugely entertaining show.
Shaking off any uncomfortable suggestions of inherent racism of the book and Disney film, Swale's adaptation is all about inclusivity and how everyone can get along despite their differences. There are some interesting explorations into identity, diverse modern families, gender politics and belonging.
After his father is killed by Shere Khan, a pack of wolves want to raise his 'man cub' as their own. To adhere to the rules of the jungle, a gallumping Welsh bear and a smooth talking panther decide to adopt Mowgli, a boy who is reluctant to give up his cub identity as he realises that the jungle is not his natural home.
Keziah Joseph is a brilliant choice as Mowgli. She is sparkling on stage and her voice is clear and harmonious. Her star turn comes with Mowgli's solo song about identity, which will stay with audiences long after the show ends. Her tiny frame and short hair makes her a very convincing boy, but she has a great physicality that draws you to the character.
The animal characters all have their own distinct personalities. Dyfrig Morris is charming as the bumbling Balloo and provides a lot of light hearted comedy. The group of wannabe gangster monkeys are particularly funny, with funky dance routines and deliciously disgusting jokes about bodily functions. Deborah Oyelade provides sensible balance as the slinky panther Bagheera, the voice of reason to Balloo's quest for constant fun and games with Mowgli. There's is a nice double act, with a lot of witty banter.
The supporting cast are all very strong, with particular note going to Avita Jay's authoritarian chief wolf Raksha and Rachel Dawson's all-too-short appearance as the glamorous and glittering serpent Kaa.
Much of the story relies on the audience witnessing a strong battle between good and evil. One criticism is that Lloyd Gome's Shere Khan is just not scary enough; his costume of a glittering orange and black striped jumpsuit is more Elvis than evil. His lines show malign intent towards Mowgli, but there is not enough plain nastiness in his character and even Mowgli does not appear to be particularly afraid of him.
This is a production that tries, on every level, not remind the audience of the Disney adaptation. The cast and set are unrecognisable and Joe Stilgoe's excellent songs are both unique and highly engaging. Solo work is strong and clear, but some of the ensemble pieces seem a little quiet.
Director Max Webster demonstrates a repeat of the flair he recently showed with The Lorax at the Old Vic. There is a really nice flow to the production and great use of Peter McKintosh's set as a concrete jungle, with a modern and urban look featuring suspended ladders erected like trees and corrugated iron. Animals chase up, down and around the set, with judicious use of a rotating stage to change angles and convey speed.
This is a clever, bold and highly engaging show, with a lot of relevance for a modern audience; it is charming and captivating in equal measure and appeals to both children and adults alike.
The Jungle Book is at Richmond Theatre until 10 February, then touring
Photo credit: Manuel Harlan