BWW Review: PORGY AND BESS, London Coliseum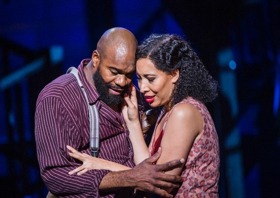 After a disappointing start to the new season with the bizarre Salome, the ENO fights back with a towering production of the Gershwin brothers' Porgy and Bess. After nearly 80 years since its premiere, the folk opera receives its first staging by the ENO as a co-production with the Dutch National Opera and New York's Metropolitan Opera. And boy does it deliver!
Bess is at her lowest when abandoned by her lover. She meets crippled beggar Porgy who shows her great kindness. They fall in love, but the darkness of Bess' past threatens their happiness as they are haunted by her ex-lover Crown and drug dealer Sportin' Life.
Conductor John Wilson also makes his ENO debut with a vivid and passionate interpretation of George Gershwin's beautiful operatic score. He draws out colour and richness of the music at languid pace, reflecting the lazy heat of South Carolina. Nadine Bejamin's rendition of the opening song "Summertime' as Clara is sparkling and fresh as if it had been composed yesterday, rather than in 1935. Benjamin sets the bar very high here and the rest of the production does not disappoint.
In a deeply talented cast of performers, Eric Greene is simply outstanding as Porgy and shows a great range of courage and humility in the role. He has a marvelous stage presence and a rich and velvety baritone; his rendition of "Bess, You Is My Woman Now" is captivating.
Nicole Cabell makes her ENO debut as Bess; a deeply flawed, conflicted and damaged character. She takes a little time to warm up, but grows into the role. Her version of "I Loves You Porgy" is beautifully judged and shows great vocal strength in her clear soprano. Cabell is adept at demonstrating the internal fight against her feelings for Crown, knowing that she should run from him, she cannot help but be drawn to him.
Grammy Award-winning Nmon Ford plays Crown with vicious aggression and terrifying authority. His baritone is smooth and slick and Ford's towering authority over Cabell's Bess is utterly convincing. Frederick Ballantine makes his UK debut as the simultaneously charming and slimy Sportin' Life. He has an ease in his relaxed tenor, with an infectious version of "It Ain't Necessarily So". Latonia Moore is also a powerful force as Serena.
What really shines in this production is the chorus; an ensemble group of highly talented singers gathered from around the world. Tracks such as the beautiful spiritual "Gone, Gone, Gone" are spine-tingling in their execution. Director James Robinson, the Artistic Director of Opera St Louis, creates a visual feast with the residents of Catfish Row; children play hide and seek, women nurse babies and men play dice. It is very natural and creates a feeling of a tight-knit community; mutually supportive and caring.
In this incredibly well executed production, one element that does not work is the fight scenes. When Crown attacks Robbins and later fights with Porgy, the punches are miles apart and the movement is stilted and unconvincing.
These are easy mistakes to forgive in such a rousing and emotional production. The controversy of the perceived racial stereotypes of black people within the story remain. This is, after all, a black folk opera written by white Jewish people. The production maintains the Gershwin family's contractual requirement that all black actors in the cast and the chorus must be performed by black singers. The result of this is a wonderful celebration of fantastic black operatic talent.
This is a deeply moving and wonderfully executed production. It is an inspired choice and deserves to be a rousing success for the ENO.
Porgy and Bess is at the London Coliseum until 17 November
Photo Credit: Tristram Kenton