Aliya Al-Hassan - Page
MOST POPULAR ARTICLES
LAST 30 DAYS
BWW Review: THE REAL INSPECTOR HOUND, Lockdown Theatre on Zoom
Posted: Oct. 26, 2020


BWW Review: MATTHEW BOURNE'S THE RED SHOES, Cinema Screening
Posted: Oct. 1, 2020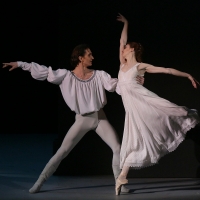 BWW Review: ROMEO AND JULIET, Bolshoi Ballet in Cinemas
Posted: Oct. 9, 2020


The Best Songs From the Musicals to Activate Your Workout
Posted: Oct. 21, 2020


A Day In The Life: Backstage With Make-up Artist and Wig Mistress Liv Burton
Posted: Oct. 28, 2020


LAST 365 DAYS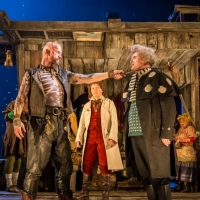 BWW Review: TREASURE ISLAND, National Theatre At Home
Posted: Apr. 17, 2020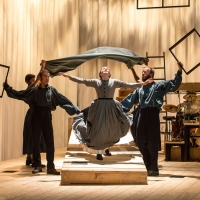 BWW Review: JANE EYRE, National Theatre At Home
Posted: Apr. 10, 2020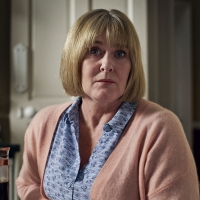 BWW Review: TALKING HEADS: AN ORDINARY WOMAN, BBC iPlayer
Posted: Jun. 23, 2020


BWW Review: FRANKENSTEIN, National Theatre At Home
Posted: May. 1, 2020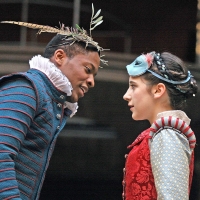 BWW Review: ROMEO & JULIET, Globe Theatre YouTube
Posted: Apr. 21, 2020


BWW Review: MACBETH, Shakespeare's Globe Online
Posted: May. 12, 2020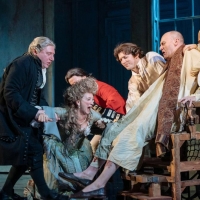 Review: THE MADNESS OF KING GEORGE III, National Theatre At Home
Posted: Jun. 11, 2020


BWW Review: THE LADY OF THE CAMELLIAS, Bolshoi Ballet in Cinemas

October 29, 2020

After a beautifully lyrical version of Romeo and Juliet, Russia's Bolshoi Ballet returns to our cinema screens on November 1 with a highly emotional version of John Neumeier's Lady of the Camellias. Created in 1979 for the Stuttgart Ballet, the Bolshoi has been performing this intensely poignant piece since 2014.
---
A Day In The Life: Backstage With Make-up Artist and Wig Mistress Liv Burton

October 28, 2020

These days, it's more important than ever to recognise the talents of those who work tirelessly behind the scenes to bring shows to life. So, we're highlighting some incredible creatives in our new series!
---
BWW Review: THE REAL INSPECTOR HOUND, Lockdown Theatre on Zoom

October 26, 2020

Sunday evening saw a very different kind of Zoom call. In aid of The Royal Theatrical Fund, Lockdown Theatre presented another excellent performance; Tom Stoppard's The Real Inspector Hound, featuring an absolutely stellar cast who performed the play as a live table read over Zoom.
---
The Best Songs From the Musicals to Activate Your Workout

October 21, 2020

Like many of us, I haven't set foot in my gym since lockdown. As a result, painful pavement pounding has become all-too familiar. As the days get shorter, colder and wetter, my motivation has waned more than a little and listening to my tired playlists is actually stunting my progress rather than enhancing it. Then, a lightbulb moment! A playlist made up of the best tracks from musicals. Surely those tunes that make you want to dance in your theatre seat will work when you are out on the road? I can confirm these beats work-I just wish I had thought of them earlier.
---
BWW Review: ROMEO AND JULIET, Bolshoi Ballet in Cinemas

October 9, 2020

To bring some much-needed distraction into our lives, Russiaa??s iconic Bolshoi Ballet is bringing some of its recent performances to cinemas nationwide. Kicking off with renowned choreographer Alexei Ratmanskya??s intricate version of Shakespearea??s Romeo and Juliet, the series will be followed by The Lady Of The Camellias and The Nutcracker over the next few months.
---
BWW Review: MATTHEW BOURNE'S THE RED SHOES, Cinema Screening

October 1, 2020

What are you prepared to sacrifice for your art? Filmed at Sadlera??s Wells in January, Matthew Bournea??s The Red Shoes asks what a passionate obsession might cost a person. First seen in 2016, this wonderful show was a double Olivier Award winner and perfectly demonstrates Bournea??s deep understanding of and devotion to dance.
---
Book Review: MY WHITE BEST FRIEND (AND LETTERS LEFT UNSAID), Rachel De-Lahay and Milli Bhatia

September 25, 2020

My White Best Friend (And Other Letters Left Unsaid) was originally commissioned by The Bunker Theatre in March 2019 as a festival where letter-writing engages with a range of provocative topics such as racial tension, emotional engagement, unspoken prejudice and underlying social issues.
---
BWW Review: FIDELIO, BBC iPlayer

July 27, 2020

In Beethovena's 250th anniversary year, it seems appropriate for a new version of his only opera, Fidelio, to have been created. However, it begs the question of whether Fidelio is actually a fundamentally a 'good' opera?
---
BWW Review: LA BOHEME, The Luna Drive-in Cinema

July 27, 2020

On a rainy evening in North West London, a rather unique experience took place. Drive-in cinema remains a novelty in the UK; a drive-in cinema screening opera is surely a first. However, in response to the current situation, the Luna Drive-in Cinema has adapted its hugely popular cinema nights to both socially distanced seated screenings and drive-ins. In partnership with The Royal Opera House, it is now screening a variety of opera and ballets throughout the summer at venues across the country.
---
BWW Review: NABUCCO, Marquee TV

July 19, 2020

For anyone lucky enough to have seen a performance at the beautiful Arena di Verona will know that out of the thousands of seats, very few are actually comfortable. Three hours sitting on stone steps with no back support will test the most ardent Verdi fan, but luckily Marquee TV have now debuted an impressive production of his Nabucco on their platform.
---
BWW Review: AMADEUS, National Theatre At Home

July 17, 2020

It seems almost a lifetime ago that the National Theatre made the decision to start streaming shows from their archive to shine a light in the darkness of these times. Beginning with One Man, Two Guv'nors, their screening of the peerless production of Peter Shaffer's Amadeus marks the last of these shows and ends this wonderful series on a triumphant high.
---
5 Shows I'd Most Like To See When Theatre Returns

July 8, 2020

Just 5 shows? Right now I would settle on seeing pretty much anything in a theatre, legs pressed against the seat in front of me and an overpriced beverage in hand. With the Government's recent announcement of a rescue package for the arts, we can see a chink of light in the darkness that has enveloped the industry for so many months. Although we still don't have a date when theatres can reopen, we can dream about what we would like to see when it does, finally, happen...
---
BWW Review: MADAMA BUTTERFLY, Glyndebourne on Marquee TV

July 5, 2020

It took until 2018 for Glyndebourne to stage Puccini's Madama Butterfly after touring with it in 2016. Puccini's luscious score transports the audience to a world full of Japanese cherry blossom where a beautiful young girl pines for the man who has left her. However, it remains deeply problematic.
---
BWW Review: TALKING HEADS: HAND OF GOD, BBC iPlayer

July 2, 2020

A cautionary tale of what goes around, comes around, The Hand of God continues the series of Alan Bennett's wonderful Talking Heads with a story of comeuppance, karma and justice.
---
BWW Review: TALKING HEADS: PLAYING SANDWICHES, BBC iPlayer

June 29, 2020

Playing Sandwiches is certainly one of the darker stories within Alan Bennett's superb Talking Heads series. Written in 1998, this uncomfortable and disturbing piece originally featured David Haig. This update showcases a mesmerising performance by Lucian Msamati as park worker Wilfred Paterson; a seemingly ordinary man, with two very different sides to his character.
---
BWW Review: TALKING HEADS: HER BIG CHANCE, BBC iPlayer

June 29, 2020

Continuing the BBC's revival of Alan Bennett's iconic Talking Heads, Her Big Chance features Jodie Comer as an aspiring actress. Best known for her role in the BBC's Killing Eve, Comer bravely takes on the role originally played by the brilliant Julie Walters, bringing warmth, sympathy and wide-eyed naivety to the part.
---
BWW Review: TALKING HEADS: AN ORDINARY WOMAN, BBC iPlayer

June 23, 2020

As part of Alan Bennett's iconic series of monologues Talking Heads, An Ordinary Woman is one of two brand new creations, written by Bennett for the revival. It shows that Bennett remains unafraid to tackle the most taboo of subjects, found in the most everyday of circumstances.
---
BWW Review: TALKING HEADS: A LADY OF LETTERS, BBC iPlayer

June 23, 2020

Even for those not around for the first TV broadcast in 1988, Alan Bennett's Talking Heads has had a long-lasting resonance. Winning two BAFTAs and an RTS award, the monologues have also been on the school curriculum for many. As monologues, they are much easier to film during these restricted times, but what these new versions prove is that the format still works brilliantly; as a showcase for some superb acting talent and for Bennett's own sharp and darkly witty scripts.
---
BWW Review: SMALL ISLAND, National Theatre At Home

June 18, 2020

It could not have been better timing for the National Theatre to screen Small Island, Andrea Levy's epic and incredible story. This sellout 2019 production was due to return this autumn, but is now screened as part of the National Theatre At Home series. Levy never got to see how her novel translated so powerfully onto the stage as she sadly died just before rehearsals started. Her 2004 book is poignant, moving and warm and the themes of love, racism and prejudice set among the Windrush generation could hardly feel more prescient. Helen Edmundson's adaptation is faithful to these qualities and creates an epic of a production.
---
BWW Review: A MIDSUMMER NIGHT'S DREAM, Shakespeare's Globe At Home

June 16, 2020

There will be no outdoor theatre experiences this summer, but that hasn't stopped Shakespeare's Globe from revisiting one of the stalwarts of the summer season; Shakespeare's A Midsummer Night's Dream. Dominic Dromgoole's 2013 production is a classic Elizabethan romp, full of silliness and fun.
---