BWW Review: In Series Visits DUKE ELLINGTON'S NEIGHBORHOOD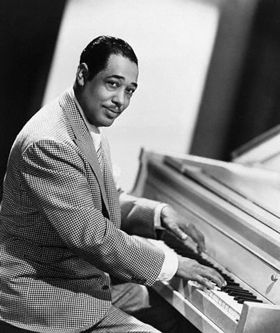 One of my first big assignments after I moved to Washington was tracking all the places that Duke Ellington lived, went to school, worked, hung out and performed with his orchestra in the city. I could walk to most of them.
That's the same kind of pride and hometown enthusiasm the In Series was hoping to whip up with its family musical "Duke Ellington's Neighborhood" that played over the weekend at the GALA Hispanic Theatre in Columbia Heights.
There's no evidence Duke ever played the grand Tivoli Theatre, where GALA has carved out a space in its former balcony. But he sure lived close by. A row house on Sherman Avenue NW was the only property he ever bought in town. Even closer, on Fairmount St. NW, a few blocks away from the theater, is the place Duke took piano lessons.
Mattias Kraemer, who devised the program and is its genial host, was likely as excited about the idea of an international music icon rising from these very streets and through his enthusiasm tries to excite kids about the fact as well.
I would think that having a solid trio play Ellington classics that were sung by people like vocalists Adrienne Ivey and Sylvern Groomes Jr. would be enough to entice young people. The trio of Stanley Thurston, Steve Walker and Ephraim Wolfolk also share the name of an early Ellington aggregation, the Washingtonians.
But for this work, there's a whole lot more explication about Duke than actual music.
It serves as an introduction in part to music itself - what a bassist does, what a drummer can do - even to youngsters who may be learning an instrument.
A little girl at a Saturday matinee seemed surprised that the bass violin of Ephraim Wolfolk was any relation to the violin she used.
But after he showed how it could be an engine for a song (using the Jackson 5's "I Want You Back" as an example), kids were actually invited to come up to the stage and help "play" the instruments for the big finale "It Don't Mean a Thing (If It Ain't Got that Swing)."
Adults aren't off the hook in the crowd participation: they are encouraged to sing and clap along as well as regularly interact with Kreamer.
"Duke Ellington's Neighborhood" may be the only musical about him not to include "Take the A Train," "Satin Doll," "Caravan" or "Mood Indigo." It does have "I Let a Song Go Out of My Heart" and "Do Nothing Till You Hear from Me" as they fit into the narrative, and "Drop Me Off in Harlem" when he moves to New York.
But even though it was used in Betty Boop cartoons, "Minnie the Moocher" would seem an unusual choice for a children's show, given that she associated with a bloke "even though he was cokey."
Also, the music played by Thurston as Kraemer talked about traveling to the Big Apple was "New York, New York," a song written three years after Duke's death in 1974.
It only was an interlude, but in a show this short, you might as well play as much Duke as you can.
Running time: 40 minutes.
Photo credit: Publicity photo of Duke Ellington.
In Series production of "Duke Ellington's Neighborhood" played Dec. 9-10 at GALA Hispanic Theatre, 3333 14th St. NW. More info on In Series online.
Related Articles View More Washington, DC

Stories

Shows