Pianist Idil Biret to Play Cadogan Hall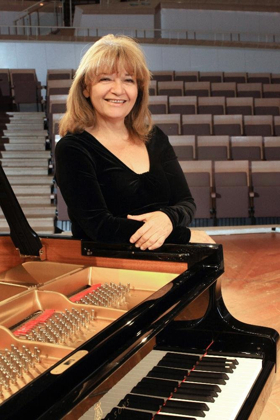 World renowned pianist IDIL BIRET is to perform in London at the Cadogan Hall on May 13th in an evening titled 'Mythical Trips to Romantic Lands' in which she will present favourite works of two giants of the romantic era in music, Schumann and Rachmaninov.
Programme:
Abegg Variations, one of Schumann's most performed pieces
Fantasiestücke, written in 1837 and inspired by the works of Schumann's favourite author ETA Hoffmann
Toccata, which demands breathtaking virtuosity, inviting the listener into Schumann's vivid, magnificent universe.
Variations on a Theme of Corelli, Rachmaninov's final piece for solo piano (1931)
Moments Musicaux, (1896) Rachmaninov's technically and musically most challenging and profound pieces, are rendered as unique paintings in ?dil Biret's interpretation.
IDIL BIRET - May 13th, Cadogan Hall, 5 Sloane Terrace, London SW1X 9DQ
Presented by Piu Entertainment
Since it was founded in 2012, Piu has developed a substantial reputation for presenting theatrical events and live music concerts by world class artists nationally and internationally.
Supported by Yunus Emre Institute
IDIL BIRET - BIOGRAPHY:
?dil Biret has been performing globally since her professional debut at the age of 16 and has sold more than 3 million albums worldwide. The Turkey-born living legend has performed alongside numerous world famous orchestras including the Royal Philharmonic, London Philharmonic Orchestra, London Symphony Orchestra, Boston Symphony, Sydney Symphony, Tokyo Philharmonic, Warsaw Philharmonic and many more. She has collaborated with eminent conductors including Sir Adrian Boult, Sir Charles Mackerras, Hermann Scherchen, Aaron Copland, Hiroyuki Iwaki, Rudolf Kempe, Pierre Monteux and more.
Idil's numerous recordings for all the major labels include the world premiere recording of Liszt's transcriptions of the nine Beethoven Symphonies, complete solo piano works and concertos of Chopin, Brahms, and Rachmaninov. In 2015 she made a live concert recording of the Mozart Concertos, K.450 and K.491 with the London Mozart Players, conducted by John Gibbons, at St John's Smith Square. She holds many international awards; in 2007President Lech Kaczsnky decorated Biret with the highest order of Poland (Krzyzem Kawalerskim Ordera Zaslugi) for her contribution to Polish culture through her recordings and performances of Chopin's music.
?dil Biret has been performing in the UK since her debut in 1960 at the age of 18 when she performed the Mozart Concerto K. 467 with the London Philharmonic Orchestra conducted by Sir Adrian Boult. Her recitals have taken her to London - the Royal Festival Hall, Barbican, QEH, Wigmore - Manchester, Birmingham, Cardiff, Edinburgh with the RPO, LSO, London Mozart Players, BBC Orchestra, and more. After more than twenty five years of recording activity in the continent where she recorded over fifty concertos Biret returned to London in December 2014 and recorded two Mozart Concertos K.415 and K.453 with the London Mozart players conducted by Patrick Gallois. In October 2015 she made a live concert recording of the Mozart Concertos, K. 450 and K. 491 with the London Mozart Players conducted by John Gibbons, at St. John's Smith Square.
Featured This Week on Stage Door
Shoutouts, Classes, and More from Your Favorite Broadway Stars

More Hot Stories For You