Nevill Holt Theatre Shortlisted for 2019 RIBA Stirling Prize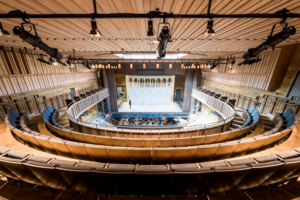 The 400-seat theatre at Nevill Holt, home of Nevill Holt Opera, has been shortlisted for the prestigious 2019 RIBA Stirling Prize - the highest accolade in UK architecture. The RIBA Stirling Prize is judged against a range of criteria including design vision; innovation and originality; capacity to stimulate, engage and delight occupants and visitors; accessibility and sustainability; how fit the building is for its purpose and the level of client satisfaction.
Other buildings shortlisted are: The Macallan Distillery by Rogers Stirk Harbour + Partners, Cork House by Matthew Barnett Howland with Dido Milne and Oliver Wilton, London Bridge Station by Grimshaw, Goldsmith Street housing by Mikhail Riches and Cathy Hawley, and The Weston by Feilden Fowles Architects.
Designed by Stirling Prize winning architects Witherford Watson Mann and theatre designers Sound Space Vision, built by Messenger BCR and supported by the David Ross Foundation, the outstanding space at Nevill Holt was completed last year. The primary objectives of the David Ross Foundation are to support the arts, community, education and music. The new theatre allows all of the foundation's interests to come together and resonate in its superb acoustic. Housed within a 17th century stable block on the Grade I listed Leicestershire estate, the historic character remains a significant part of the theatre's aesthetic; at first hidden from view behind the original stone walls, it is only fully revealed upon entering when its rich material palette is brought to life by a flood of daylight from the large central rooflight.
This permanent theatre has enabled Nevill Holt Opera to grow from strength to strength, showcasing two operas this season. Children, young artists and adults were active participants in either the education programme or community singing workshops. The provision of this theatre also enables Nevill Holt Opera to stage a growing programme of year-round work; this past season has featured 22 events in the new space including chamber music, song recitals and gala concerts.
David Ross comments, Congratulations to Witherford Watson Mann on this nomination for the Stirling Prize. When I met them to share my vision for the space their innovative ideas enthralled me. The David Ross Foundation is delighted to have supported this build. It is committed to the East Midlands area and bringing excellent cultural opportunities to all.
RIBA present Ben Derbyshire notes, The RIBA Stirling Prize shortlist epitomises the enviable global reputation of UK architecture. These six buildings could hardly be more diverse in typology and scale - from a rustic stable block-turned- theatre to a vast national railway station. But what they have in common - ground-breaking innovation, extraordinary creativity and the highest quality materials and detailing - sets them apart, rightfully earning them a chance to win the highest accolade in architecture.
Nevill Holt Opera General Manager Rosenna East says, We are overjoyed that architects Witherford Watson Mann have been shortlisted for this supremely prestigious architecture prize. Great architecture demonstrates a commitment to designing and developing sustainable buildings and spaces for the improvement and enhancement of people's lives - whether now or in generations to come. This design has brought new life to a beautiful historic building, and enabled us to provide uplifting and inspiring quality arts experiences to thousands of people this year alone.
Artistic Director Nicholas Chalmers remarks, Nevill Holt Opera is so proud of its new home and we are delighted that the theatre has been nominated for this prestigious award. The new building has an incredible acoustic, allowing our growing audience to experience opera, with complete clarity, in an exquisite setting. The mixture of building materials, both old and new, support the projection of young voices and have been thrilling our audiences since the opening in 2018. We are so privileged to be able to perform in this award-winning building and incredibly grateful to the David Ross Foundation for investing in a new theatre for the arts in the East Midlands.
Chris Watson of Witherford Watson Mann Architects says, It's been a huge pleasure to make a theatre for the young musicians and actors of Nevill Holt Opera, for the thirty-four academy schools in their education network, and for the opera festival's public. Our design builds on the ideas of transformation that we've developed over a decade and a half of projects, and brings to fruition many years of thinking about performance space. It's the result of a very close collaboration with the artistic and technical team at Nevill Holt, and with a really committed consultant team. It was quite an unusual challenge to work within the rather grand stable yard: we had to judge every addition on its merits, to fit the theatre within the ironstone walls, stone slate roofs and historic doorways. This stable-theatre has a strange in-between quality, half-interior half-exterior - which feels entirely fitting for the imaginative space of opera.
For more information please see www.nevillholtopera.co.uk
Photo Credit: Robert Workman

Related Articles View More UK Regional

Stories

Shows
More Hot Stories For You