COCKTAILS & CANDY CANES To Be Presented December 16 & 17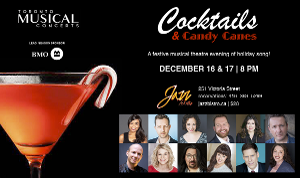 Toronto's hottest professional musical theatre talents kick it up in a festive evening of holiday song! From sacred to scintillating, jazz to gospel - and all musical stylings in between, Cocktails & Candy Canes is an entertaining evening not to be missed!
One part simplicity, one part stylishly chic. Shaken - not stirred!
Cocktails & Candy Canes features Lana Carillo, Gabi Epstein, Ryan Kelly, Lizzie Kurtz, Jeremy Lapalme, Joseph Lévesque, Kevin Morris, Anwyn Musico, Sarah Strange, Chris Tsujiuchi and Christopher Wilson. Accompanied by David Atkinson
COCKTAILS & CANDY CANES

Monday, December 16 | 8:00pm - 10:00pm
Tuesday, December 17 | 8:00pm - 10:00pm

Jazz Bistro - 251 Victoria Street
Tickets: $20
Reservations: 416-363-5299
(highly recommended due to limited seating)
https://www.torontomusicalconcerts.com/concerts
https://jazzbistro.ca/event/christopher-wilsons-cocktails-and-candy-canes/