BWW Previews: Poignant Musical Opens On 30th Anniversary Of Aids Memorial Quilt Creation At Catherine Hickman Theatre
Opening on the 30th anniversary of the NAMES Project's AIDS Memorial Quilt, New Tampa Players presents QUILT: A MUSICAL CELEBRATION on October 11-14. With book by Jim Morgan, Merle Hubbard and John Schak, music by Michael Stockler and lyrics by Jim Morgan, this is the story behind the NAMES Project's AIDS Memorial Quilt and the lives of the people remembered in the panels.
With a cast of 18, QUILT: A MUSICAL CELEBRATION features the talents Michael Bonassar, Coral Furtado, Dianne Geiger, Ralph Higginbotham (2), Leanne Ferguson, Tom Bronson, Tracy Stemm Crews, Erich Krzyzak, Kidany Camilo Nieves, Rachel Higginbotham, Matthew Riegel, Maggie Gamson, Lena Morrisseau, Michele McCarthy, Jay Lear, Andrew Blizzard, Alexis Jones, and Paula Klein.
The "celebration" in the title is a recognition of the many lives and personalities of those memorialized in the quilt. Each panel tells its own story. Director Frank Meekins explained that the show is a rarely done piece and it speaks from the perspectives of the loved ones. Taking the incredible collaborative art project of the memorial quilt to the next level, the musical offers a collection of stories and songs based on actual anecdotes of the friends and family members of people who died of AIDS.
"This is the most emotional project I've worked on," he explained. "There's laughter, tears- there's real life- all of human existence, you'll find it in QUILT."
New Tampa Players' selection of the musical speaks volumes to its goal to be recognized as a theatre that is proud to feature diverse projects for the Tampa Bay theatre community.
During its run, New Tampa Players will be displaying one of the 48,000 panels of the AIDS Memorial Quilt.
The community theatre company tells a story of love, laughter, loss, and most important of all, hope. "This is a celebration of life," said Frank. "This is a significant part of our recent history. Everybody is a person."
QUILT: A MUSICAL CELEBRATION is performed Wednesday, October 11th @ 8:00 PM at Catherine Hickman Theatre, Gulfport; Thursday, October 12th @ 8:00 PM at Stageworks Theatre, Tampa; Friday, October 13th @ 8:00 PM at University Area CDC, Tampa; and Saturday, October 14th @ 8:00 PM at HCC Ybor Studio Theatre, Tampa. Tickets are $15 and available at http://www.newtampaplayers.org/.
| | |
| --- | --- |
| Vote Now for the 2022 BroadwayWorld Tampa Awards | |
| voting ends in | |
A twice-published author, multi-time award-winning playwright, magazine writer, theatre reviewer, and newspaper journalist with 30+ years in journalism and business copywriting, Deb was a 2019 Reci... (read more about this author)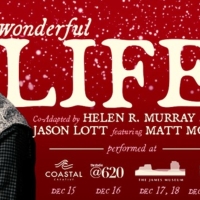 Previews: WONDERFUL LIFE (ONE-MAN SHOW) at American Stage Pop Up

December 6, 2022

While it is not a regular occurrence to add a show mid-season, new producing artistic director Helen Murray wanted to do something fresh for the holidays. She and Jason Lott co-adapted the familiar story. Helen is directing what has been described as 'a stripped-down, raw, and emotional look at George Bailey's life.'
---
Previews: LIGHTS, CAMERA, CHRISTMAS! at Hillsborough High School Theater

December 5, 2022

The audience should expect a tap-dancing spectacular featuring Tampa Bay's premier tap company, Rhythm, and Sole, with the new Youth Tap Crew. Performers will be dancing, singing, and acting in scenes from 'Elf,' 'Polar Express,' and 'The Grinch.'
---
Previews: SANTA'S ZOMBIE APOCALYPSE at Straz' Teco Theatre

November 29, 2022

Twenty-two Patel Conservatory students, ages 10 to 18, perform in this action-packed holiday play, assisted by eight apprentices. The student apprentices design most of the show, from full costumes to the colorful video-game-influenced set.
---
Previews: PLAID TIDINGS at Straz Center

November 21, 2022

In this sequel, a heavenly phone call from Rosemary Clooney inspires The Plaids to return for a posthumous Christmas performance to bring a little harmony to a discordant world. With music from the 50s and 60s combined with traditional holiday standards, this "heaven-sent" holiday confection promises to fill the audience with nostalgia for a bygone era.
---
Previews: THE NIGHT BEFORE at FreeFall Theatre Company

November 21, 2022

The Night Before imagines four friends snowed in Florida on December 23. They make the best of an odd weather situation, gathering around the piano for a night of fun, music, and games, accompanied by a surly house cat named Stephen Sondheim.
---