BWW Previews: EVAN TYRONE MARTIN SHOWCASES NAT KING COLE THROUGH MUSIC AND STORIES AT The Straz Center For The Performing Arts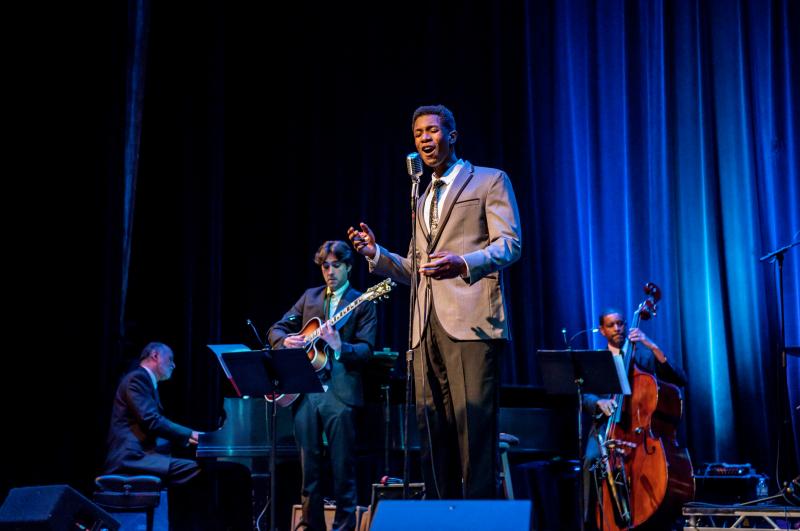 If a time machine could transport Chicago crooner Evan Tyrone Martin back to the decades where Nat King Cole, hailed as one of the best and most influential vocalists, pianists and small-group leaders of the swing era, was brilliantly entertaining audiences, the question he would ask the American legend is simple.
Am I doing this right?
That question - about honoring his legacy and hoping that he would be proud of his show - says a lot about the man with the velvety vocal style who will be taking on the iconic role to tell Nat King Cole's story through anecdote and beloved songs.
Audiences at the Straz Center for the Performing Arts will have the opportunity to see for themselves on December 13-16. Produced by Artists Lounge Live, a dynamic concert series featuring popular music of yesterday performed by today's artists, Evan stars in the cabaret show, "An Unforgettable Nat King Cole Christmas." During this holiday event, Evan relates Nat's personal journey, while performing hits that include "Smile," "L-O-V-E," "Mona Lisa," "The Christmas Song," and "All I Want For Christmas Is My Two Front Teeth," as well as the regular staples of holidays.
Coming from a family of singers, Evan participated in the arts program in his school and was encouraged to get involved in an activity. He chose theater.
Described as a "smooth earnest crooner," Evan says its hard to define a particular genre of music that would describe his style. Though he has a "jazz voice" for performing his Christmas show, he grew up singing gospel, studied classical music in school and performs in musical theater.
Evan says that Nat isn't just for parents and grandparents, but for young people who may not even realize that they've listened to his music.
"I would say that they probably have heard more of his songs than they realize because certain songs like 'The Christmas Song,' 'Smile,' 'Straighten Up and Fly Right' that so many people have covered are Nat King Cole's songs."
Evan said when young people attend the show as guests of their parents or grandparents, they are pleasantly surprised that they recognize the music, never realizing the music originated with the famous vocalist.
"There are also those younger people who have the same story as me, whose family just really enjoys Nat King Cole and they grew up listening to him. Many people have passed this music down to their children, especially during the Christmas season."
Evan's grandmother, a singer, introduced him to Nat King Cole.
"He was one of her favorite singers. His music was something I was introduced to at a fairly early age."
He hopes that the audience at "An Unforgettable Nat King Cole Christmas" will sit back and enjoy learning about the legend's life, a little about Evan, and relish a concert of great music.
"I'm just a dude at a mic. I try to make it as entertaining as possible, but his music speaks for itself," said Evan. "What I enjoy most is seeing those small moments, watching the audience get transported to a different place - this music literally takes them to a different place. That's the special part for me. I would really enjoy for people to feel a sense of nostalgia. It's not about how great I was, how the band was. In my mind, our job, if we're doing it right, is to make sure these people experience the same feelings had Nat been able to give a concert today. I really want people to experience at Nat concert without me doing an imitation. Seeing how the music takes people places - I really want that to be part of the conversation after the show."
"An Unforgettable Nat King Cole Christmas" is in Jaeb Theater at The Straz Center on December 13-16. Tickets may be purchased by calling 813.229.7827, the Straz Center Ticket Sales Office or online at www.strazcenter.org. To learn more about Evan Tyrone Martin, visit https://www.evantyronemartin.com/ or follow on Facebook at https://www.facebook.com/3vanMart1n or Instagram at https://www.instagram.com/3vanmart1n.