AUFTAKT Comes to Theater St.Gallen
The performance is set for 22 September.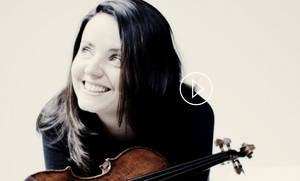 Sie spielt mit Orchestern von Weltrang und ist eine unserer lang herbeigewünschten Solistinnen: Die lettische Geigerin Baiba Skride interpretiert im ersten Tonhallekonzert der Saison das lichtdurchflutete Violinkonzert von Jean Sibelius, eines der grossen, ungemein beliebten Solokonzerte für Violine.
Während es von der Suche seines finnischen Schöpfers nach Ruhe und Einsamkeit zeugt, schlägt die 5. Sinfonie von Sergei Prokofjew, die das Sinfonieorchester St.Gallen unter der Leitung von Chefdirigent Modestas Pitrenas im zweiten Konzertteil zur Aufführung bringt, einen ganz anderen, imposanten Ton an. Die Sinfonie ist trotz ihrer Mächtigkeit eine der zugänglichsten und heute bekanntesten Sinfonien des russischen Komponisten. Das im Januar 1945 in Moskau noch während des Krieges uraufgeführte Werk - ein Parforcestück der sinfonischen Literatur - kennt neben kolossalen Höhepunkten auch zarte und tänzerische Momente.