BWW Review: European Premiere of SOMETHING ROTTEN at Wermland Opera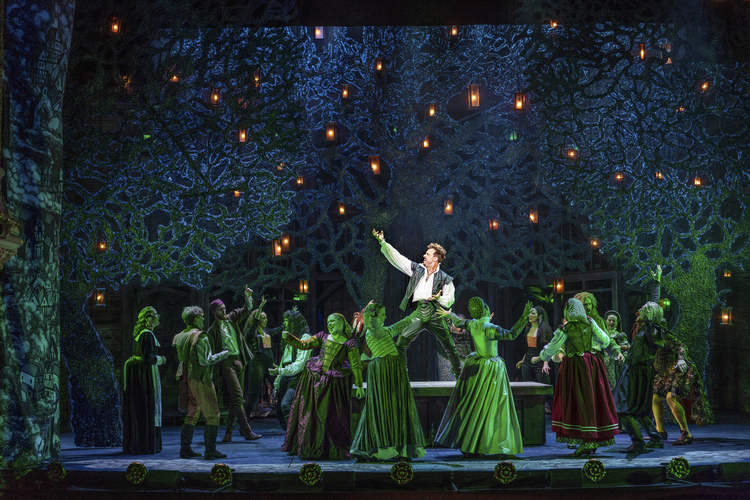 European prermiere of Something Rotten 8 of November 2018 at the Wermland Opera, Karlstad, Sweden
Something rotten! is a quite new musical that premiered at the St James Theater in New York on April 22, 2015 and tonight, 3.5 years later it is time for the European Premier at the Opera House, Wermland Operan, in Karlstad, Sweden. The opera house was built 1893 by the architect Axel Anderberg who also is the architect of the Royal Opera House in Stockholm. The opera house in Karlstad is a very beautiful opera house which takes 397 spectators. It is well worth seeing the house and it's interior.
In the afternoon we were invited to a small introduction with director Markus Virta. He spoke about the creative process, and the added comic qualities the look for in the artist during the casting process for a comical musical. It is more challenging to find artist who both are good musical artists and having the special comical timing which is essential. As Something Rotten has a lot of references both to Shakespeares work and various musicals they expect the audience to laugh at different jokes each night depending on how experience the audience is in this area.
The plot in Something rotten! is set around 1590's when William Shakespeare is the big star, everything he writes is a huge success. He is the equivalent to a rock star and in the musical he is dressed like a proper rock star in leather pants and everything. Patrik Martinsson is absolutely perfect as this rock'n roll version of Shakespeare. His voice and persona is really rock'n roll for example when he sings "Will Power" in the first act. In the same town where Shakespeare lives there are two less successful brothers. Nick (Christer Nerfont) and Nigel Bottom (Tord Hansson) struggles with their writing. Nick becomes increasingly desperate and eventually he takes all his savings and asks a seeker, Nostradamus (Tobias Lundqvist) for help. And the answer is "Musical". In 1590 no one had never heard of musicals, how crazy isn't it to let the actors burst out in song and then start dancing? The song "A Musical" is absolutely wonderful. So many lovely references to a lot of musicals, tap dancing and all you could wish for in a musical and it is so much fun. Tobias Lundqvist's way of describing how to build a musical has perfect comic timing. Despite how crazy it sounds Nick and Nigel starts to write their musical Omelet based on Nostradamus prediction that the next big story by Shakespeare will be about a Danish prince eating omelets. The number "Make an omelet" in act two is probably among the craziest things I´ve seen in a musical but so wonderful and fun. But it's quite crazy that tap dancing eggs can be entertaining! And how can anyone come up with an idea of ??making a suit with a frying pan with an omelet in a shape of a boat with a skirt of candelabras on and the person wearing it has a smeared egg over half the face? The costumes of Nigel Hook (who also made the scenography) are amazing, a mixture of very beautiful and some completely crazy.
But a story in Shakespeare's era must also have a love story. Nigel falls in love with Portia (Jenny Holmgren), whose father is a Papist Priest and believes that theater is one of the greatest sins. Nick has his wife Bea (Cecilie Nerfont Thorgersen) who is tired of the fact that there is no money and starts working for herself, but at that time most men were working. However, she sees that in the 17th century, at least women and men should be completely equal.
The translation of the lyrcis of Karey and Wayne Kirkpatrick and script of Karey Kirkpatrick and John O'Farrell are translated very well by Calle Norlén. He has also added some extra Swedish and local touch to it. It's a crazy, funny, and loving tribute to the musical. There are so many wonderful references to different musicals throughout the musical so one must really be alert in order to pick up all of them. Sometimes you do not know if it should be a reference to a musical or not like when the light in the song Will Power is very green which makes me think of Wicked immediately. Is it just what I think or have I thought the same as the thing as the creative team?
Christer Nerfont and Cecilie Nerfont Thorgersen are household names at the Wermland Opera and have had the lead roles in musicals such as Les Miserable and Elisabeth, where actually Patrik Martinsson also participated. They act and sing brilliantly. In fact, Wermland Opera has once again put together a very strong cast in all the lead roles as well as in the ensemble and it works very well with the comic timing. It is not a musical where I laugh out loud, but it is fun in its absurd way and the more you know about musicals the funnier you find it. I found myself sitting with a smile most of the time and enjoying it.
The premiere audience seemed satisfied, laughed and clapped along to the music under the show and standing ovations at the encore.
The last performance scheduled is March 3 2019 and you can purchase tickets here:
https://www.ticketmaster.se/venue/wermland-operas-stora-scen-karlstad-biljetter/vop/572
Photo: @MatsBäcker, Press Wermland Opera

Related Articles View More Sweden

Stories

Shows