BWW TV: Las mejores actuaciones de Carlos Marín
El actor y cantante nos dejó este domingo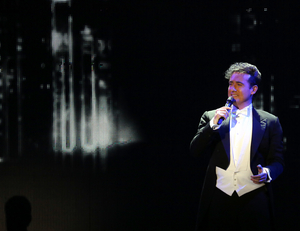 El domingo 19 de diciembre de 2021, el actor y cantante Carlos Marín nos dejó tras luchar contra una grave enfermedad.
Carlos Marín no solo era miembro del grupo musical IL DIVO, sino que a lo largo de los años participó en varias producciones de Teatro Musical en la Gran Vía, ayudando así a forjar la tradición en nuestro país.
En 1992 interpretó a Marius en la primera producción española de LOS MISERABLES en su versión original.
Tres años después participa en EL DILUVIO QUE VIENE como Don Silvestre, que se representó en el Teatro Calderón de Madrid.
Fue en 1997 cuando participa en EL HOMBRE DE LA MANCHA, donde hace de cover de José Sacristán como Cervantes/Quijote.
En 1999 participó en la producción de GREASE de la Gran Vía como Vince Fontaine en el Teatro Lope De Vega.
#MiHistoria como Vince Fontaine en el musical Grease. Estrenado en el Teatro Lope De Vega (Madrid) en febrero de 1999 pic.twitter.com/1o5CYOmbY0

- Carlos Marin (@carlosmarin_) October 9, 2015
Ese mismo año y en el mismo teatro, fue él el primero en interpretar a la Bestia en LA BELLA Y LA BESTIA, producción réplica de la que en aquel momento se representaba en Broadway.
Más allá de su trabajo como actor, el Teatro Musical siempre fue parte de su repertorio, y nos regaló versiones de muchos temas clásicos del género, tanto en solitario como dentro de IL DIVO.
Junto a IL DIVO, Carlos Marín interpretó grandes temas en dúos de lujo como este 'The Music Of The Night' junto a Barbra Streisand.
Carlos Marín nos ha dejado, pero su voz y su talento nos acompañará para siempre.