BWW Review: Revival of KING KONG at The Fugard Theatre as Complex as it is Thrilling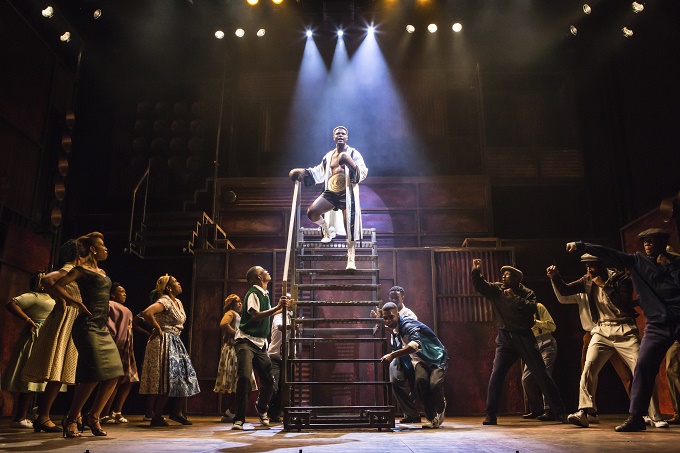 Watching KING KONG, the Fugard Theatre's latest musical theatre production, is as complex an experience as it is a thrilling one. The first revival of a legendary South African jazz opera, as it was called when first performed in 1959, KING KONG is at once a historical document, a contemporary reimagining, a vibrant performance piece and a damning comment on society. As a proliferation of scenes flashes by and the most memorable South African musical theatre score ever written seeps into one's being, it is hard to imagine that one of the earliest ideas for the piece was to tell the story of the famed local boxer, Ezekiel Dlamini, through a series of vignettes linked by a calypso-singing guitarist. Unless one was there at the time, it is impossible to reconcile the original script of the piece with its mythical status in South Africa's theatre canon: KING KONG, as recorded on paper, belies the phenomenon it must have been to witness on stage. But thanks to two creative teams, improbably collaborating over a temporal divide of more than five decades, KING KONG lives on today in a handsomely mounted production that honours the spirit of this legendary South African musical.
Framed as a parable told by Pop to a quartet of testosterone-driven teenage boys, KING KONG begins at the at the height of King Kong's fame. He has gone just about as far as he can go, having won the title fight in the Non-White South African Heavyweight division and positioned, he hopes, on the verge of an international career. He meets Joyce, who runs "the top shebeen in Joburg", and the two fall in love, much to the chagrin of Lucky, a local gangster who sets in motion a plan to bring about the champion's downfall. In true musical theatre style, two secondary love stories unfold in support of the main plot. Pop, a local barber, is hung up on Petal, who herself is hung up on King Kong. Jack, King Kong's manager, and Miriam, a nurse, often banter about getting married, but they have never yet come to an agreement.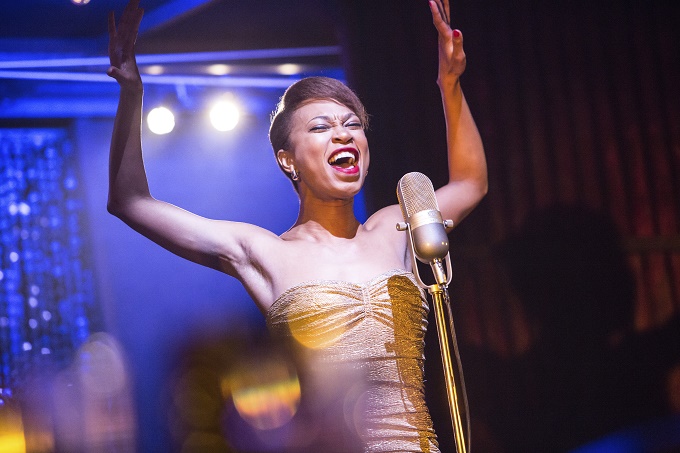 Harry Bloom's book for KING KONG, itself based on a draft by the show's lyricist, Pat Williams, has been handsomely revised by William Nicholson. The production shifts seamlessly between its framework and the action proper in the filmic manner employed by many of the so-called concept musicals. That the framework itself lends meaning to the piece rather than being a gimmick to kick off the action is just one sign of the mastery at work in all levels of this production.
If there is any work still to be done to KING KONG, it is perhaps in its second act, which already has us reeling by the time it comes to the production's magnificent "one-two" combination of final images. With ten minutes sweated off, it would be a complete knockout. Compared to the superbly structured first act, the second act falls into too regular a pattern of one event following the next, and in that bustle of activity, we lose touch with Joyce in the lead-up to the play's climax. The reason she returns to Lucky, a character too sharply delineated in his villainy throughout the musical, remains a device used to set up the scene and somewhat undermines her earlier definitive statement, "I am Joyce."
One major convention employed in KING KONG that brings a compelling sense authenticity to the piece is the easy shifting between the languages spoken and sung on stage. And just as the vernacular shifts, so does Todd Matshikiza's incredible music, arranged for this production by Charl-Johan Lingenfelder. Using motifs from Matshikiza's score, Lingenfelder has also created several additional songs, with lyrics by Nicholson that co-exist seamlessly alongside Williams's lyrics for the original piece. The best of the new pieces are a pair of boxing matches that take place in each act, using the "King Kong" theme to thrilling effect. But while these, as well as numbers like "Mark III Loadstar Flatbed Truck", "Life Goes On" and "The Business of Fear", help to integrate the book and score in a way that is better tailored to contemporary musical theatre practice and the expectations it has created in today's audiences, it is the classic songs one goes home singing. "Back of the Moon" is simply one of the greatest South African songs of all time, and "Quickly in Love" and "The Earth Turns Over" are no less memorable.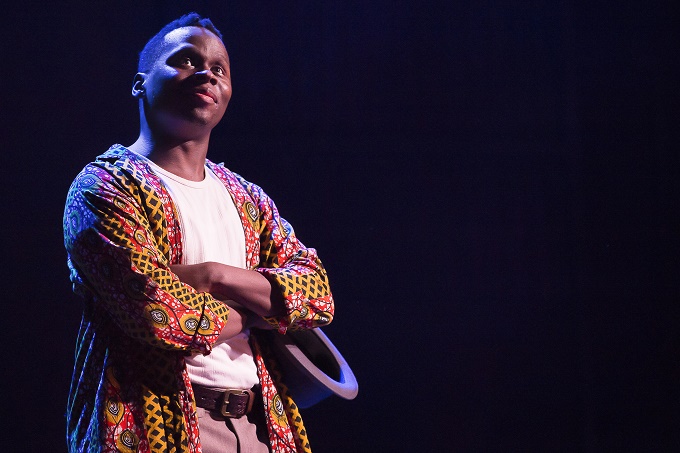 The company of KING KONG brings both the book and score of the musical to life in a breath-taking fashion. As Pop, Sne Dladla holds the piece together as both its narrator and one of its characters. Dladla is an extraordinary actor, capable of conveying deep pathos and playing high comedy. He is one of the greatest musical theatre performers in this country. Playing the man in the ring himself, Andile Gumbi taps into the frenetic energy that gives King Kong his power and brings about his downfall. He handles both the lighter title song and his heavier final number with equal aplomb and depicts well the journey that links them.
Nondumiso Tembe is a revelation as Joyce. She shows a nuanced understanding of how to use both song and movement to define and layer the character, and her delivery of the dialogue communicates a refined sense of the period of the piece, whether she is behind the microphone at her shebeen or reflecting on her life outside its walls in "The Earth Turns Over". She is joined in this number by Lerato Mvelase's Petal and Ntambo Rapatla's Miriam. Mvelase delivers a sympathetic reading of a fangirl so obsessed with King Kong that she is unable to be present in her own life, with Rapatla's independent and spirited performance as Miriam being the perfect contrast to Petal's lack of self-worth. When all three women appear on stage together, it is pure magic.
Rounding out the principal players are Tshamano Sebe as Jack, a performance that captures the romantic and personal conflicts of a character who seems immediately to be an old friend, and Sanda Shandu, who glowers and glares his way through his performance as Lucky, struggling to pitch dramatically one of the most difficult numbers in the score, "Damn Him".
The ensemble is a force of nature. Whether delivering Gregory Maqoma's exquisite choreography or impeccable choral work in pieces like "In the Queue", they are responsible in no small way for the overall success of this production, as is the live 9-piece band, under the direction of Sipumzo Lucwaba. The big, fat, juicy brass playing, the sizzling hot basslines and the mellow respites into cool jazz create a musical lexicon that speaks directly to the soul, with Mark Malherbe's sound design expertly mediating everything between the stage and the house.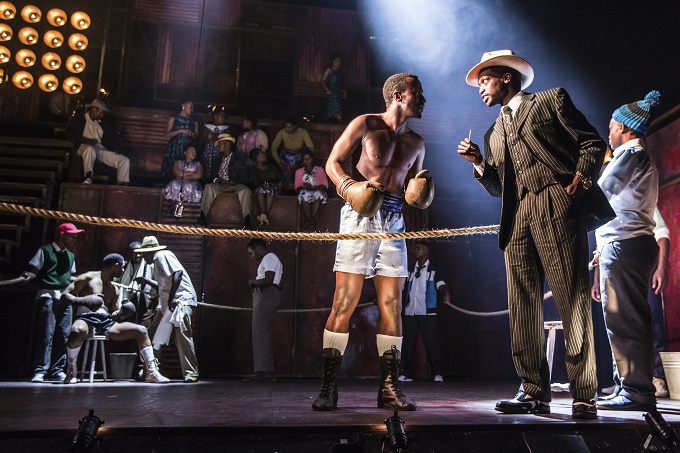 The design team for KING KONG also contributes top-class work to this production. The set design, by Paul Wills, evokes the feeling of Sophiatown as it folds in and out of boxing rings, the shebeen, the streets and a gymnasium, as well as the sense of glamour that boxing holds over its fans. The set's rust palette perfectly offsets Birrie le Roux's colourful array costumes and is an ideal canvas for Tim Mitchell's lighting, which goes far beyond the call of mere visibility or establishing mood to become an integral storytelling element of the piece.
At the helm of the ship is Jonathan Munby, who has worked with associate director Mdu Kweyama to create what might be the best direction South Africa has seen in a non-replica musical theatre production in almost a decade. My only hesitance to offer this opinion as an unequivocal statement lies in the fact that I have not seen every production that has graced the stages of the country, but the direction of KING KONG stands head and shoulders above anything that I have watched in recent memory.
Setting the glorious production values aside, the most remarkable observation that KING KONG enables is how a piece of theatre from a time long gone can show us a deplorable truth about our current situation. We have taken too few steps in our response to violence against women at the hands of men. When it was written almost sixty years ago, KING KONG placed Dlamini at the heart of its narrative, the same way that we more recently prioritised O. J. Simpson and Oscar Pistorius over Nicole Brown Simpson and Reeva Steenkamp respectively in the story of those women's murders. As a society, we have failed to shift this narrative. In Women's Month, there is no better time to be reminded of our part in preventing the death and obliteration of another Brown, another Steenkamp, another Eliza Samudio, another Kazuko Nishiuchi, another Cherica Adams and, of course, another Joyce, as KING KONG has us remember the woman who died at Dlamini's hands. Her real name was Maria Miya.
KING KONG runs at the Fugard Theatre until 2 September on Tuesdays through Saturdays at 20:00 with a 16:00 matinee performance on Saturdays. Tickets range from R130 to R280 and are available through Computicket. The production will then transfer to the Mandela Theatre in Johannesburg from 12 September - 8 October, running Tuesdays through Saturdays at 20:00 with 16:00 matinees on Saturdays and Sundays. Tickets range from R150 to R350 and are available through Webtickets. For further information about KING KONG, visit the production's official website.
Related Articles View More South Africa

Stories

Shows
Born and bred in South Africa, David is an award-winning arts journalist who has loved theatre since the day he set foot on stage in (read more...)