David Fick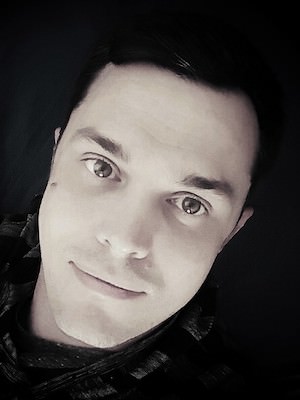 Born and bred in South Africa, David is an award-winning arts journalist who has loved theatre since the day he set foot on stage in his preschool nativity play. He graduated with a Master of Arts (Theatre and Performance) degree from the University of Cape Town in 2005, having previously graduated from the same university with a First Class Honours in Drama in 2002. An ardent essayist, David won the Keswick Prize for Lucidity for his paper "Homosexual Representation in the Broadway Musical: the development of homosexual identities and relationships from PATIENCE to RENT". Currently, he teaches Dramatic Arts at a high school in Cape Town and also freelances as a theatremaker and performer.
MOST POPULAR ARTICLES
LAST 365 DAYS
BWW Interview: Five on Friday with The Fugard Theatre's Greg Karvellas

March 30, 2018

Athol Fugard's THE ROAD TO MECCA is back on stage in South Africa in a major production mounted by The Fugard Theatre. At the helm of this new staging of the classic play is Greg Karvellas, who shared his thoughts on directing this well-loved South African play in this week's edition of 'Five on Friday' for BroadwayWorld South Africa.
---
BWW Review: The Fugard's WEST SIDE STORY at the Artscape Theatre a Musical for the Ages

March 18, 2018

The current season of WEST SIDE STORY - produced by the Fugard Theatre in the Artscape Opera House - is still as grand as it was in 2015, but is even better in 2018 than it was before - an emotional rollercoaster that is second to none. When I look back at the various productions and performances of WEST SIDE STORY that I have seen to date, this is the one I will remember.
---
BWW Interview: Five on Friday with Sarafina Magazine's Candice Bernstein

March 2, 2018

Since establishing Sarafina Magazine in 2016, South African blogger and actress Candice Bernstein has featured over 150 womxn, drawing readers from over 90 countries. She took some time out from preparing for her upcoming Sarafina Magazine: Live event to take part in this week's edition of 'Five on Friday' for BroadwayWorld South Africa.
---
BWW Review: Wit, Sequins and Feathers Fly in THE FABULOUS CERI DUPREE SHOW at Gate69

February 11, 2018

There is something thoroughly fabulous about watching a performer who knows exactly who they are doing what they were born to do. THE FABULOUS CERI DUPREE SHOW offers Capetonian audiences an opportunity to see just such an artist at Gate69, with Ceri Dupree having returned to South Africa for this limited season at the Mother City's Purple Palace on Bree.
---
BWW Review: Impeccable Worldbuilding the Highlight of Standing O's Immersive Theatre Experience IMMORTAL

January 6, 2018

There is something utterly inspiring about IMMORTAL, the theatre experience currently playing two shows a night at the Castle of Good Hope in Cape Town. Billed as the first-ever immersive theatre production of its kind in South Africa, it is exciting to see a new company going out on a limb to offer local audiences an innovative night of performance art.
---
BWW Review: Popular AUNTY MERLE - THE MUSICAL Leaps Forward in Concept, but Falls Back in Its Execution at the Baxter

December 28, 2017

There is a great deal about AUNTY MERLE THE MUSICAL that deserves to be recognised. Most importantly, it is a homegrown musical created largely by people of colour with a significant number of roles for people of colour. It attempts to connect with contemporary South African social dynamics and issues using a medium that not only has wide appeal but which can also give voice to ideas in an often unexpected and effective ways.
---
BWW Review: Rainbow Tour of EVITA at Artscape a Qualified Yes, with a Magnificent Eva in Emma Kingston

December 12, 2017

It is an incredibly fascinating experience watching EVITA in South Africa at this time, particularly given the events that have transpired in Zimbabwe over the last month. This musical will speak to the world for as long as the struggle against colonialism and its legacy of inequality continues.
---
BWW Review: Wildly Entertaining KIDCASINO is All Kinds of Fabulous at the Alexander Upstairs

December 9, 2017

As hilarious as it is unsettling, KIDCASINO is a candid exploration of some of the ideas that have taken hold in contemporary popular culture. Perhaps the reality of what it means to take gamble will come as no surprise to you. No matter, you will still be tickled pink by this show. You can bet on it.
---
BWW Interview: Five on Friday with Joshua Ackerman of IMMORTAL at The Castle of Good Hope

December 8, 2017

IMMORTAL, the first performance of the first immersive theatre experience of its kind in South Africa, took place at The Castle of Good Hope last night, and it is all the brainchild of writer-director Joshua Ackerman. He took some time out to chat to us about the production in this week's Five on Friday.
---
BWW Review: Resourceful Prinsloo Brings Life to Naskrif's Poetic MOEDERTAAL at The Fugard Studio

November 19, 2017

MOEDERTAAL is the latest in a welcome series of Afrikaans theatre productions in The Fugard Theatre's annual line-up, with Naskrif Produksies presenting this poetic meditation on life, love and loss at the popular venue in the Mother City through the beginning of December.
---
Photo Coverage: Let's Hear it For the Rainbow Tour! International Tour of Hal Prince's EVITA Ready for Cape Town!

November 18, 2017

With the first stop in Johannesburg drawing to a close next week, the international tour of EVITA is ready to transfer to Cape Town, where it will play the Artscape Opera House throughout December and into 2018 until 7 January.
---
BWW Interview: Five on Friday with Masali Baduza of NASTY WOMXN at the Alexander Upstairs

October 27, 2017

Cape Town-based actress Masali Baduza is passionately in love with theatre and film. Right now she is working with The Furies, a collective whose focus is creating space and opportunities in the theatre industry for marginalised womxn, on NASTY WOMXN, and she took some time out to chat with us for this week's Five on Friday.
---
BWW Review: Theatrerocket's DIE REUK VAN APPELS is Unforgettable, First Rate South African Theatre at The Fugard Studio

October 22, 2017

In many ways, it comes as something of a surprise that DIE REUK VAN APPELS has not made its way to the stage until now. Theatrerocket's presentation of DIE REUK VAN APPELS is top class South African theatre, not only a reminder of our painful collective past but also a recognition of our current collective pain.
---
BWW Review: Polished SHAKESPEARE IN LOVE at The Fugard Theatre An Artful Posture of The Film That Inspired It

October 21, 2017

'I - will have poetry in my life. And adventure. And love. Love above all,' says Viola de Lesseps, the woman who is destined in SHAKESPEARE IN LOVE to win the titular Bard's heart. 'Not the artful postures of love,' she continues, 'but love that overthrows life.' In this most memorable of quotations lies metaphorically, at least the conundrum of translating the 1998 Oscar-winning film to the stage.
---
BWW Review: Extraordinary Talent Onstage in THE MANY VOICES OF CHRISTINA BIANCO at Gate69

October 16, 2017

An extraordinary talent is currently onstage at Gate69, Cape Town's 'Purple Palace', which continues to deliver on its aim of being a complete sensory experience and South Africa's premiere cabaret theatre. This time, Cathy and her Trolley Dollies present the phenomenal Christina Bianco.
---
BWW Interview: Five on Friday with Gideon Lombard of DIE REUK VAN APPELS at The Fugard Theatre

October 13, 2017

This week's Five on Friday focuses on Gideon Lombard, who performs in DIE REUK VAN APPELS at The Fugard Theatre from next week. Based Mark Behr's 1993 novel, the solo play tells the coming-of-age story of Marnus Erasmus, the eleven-year-old son of a South African Defence Force general during the apartheid era.
---
BWW Interview: Five on Friday with Roxane Hayward of The Fugard Theatre's SHAKESPEARE IN LOVE

October 6, 2017

Roxane Hayward will play the role of Viola de Lesseps in the South African premiere of SHAKESPEARE IN LOVE, which starts performances at The Fugard Theatre next week. She took some time out to talk to BroadwayWorld South Africa in this week's Five on Friday.
---
BackABuddy Campaign Launched to Assist Actor Nhlanhla Mkhwanazi Following Emergency Surgery

September 20, 2017

An appeal to help talented South African actor Nhlanhla Mkhwanazi, who had needed an emergency surgery following this year's National Arts Festival, has been made to assist him and his family while he is on medical leave while he recuperates.
---
South African-Born Actor Adam du Plessis Lands Role in US National Tour of KINKY BOOTS

September 19, 2017

As reported on BroadwayWorld yesterday, the complete cast for the US National Tour of Harvey Fierstein and Cyndi Lauper's smash-hit musical, KINKY BOOTS, has been announced. Featured in the cast in the role of Don is South African-born Adam du Plessis, whom audiences may recall seeing in productions like THE LAST 5 YEARS, THE PHANTOM OF THE OPERA, THE BOYS IN THE PHOTOGRAPH and CATS.
---
BWW Review: Stuart Lightbody Himself is the Most Magical of His UNIQUE WONDERS

August 19, 2017

Stuart Lightbody's UNIQUE WONDERS closes today after a dream season at the Alexander Bar, Theatre and Cafe. The popular Capetonian sleight of hand artist and psychological illusionist's newest show has been a sold-out smash success, with bookings filling up far in advance of the nightly performances.
---