2017 National Arts Festival Honours Winners of Standard Bank Ovation Awards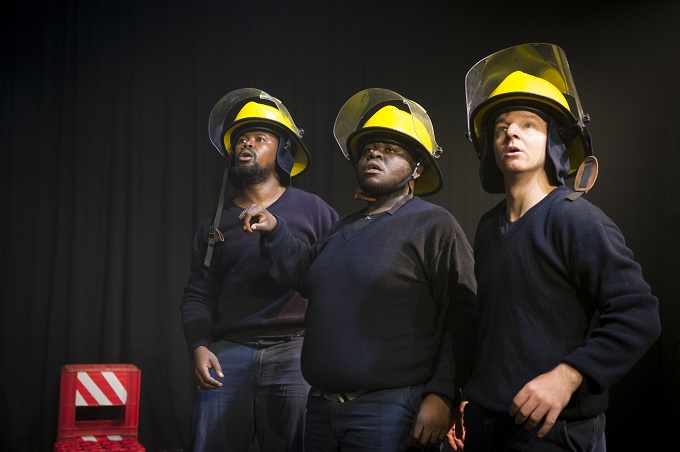 More than two hundred productions premiered on the Fringe at The National Arts Festival this year. With the latest edition of the Festival now complete, the names of the winners of the annual Standard Bank Ovation Awards have been announced.
Theatre works were the only two productions to which the panel, which consisted of Tracey Saunders, who served as its convenor, Jade Bowers, Lara Bye, Motlatji Ditodi, Mhlanguli George, Caryn Green, Mwenya Kabwe, Lliane Loots, Zanele Madiba, Alby Michaels, Jayne Morgan, Nobesuthu Rayi, Sarah Roberson, Warona Seane, Mareli Stolp, Hugo Theart, Simon Tibbs and Lee-Ann van Rooi, awarded Gold Standard Bank Ovation Awards. These productions were HANI: THE LEGACY (The Market Theatre Laboratory) and TAU (One Man and His Dog/The Market Theatre).
Other theatre works that were honoured included Silver Standard Bank Ovation Award winners BAYEPHI (Thembela Madliki), HUMAN PIECES II (The South African Theatre Village), IN(S)KIN (Artscape ) and SILENT SCARS (Calvin Ratladi Foundation/Zabalaza Theatre Festival) as well as AGONY (Thistle Productions ), CATTLE DRIVE (Theatre for Africa), DEAR MR GOVERNMENT, PLEASE MAY I HAVE A MEETING WITH YOU EVEN THOUGH I AM ONLY SIX YEARS OLD? (UJ Arts and Culture), FIRE HOUSE (Hijinks Theatre), FLAMEBOOK (Jo Kinda - Mdali), MOLORA (Tshwane University of Technology ), NIJINSKY'S WAR (Leftfoot Productions), SYRIA? (Artscape), THE DEVIL AND BILLY MARKHAM (Contagious), THE KAFFIRS (Gauteng Department of Sport, Recreation, Arts & Culture ) and WELCOME TO THE ZOO (ZikkaZimba and Hijinks). PJS Entertainment's SPIRITUAL WALK earned an Encore Award.
On the Comedy circuit, a Silver Standard Bank Ovation Award was presented to TATS NKONZO IS PRIVILEGED (ExploSIV Productions). Standard Bank Ovation Awards were also given to 180 PUNCHLINES! (THREE LAUGHS A MINUTE) (Alan Committie), AU REVOIR (Followspot Productions) and STATE FRACTURE (ExploSIV Productions ). The performer of STATE FRACTURE, Daniel Richards, was also awarded a special Standard Bank Ovation Award for Stand Out Performance.
The areas of Dance and Physical Theatre earned one Standard Bank Ovation Award apiece, for DOWN TO A SUNLESS SEA (Wind Up Mind) and DIKAPAPA (Generation of Stars). Additionally, the panel bestowed an Encore Award on MOMENTUM (34/18 Youth Dance Company) and a Merit Award on KUBILI (TWO) (Musa Hlatshwayo/Mhayise Productions).
Standard Bank Ovation Awards for Music productions were presented to ACOUSTIC ME (LoveChild), EKURHULENI JAZZ ENSEMBLE, GUY BUTTERY and SAMTHING SOWETO. In the Classical Music genre, Althea Waites's CELEBRATION: MUSIC OF AMERICAN COMPOSERS earned a Standard Bank Ovation Award, with Emma Farquharson's OPERA FOUND being given an Encore Award.
Encore Awards were also presented to the Storytelling pieces BATTLES! - IIMFAZWE! ((Isikhumbuzo Applied History Unit) and THE SINGING CHAMELEON (Ditshimega Domain).
Two Standing Ovation awards were presented, to musician Steve Newman and Tony Lankester respectively, the latter marking Lankester's ten-year stint as the chief executive officer of the National Arts Festival.
Recipients of the Standard Bank Ovation Awards benefit from the recognition provided by the acknowledgement, with companies or artists often being offered extended tours, international opportunities to perform, increased opportunities for funding and an invitation to submit a proposal for the following year's Arena programme. Artists who win Gold and Silver Awards receive modest monetary incentives.
Now in its forty-third year, the National Arts Festival is the largest and longest-running celebration of the arts on the African content. It is held annually in the small university city of Grahamstown in the Eastern Cape. The programme comprises drama, dance, physical theatre, comedy, opera, music, jazz, visual art exhibitions, film, student theatre, street theatre, lectures, craft fair, workshops, as well as a children's arts festival.
Related Articles View More South Africa

Stories

Shows
More Hot Stories For You