The Lion King - Broadway
The Lion King is one of the most thrilling visual experiences to ever hit Broadway Giraffes strut, birds swoop, gazelles leap - the entire Serengeti comes to life. This is THE LION KING. This adaptation of Disney's iconic film transports you to a dazzling world that explodes with colors, stunning effects and enchanting music.
This is your opportunity to relive the story of Simba and his journey from wide-eyed cub to finally reclaiming his crown as the king of the Pridelands.
The Lion King won six Tony Awards 1998 including Best Musical, Best Choreography (Garth Fagan) and Best Direction of a Musical (Julie Taymor) making Taymor the first woman in theatrical history bestowed with the honor.
Video preview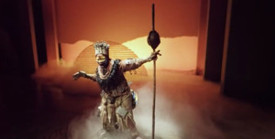 Photo preview
Schedule
Running Time: 2 hours and 30 minutes, with one intermission
Tuesdays: 7:00pm
Wednesdays: 7:00pm
Thursdays: 8:00pm
Fridays: 8:00pm
Saturdays: 2:00pm and 8:00pm
Sundays: 1:00pm and 6:30pm
(New York, NY)
200 W. 45th St.
Seating Chart
Twitter Watch
@TheLionKing
10/12/2021 03:59pm
? It's the circle of life Through despair and hope Through faith and love ? We hope everyone is having a great day ✨
Featured Reviews For The Lion King
The Lion King - Variety
A new generation of cats just took over Broadway. Simply said, Julie Taymor's staging of Disney's "The Lion King" is a marvel, a theatrical achievement unrivaled in its beauty, brains and ingenuity. Leaping far beyond its celluloid inspiration, the stage version improves upon nearly every aspect of the hit 1994 animated film, from visual artistry and storytelling to Lebo M's score and the newly African-ized pop songs of Elton John and Tim Rice. With this production, the Walt Disney Co. stages itself as a serious and ambitious contender on the legit scene, all but demanding that its first theatrical foray, 1994's too-literally adapted "Beauty and the Beast," was little more than a warm-up.
'King' of the Hill - Entertainment Weekly
Yes, The Lion King's pacing drags a bit in the first act, and the show's venue, Disney's opulently refurbished New Amsterdam Theatre on 42nd Street, has a few kinks (you'll miss a lot of the show if you're seated too far to the side). But Taymor's amazing vision overrides any quibbles. The Lion King can make you fall in love with theater no matter what theater it's in.
The Lion King Broadway Cast