School of Rock - 2015 - Broadway
SCHOOL OF ROCK is a brand new musical based on the famous Paramount film written by Mike White which starred Jack Black.
The musical follows Dewey Finn, a failed wannabe rock star who decides to earn a few extra bucks by posing as a substitute teacher at a prestigious prep school. Completely disinterested in academic work, Dewey decides to create his own curriculum, turning his class into a guitar-shredding, bass-slapping, mind-blowing rock band.
The stage musical is produced by Andrew Lloyd Webber who has composed 12 new songs to create a score which also features all the favorite songs from the movie. SCHOOL OF ROCK, with its sensational live kids' rock band, is a loving testimony to the transforming power of music.
May the spirit of rock be with you!
Video preview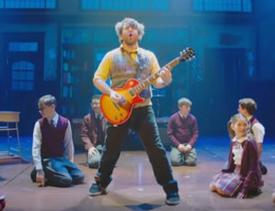 Photo preview
Schedule
Running Time: Two hours and 20 minutes, with one intermission
Featured Reviews For School of Rock
First Nighter: Andrew Lloyd Webber's 'School of Rock' Doesn't Quite Rule - Huffington Post
Oh, yes, musical comedy aficionados, it's the non-voting-age players, including the adorably proficient Isabella Russo as the band manager, who steal this undertaking while the bigger names above and below the title hit wonky notes on their figurative Fender guitars. Now, [Lloyd Webber]'s more likely to be called out for trying to prove he's as contemporary as can be, though his newest melodies and riffs, which he orchestrated, conjure only Broadway-rock of the '70s. If just about all the numbers swiftly begin to sound alike, that's because they are--as is JoAnn M. Hunter's choreography.
'School of Rock': Theater Review - Hollywood Reporter
Led by the hilarious Alex Brightman in a star-making performance that genuflects to Jack Black in the movie while putting his own anarchic stamp on the role of Dewey Finn, the show knows full well that its prime asset is the cast of ridiculously talented kids, ranging in age from nine to 13. They supply a joyous blast of defiant analog vitality in a manufactured digital world... It might sound lame to suggest that School of Rock works in large part because of the charms of a bunch of adorable kids.
School of Rock Broadway Cast