School of Rock - 2015 - Broadway
SCHOOL OF ROCK is a brand new musical based on the famous Paramount film written by Mike White which starred Jack Black.
The musical follows Dewey Finn, a failed wannabe rock star who decides to earn a few extra bucks by posing as a substitute teacher at a prestigious prep school. Completely disinterested in academic work, Dewey decides to create his own curriculum, turning his class into a guitar-shredding, bass-slapping, mind-blowing rock band.
The stage musical is produced by Andrew Lloyd Webber who has composed 12 new songs to create a score which also features all the favorite songs from the movie. SCHOOL OF ROCK, with its sensational live kids' rock band, is a loving testimony to the transforming power of music.
May the spirit of rock be with you!
Video preview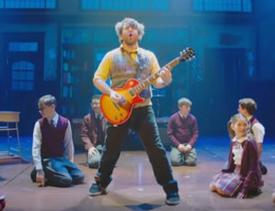 Photo preview
Schedule
Running Time: Two hours and 20 minutes, with one intermission
Featured Reviews For School of Rock
School of Rock - TimeOut NY
It worked for the movie, and wow, does it work on Broadway, a double jolt of adrenaline and sugar to inspire the most helicoptered of tots to play hooky and go shred an ax. For those about to love School of Rock: We salute you. What a relief to see that an unlikely creative team-Downton Abbey creator Julian Fellowes, veteran composer Andrew Lloyd Webber and lyricist Glenn Slater (Leap of Faith)-successfully execute such a smart transfer of film to stage.
Review: 'School of Rock' Teaches the ABCs of Power Chords - New York Times
Me, I melted when two little girls started singing the backup chorus from Lou Reed's "Walk on the Wild Side" (one of many genial nods to classics). All the children are defined as distinct individuals but without excessive shtick. My personal favorite: the petite, poker-faced Evie Dolan as Katie the bass guitarist... Mr. Brightman never makes the mistake of trying to upstage his young co-stars; he gets down with, and brings out the best in, them in a performance as notable for its generosity as its virtuosity.
School of Rock Broadway Cast