Interview: Justin Collette Talks Rocking Out Nightly Leading the Cast of SCHOOL OF ROCK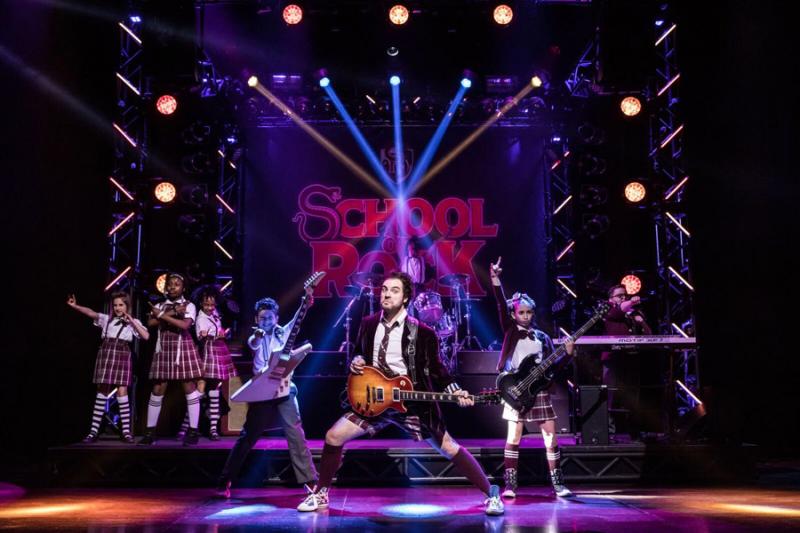 Justin Collette is currently jamming the night away making his Broadway debut leading the School of Rock company as Dewey. Taking on a role as nonstop and electric as this, Collette has plenty to say about the experience including following in the steps of iconic actors Jack Black and Alex Brightman, working with overwhelmingly talented children, and the energy required to keep Dewey alive on stage from start to finish.
---
How did you come to make your Broadway debut in this role?
I auditioned for it, it happened really fast. I was living in Toronto and my agent said there was an audition for School of Rock and asked if I'd be interested. I hadn't seen the movie, but I am a fan of Jack Black, so I watched it and knew this was perfect for me, it'd be such a fun role to do. I got ready and auditioned on a Friday in Toronto, I had a callback on Saturday, they asked me if I could be in New York on Monday, so on Sunday I drove up. I auditioned on Monday and then again on Tuesday and then that was it. I had a five day straight audition process. Then a few months later I came in and covered a vacation for one of the members of the ensemble. When I first started in the show, I played the cop and the drummer and Freddy's dad, covering Merritt David James for a couple months. After that they created the role of alternate for me under Eric Petersen and in September I got this job!It was a huge, quick whirlwind.
Dewey is such a huge, show-carrying role, what's it like having that be your debut?
It's actually been kinda great because you don't really have time to be nervous or to overthink anything. When I came in and was the cop, I thought of about a billion different ways to say two sentences because you want them to be the best two sentences you've ever said. With Dewey it's more like 'I hope I say all my sentences tonight.' It's so much that you don't really have time to be critical with yourself, which I really am. The size of the role and exhaustive nature of it has been a huge gift because I've been able to improve and do the part without having time to really evaluate how I'm doing.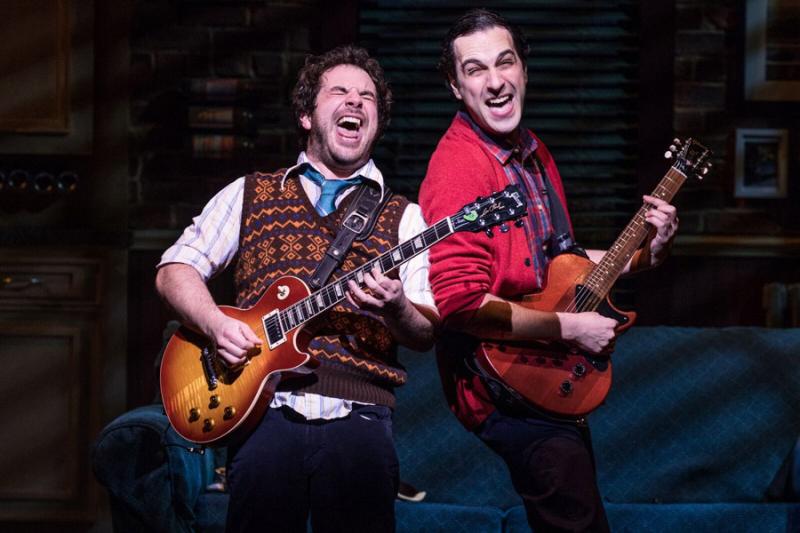 Where do you get all that energy, what do you draw from to bring the character to life like that?
I've always kind of had this battery for shows, I've always loved performing and never been tired for a show, no matter how sick I've been, I can always find a way to make it work onstage. A really close family friend of mine came to see me in my first show and afterwards, when I made my debut as Dewey, she said 'This is the first time I've ever seen you tired after coming offstage.' I have a big battery, but this has been really depleting it. The kids give me so much energy, they don't get tired for whatever very upsetting reason, children can keep up that energy. And they do the show three times more a week than I do, so I'm humiliated if I slow down. I have to pick up the pace.
This is definitely the kind of show where you have to acknowledge that you're about to watch a lot of kids be better than you at everything.
This is great show to hate watch! I'm so happy for them, they're so talented. Here am going to an improv class to try and get better at public speaking while this eight year old rips the Hendricks' solo and has a monologue.
The kids are really great, but I have to give a huge shoutout to our associate directors and our dance captains because they work every day with those kids and especially the ones who play instruments, a lot of them came to us having never acted before. We have a great team of dance captains and associate directors who are here all of the time just really working with these kids to make them the best they can be. They have an incredible amount of patience and expertise and they really know how to get through to them, it makes my job a lot easier.
Do you approach the scenes differently when you're working with kids versus when you're working with Mamie [Parris] or someone like that, do you have a different mindset?
Mamie and I talk a lot about our scenes, obviously on a different level than I do with kids. We'll talk about moments in the show, what moments work and pace and timing, which is really fun. I'm trying to get in that conversation with kids who have been here longer because they're really interested in comedic timing and acting. Almost every show I talk to Madalen Yarborough Mills, the girl in the scene where the kids are all sick and I sit her down and she starts hanging like a rag doll and I also throw my sweat towel at her. We have a moment where she slams the door hard and I improvised 'What the hell are you doing' and every night we talk about those moments and how we can tighten them, what we think works, what we think doesn't.
Some of the kids are really interested in that, having a dialogue about acting and the craft of it. Other kids have different needs. I'm an improviser before I came into this and I think the greatest gift that craft gave me is that everything is an offer, so even if a kid breaks character and starts gearing off, they're still giving you something. They're giving you a real thing as a child that's checked out, so I act with them like that like 'Hey, hey!' I have to get their attention.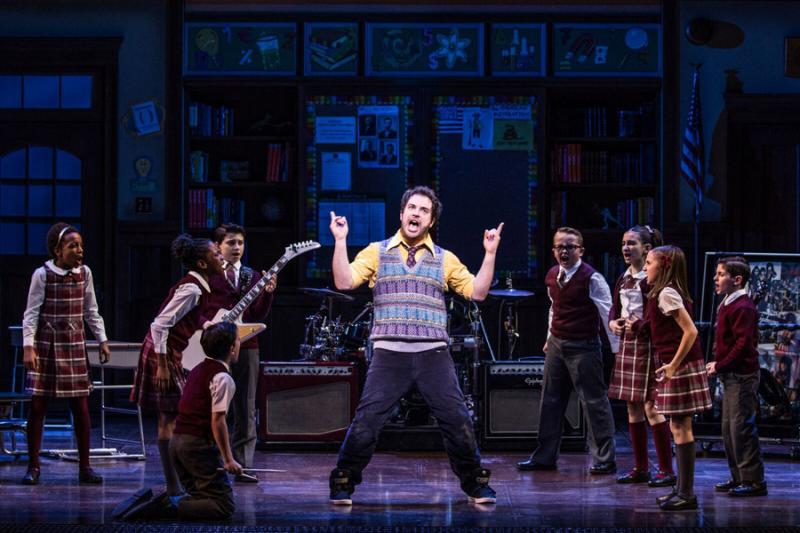 Now you said you only watched the movie for the first time right before you auditioned...
I had somehow missed it! It came out when I was in high school and I was in a band, there was probably a part of me that was like playing Warped Tour music saying 'I'm not going to listen to kids play music,' I didn't want to watch it because of hate I bet. But really it's such a fun story and everybody who comes to the show tells me it's the one movie that's always on TV that they can't help but watch. It's such a feel good story that sucks you right in.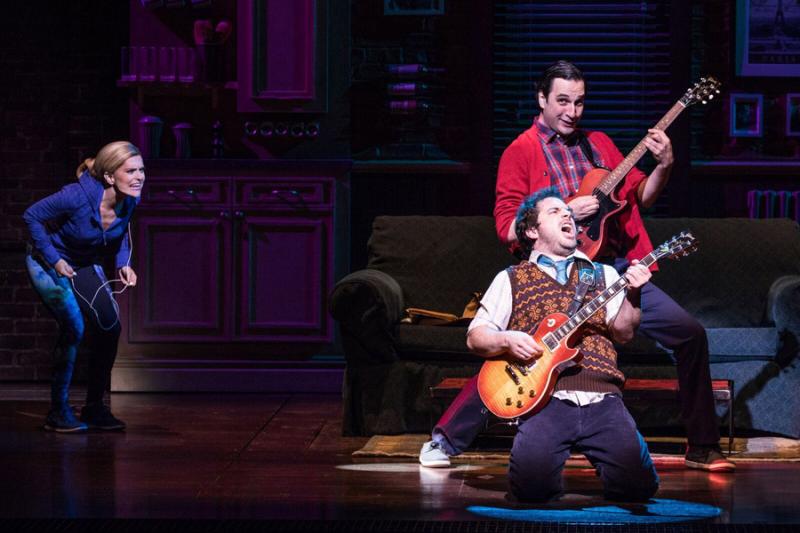 What's it like being in a role people know like that, something that they all identify with. People walk into that show that they think they've seen before, what's it like being part of that?
It hasn't been as challenging as I thought it would be. Not only am I doing Jack Black's role, I'm also kind of doing Alex Brightman's role as well. He was nominated for a Tony for it. Sometimes fans who really want to compliment me after the show will say 'I thought that was Jack Black up there!' It's cool, I can do a kind of okay impression, but I don't think that's what they mean, I think what they mean is 'I had fun.' Most people, I feel, give me the chance to do the role the way I'm doing it. The role was specifically written for Jack, it's not even a role he made famous, so a lot it is just him. It's been great because I have a really solid framework to base the character in, I know exactly who he is and exactly what he's going to do because Jack created such a well rounded and specific person and Alex did such a specific job with creating this role when he did it that I have a great foundation. The script is so good, the character is so tight, so anything I do on top, I feel like I have a lot more freedom to play because I can always go back to a really well established character.
What's next for you, do you have any plans yet?
I'm not exactly sure what I'll do yet, I'll continue to work on my Netflix show I'm on called Cupcake and Dino: General Services, where I play a cupcake and I have a brother who's a dinosaur and we give general services. It's kind of like Spongebob and Animaniacs, in that genre of cartoons. It's really fun, I get to do it with all my friends. A lot of people I worked with for years got hired individually to be part of this project and we have another season coming out in a few months on Netflix and then we're going in to record another season of it soon. I'm going to work on that show for a bit and then figure out what to do next. I talked to Eric Petersen who played this role before me, he was in Escape to Margaritaville, and we were out one night and he came offstage and he was like 'it was so strange to not feel exhausted.' I don't know what I'm going to do next, but it'll probably be easier than this. I definitely need a nap, that's for sure going to happen. I'm probably going to buy a one way ticket to Venice Beach and just sleep on the shore until someone picks me up.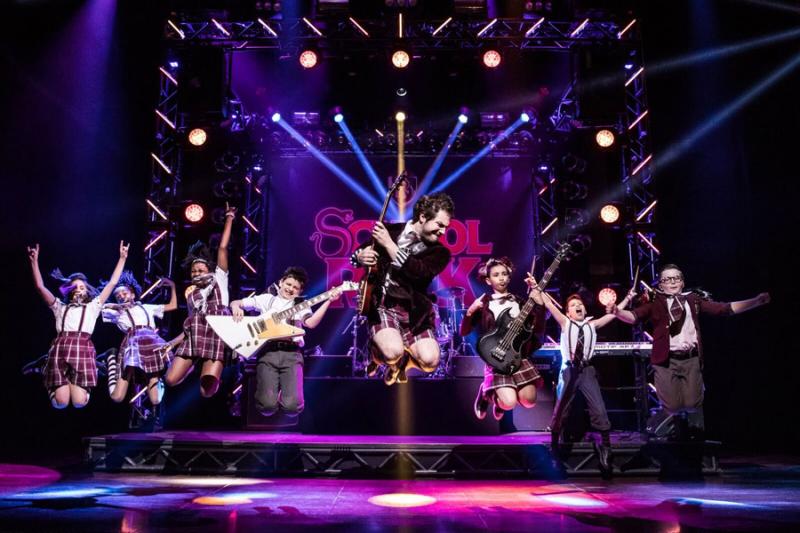 School of Rock will end its landmark run on Broadway on January 20, 2019. Don't miss Justin Collette and the cast as they bring a new twist to rock and roll! Visit School of Rock online for tickets.
Photo Credit: Matthew Murphy