Breaking: Class Dismissed! SCHOOL OF ROCK Will Conclude Broadway Run in January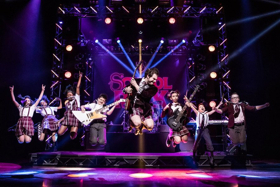 Andrew Lloyd Webber's smash hit School of Rock - The Musical, announced today that the show will play its final Broadway performance at the Winter Garden Theatre on January 20, 2019. By that date, the show will have run for more than 3 years, playing 1,307 performances and 31 previews. The production recouped its entire Broadway investment in May of 2017.
School of Rock - The Musical has become a global phenomenon and will continue to bring its infectious rock and roll spirit to audiences all over the world. The show currently has productions running on London's West End and across the United States on its National Tour - which launched on September 30, 2017 in Rochester, NY. Beginning on October 31, 2018, School of Rock will begin its extended sit-down production at Her Majesty's Theatre in Melbourne, Australia before touring Asia.
On top of that, in an unprecedented move, Andrew Lloyd Webber teamed up with R&H Theatricals, a division of Rodgers & Hammerstein, and granted youth performance groups and schools the rights to perform the production before it even opened on Broadway. As of today, about 1,000 schools have performed School of Rock around the world.
School of Rock - The Musical is based on the smash hit 2003 film of the same, featuring music from the movie, as well as an original score by Andrew Lloyd Webber, lyrics by Glenn Slater, a book by Julian Fellowes and direction byLaurence Connor. The show began previews on November 9, 2015 and opened to rave reviews on Sunday, December 6, 2015 at Broadway's Winter Garden Theatre. Ben Brantley named it a New York Times' 'Critics' Pick'. Entertainment Weekly raved that School of Rock "is an inspiring jolt of energy and mad skillz!" And, in his four-star Critics' Pick review, Time Out's David Cote proclaimed, "School's IN - forever!" School of Rock - The Musical was nominated for four 2016 Tony Awards, including Best Musical, Best Score (Lloyd Webber and Slater), Best Book (Fellowes), and Best Leading Actor in a Musical (Alex Brightman).
School of Rock features choreography by JoAnn M. Hunter, scenic and costume design by Anna Louizos, lighting design by Natasha Katz, sound design by Mick Potter, and music supervision by Ethan Popp.
The aforementioned West End production also garnered rave reviews when it opened on November 14, 2016, going on to break all house records at the Gillian Lynne Theatre (previously held by War Horse). The Daily Telegraph called the musical "the most enjoyable two hours money can buy," and the Daily Mirror considers it "a triumph for Andrew Lloyd Webber as the king of hit musicals." School of Rock was nominated for three 2017 Olivier Awards, including Best New Musical, Best Actor in a Musical (David Fynn) and Outstanding Achievement in Music, which it won.
Based on the hit film, School of Rock - The Musical is a hilarious new musical that follows Dewey Finn, a failed, wannabe rock star who decides to earn a few extra bucks by posing as a substitute teacher at a prestigious prep school. There he turns a class of straight-A students into a guitar-shredding, bass-slapping, mind-blowing rock band. While teaching these pint-sized prodigies what it means to truly rock, Dewey falls for the school's beautiful but uptight headmistress, helping her rediscover the wild child within.
The show has featured an incredible lineup of young musicians since it began, and has even influenced a new generation of young rockers to pick up instruments. Night after night, the kids' band has been wowing audiences with their technical skills and rock star prowess.
School of Rock - The Musical's original kids' band also introduced the world to Brandon Niederauer, who originated the role of "Zack," shredding onstage at the Winter Garden Theatre nightly from November 9, 2015 to July 30, 2017, and is now a world-famous fourteen-year-old guitarist. Niederauer has played with such notable musicians as The Allman Brothers Band, Buddy Guy, Stevie Nicks, Lady Gaga, Slash, Jon Batiste, George Clinton & Parliament Funkadelic, Dr. John, Otis Taylor, Gary Clark Jr., and countless others.
During his time in School of Rock, Niederauer played a cover of Jimi Hendrix's "Voodoo Child" with the other members of the kids' band. He has also paid tribute to Hendrix's legendary rendition of The Star Spangled Banner, played at venues all over the country, including Madison Square Garden, and recently opened the live broadcast of "Jesus Christ Superstar Live in Concert" on NBC on April 1, 2018.
---
Among the Broadway production's many unforgettable moments were visits from Jack Black, Mike White, and the cast of the film School of Rock. The halls of Horace Green have also hosted music legends Slash, Barbra Streisand, Lin Manuel Miranda, Sting, and Rock and Roll Hall of Famer Stevie Nicks, who joined the School of Rock -The Musicalband for a surprise curtain call performance. Nicks led the band in Fleetwood Mac's classic hit "Rhiannon," joined bySchool of Rock cast members Brandon Niederauer, Jersey Sullivan, Evie Dolan, Ethan Khusidman, and Dante Melucci.
Photo Credit: Matthew Murphy