Photo Flash: SCHOOL OF ROCK Celebrates 1000 Performances on Broadway!
Andrew Lloyd Webber's smash hit School of Rock - The Musical, now in its third year on Broadway, announced today that the show celebrates its 1,000th Broadway performance on Saturday, April 28, 2018, with the release of photos from the show's recent alumni reunion at the Winter Garden Theatre. On Sunday, April 22, past School of Rock -The Musical cast members, including original Dewey Finn Alex Brightman, joined current cast members, including current Dewey Finn Justin Collette, on stage to commemorate the show's milestone performance.
Other alumni who attended this special Horace Green homecoming included original cast members Mamie Parris ( "Patty"), Spencer Moses ( "Ned"), Isabella Russo ( "Summer"), Dante Melucci ( "Freddy") Luca Padovan ( "Billy"), and Evie Dolan ("Katie"), as well as Eric Petersen, Becky Gulsvig, Raghav Mehrotra, and many more School of Rock -The Musical rockers past and present, including virtually every actor to ever play the leading role of "Dewey Finn."
The show has featured an incredible lineup of young musicians since it began, and has even influenced a new generation of young rockers to pick up instruments. Night after night, the kids' band has been wowing audiences with their amazing technical skills and rock star prowess.
School of Rock - The Musical's original kids' band also introduced the world to Brandon Niederauer, who originated the role of "Zack," shredding onstage at the Winter Garden Theatre nightly from November 9, 2015-July 30, 2017, and is now a world-famous fourteen-year-old guitarist. Niederauer has played with such notable musicians as The Allman Brothers Band,Buddy Guy, Stevie Nicks, Lady Gaga, Slash, Jon Batiste, George Clinton & Parliament Funkadelic, Dr. John, Otis Taylor, Gary Clark Jr., and countless others.
During his time in School of Rock, Niederauer played a cover of Jimi Hendrix's "Voodoo Child" with the other members of the kids' band. To check out the video, click here. He has also paid tribute to Hendrix's legendary rendition of The Star Spangled Banner, played at venues all over the country, including Madison Square Garden, and recently opened the live broadcast of "Jesus Christ Superstar Live in Concert" on NBC on April 1, 2018.
The show has had many unforgettable moments during its thousand performances on Broadway, including visits from Jack Black, Mike White, and the cast of the film School of Rock, who came to rock out with their Broadway counterparts. The halls of Horace Green have also hosted music legends Slash, Kiss, Barbra Streisand, Lin Manuel Miranda, Sting, and Rock and Roll Hall of Famer Stevie Nicks, who joined the School of Rock -The Musical band for a surprise curtain call performance. Nicks led the band in Fleetwood Mac's classic hit "Rhiannon," joined by School of Rock cast members Brandon Niederauer, Jersey Sullivan, Evie Dolan, Ethan Khusidman, and Dante Melucci.
As it continues to bring its infectious rock and roll spirit to audiences all over the world, School of Rock is bringing the house down daily in London and New York, launched its national tour on September 30th, 2018 in Rochester, New York, and will begin its upcoming sit-down production at Her Majesty's Theatre in Melbourne, Australia beginning October 31, 2018.
The current Broadway cast of School of Rock includes Justin Collette as "Dewey," Analisa Leaming as "Rosalie," Jonathan Gould as "Ned," Lori Eve Marinacci as "Patty," Conner John Gillooly as "Dewey Alternate," Zachary Zwelling as "Zack," Levi Buksbazen as "Freddy," Montgomery Lamb as "Katie," Jim Kaplan as "Lawrence," Ava Briglia as "Summer," John Allyn as "Billy," and Gabrielle Greene as "Tomika." The adult ensemble includes Natalie Charle Ellis, Badia Farha, Alan H. Green, John Arthur Greene, Nehal Joshi, Andrew Kober,Lulu Lloyd, Cassie Okenka, Patrick O'Neill, Diane Phelan, Jesse Swimm, Joel Waggoner, Jonathan Wagner, and J. Michael Zygo. The kids' ensemble includes Michael Cascetta, Katie Greendorfer, Sophia Kekllas, Ellie Kim, Madison Elizabeth Lagares, Colin Lauri, Cory Logan, Madalen Yarbrough Mills, Iggy Rosado, and Sarah Walsh.
Photo Credit: Russ Rowland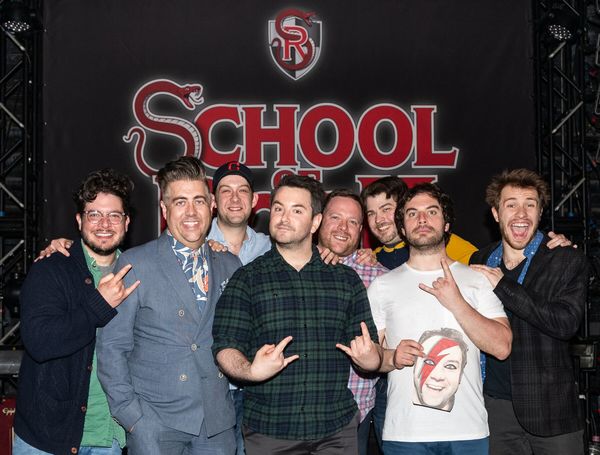 Past and present Dewey Finns of School of Rock â€" The Musical. Left to Right: Will Blum, Eric Petersen, Andrew Kober, Alex Brightman, Michael Hartney, Jonathan Wagner, Justin Collette (holding Merritt David Janes) & Conner Gillooly

The Musical cast members, including Justin Collette and Alex Brightman (front row of second zero) form the number 1,000 on stage at the Winter Garden Theatre