Intiman and BECU Name Angles in Seattle Recipients
Five artists will each receive a $1,000 check.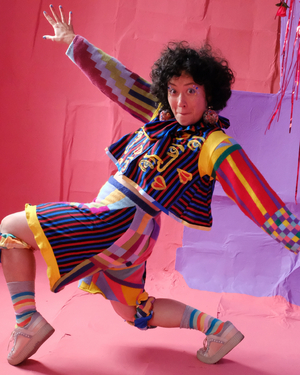 Intiman Theatre and BECU have partnered to create the "Angels in Seattle: Arts Advocate Awards" which will be distributed on the first day of HOMECOMING Performing Arts Festival. Five artists whose steadfast work during the pandemic kept our communities thriving will each receive a $1,000 check sponsored by BECU. One recipient each was selected by Intiman Theatre, LANGSTON, Red Eagle Soaring, BeautyBoiz, and Velocity Dance Center. The focus of the awards is to honor the unsung heroes of the industry: arts administrators, arts educators, and artists working behind the scenes.
The arts community is always stepping in to lend a hand during a crisis, and these five recipients were beacons of hope and resilience for all of Seattle during the COVID-19 pandemic: Alyza DelPan-Monley (selected by Velocity for their work making the dance community more equitable, innovative, and accessible); Ana María Campoy (selected by Intiman for founding WashMasks Mutual Aid, providing PPE and support for migrant and seasonal farm workers); Jess Chrivoli (selected by Red Eagle Soaring for their volunteer work at the Seattle Indigenous Youth Art & Performance Summer Workshop); Michael B. Maine (selected by LANGSTON for his work uplifting underrepresented voices and equipping local artists with a focus on Black and QTPOC artists); and Sefina Vailoa Aulei (selected by BeautyBoiz for her work mentoring queer people with priority to young trans women of color in the House and Ballroom community).
"BECU drives our purpose to improve the financial well-being of our members and their communities from the credit union philosophy of People Helping People," shares Stephen Black, Vice President Brand Strategy at BECU. "To recognize the contributions of these Angels in Seattle is a natural extension of that commitment."
The recipients will be honored at an outdoor award ceremony held on Saturday, September 18th at 6:00pm. A Festival Pass or Single Day ticket for HOMECOMING is required to attend the ceremony. Tickets range from $5-$105. A limited number of FREE FOR EVERYONE tickets will be available at the box office on the day of the festival.
Visit INTIMAN.ORG to learn more about the recipients or to purchase tickets today.