Holidays At The Center Creates A Captivating World Of Child-Sized Delights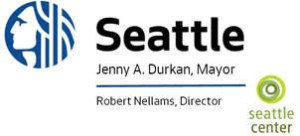 Thanksgiving weekend launches five weeks of delightful and inspiring child-sized activities at Seattle Center. Families will discover fun-filled experiences aplenty, from Holidays of Play at Pacific Science Center to the George Balanchine's The Nutcracker© at Pacific Northwest Ballet. In between, 25,000 outdoor holidays lights will guide their way. A stop at Seattle Center Winterfest reveals free child-created entertainment and family-friendly programming through Jan. 2, 2019, while those in search of the tasty sustenance necessary for optimal indulgence in youthful pursuits will find what they need at Seattle Center Armory eateries.
While Winterfest presents all-ages afternoon entertainment every weekend, and venues across the grounds bustle with live theatre, music and dance through the end of 2018, here are some of the special youth-created and youth-focused activities in the offing at Seattle Center:
Winter Train & Village: This Seattle Center Winterfest mainstay presents an enchanting, miniature turn-of-the-century village and train in a wintertime setting. Nov. 23-Dec. 31, 10 a.m.- 6 p.m., Seattle Center Armory (special hours: Dec. 24 closes at 4 p.m.; Dec. 25 closed). Kids can take a turn controlling the model train: 10:30 a.m.-12noon; 1 p.m.-2:30 p.m. and 3:30 p.m.-5:30 p.m. daily. $2 suggested donation.
Winterfest Ice Rink: Kids can skate, glide and slide into the holiday season. Nov. 23-Jan. 6, 2019. Sunday-Thursday, 11 a.m.-8 p.m.; Fridays and Saturdays, 11 a.m.-10 p.m. (special hours: Dec. 24 closes at 4 p.m.; Dec. 25 closed; Dec. 31 closes at 11:30 p.m.) Fisher Pavilion. Admission/skate rental fees apply.
The Velveteen Rabbit, Seattle Children's Theatre, through Dec. 30.
Festivals of Light, Seattle Children's Museum, various days through Dec. 30.
OUR BIG NEIGHBORHOOD, presented by Northwest Folklife for Winterfest: Northwest Tap Connection, Nov. 23, 11am-12pm; Tioke Nahuake Aztec Dancers, 1pm-2pm; Anzanga Marimba Ensemble, 3pm-4pm, Armory.
George Balanchine's The Nutcracker, Nov. 23-Dec. 28, Pacific Northwest Ballet, Marion Oliver McCaw Hall at Seattle Center.
Laser Winter Magic, every day, Nov. 23-Jan. 6, 2019, in the Laser Dome at Pacific Science Center.
Seattle's Coolest Santa, at 500 Feet: Weekends, Nov. 23-Dec. 24, The Loupe at the Space Needle.
Candy Canes at the Community Hot Shop, Nov. 25-Dec. 24, Chihuly Garden and Glass.
Xmas Maximus, Nov. 25, 12:30pm-1:30pm (Winterfest, free), Armory.
Hot Dog USA, Nov. 25, 2pm-3pm (Winterfest, free), Armory.
Winterfest Ice Sculpting: Masters of the ice carving world Janson Iwakami and Chan Kitburi create seasonal ice sculptures (alternating weeks) for the public to watched. Saturdays, Nov. 24; Dec. 1, 8, 15, 22 and 29, 12 noon-2 p.m., Outside Fisher Pavilion.
Filipino Youth Activities Drill Team: Nationally-acclaimed drill team brings its sharp lines and winning spirit to Winterfest. Nov. 25, 11 a.m.-12 noon, Armory.
Winterfest Student Showcases: over 4,700 youth travel from schools and communities across the region perform in 125 music and dance showcases. Nov. 26-Dec. 19, various times, Armory Mainstage.
PTSA Reflections: Student artwork centered on the theme: Heroes Around Me. Nov. 30-Jan 6, 2019, 9 a.m.-7 p.m., on the Armory Balcony.
KlezKidz: A motley crew of klezmer musicians offers world Jewish music and mirth. Dec. 2, 12:30 p.m.-1:30 p.m.
CookieFest 2018: Benefitting Seattle Milk Fund, Dec. 8, Armory.
Seattle Girls' Choir: Seasonal favorites sung by Seattle's premier girls' choir. Dec. 8, 12:30 p.m.-1:30 p.m.
Northwest Boys Choir: Young singers from Seattle's acclaimed regional boys' choir perform seasonal classics. Dec. 8, 2 p.m.-3 p.m.
SANCA Cirrus Circus: SANCA Youth Company creates and performs original acts in aerial arts, juggling, tightwire, clowning, unicycle and acrobatics. Dec. 9, 12:30 p.m.-1:30 p.m.
Grand Opening of the Seattle Opera Center: Dec. 15, 2pm-5pm, free, Seattle Opera at the Center.
Center Ice Spectacle: With ice sculpturing, music, fire performance and photo opps. Dec. 16, 12 noon-6pm (Winterfest, free) Outside Fisher Pavilion and South Fountain Lawn.
The Not-It's: Dec. 27, 12:30pm-1:30pm (Winterfest, free), Armory.
Garfield Jazz Band: Nationally renowned Garfield Jazz Band performs a heartfelt holiday concert. Dec. 15, 12:30 p.m.-1:30 p.m.
The Not-It's: Music to listen to under the supervision of children. Dec. 27, 12:30 p.m.-1:30 p.m.
Seattle Center invites families young and old to experience Holidays at the Center, a host of spirited programming for anyone in search of entertaining and enriching activities during this festive time of year. For more information, visit www.seattecenter.com or call 206 684-7200.
About Seattle Center Winterfest 2018
Connect to the sights, sounds and spirit of the season at Seattle Center Winterfest, Nov. 23-Dec. 31. Visit the festive Seattle Center Armory, displaying its winter finest, and explore the olden Winter Train & Village. The Winterfest Ice Rink returns, along with ice sculpting, Student Showcases, live weekend entertainment and more. Seattle Center Winterfest is sponsored by Coca-Cola, Alaska Airlines, T-Mobile, Lyft, Seattle Center Foundation, Seattle Center Monorail and City of Seattle.
More Hot Stories For You