BWW Review: Seattle Rep's WELL Hilariously Deconstructs One-Woman Shows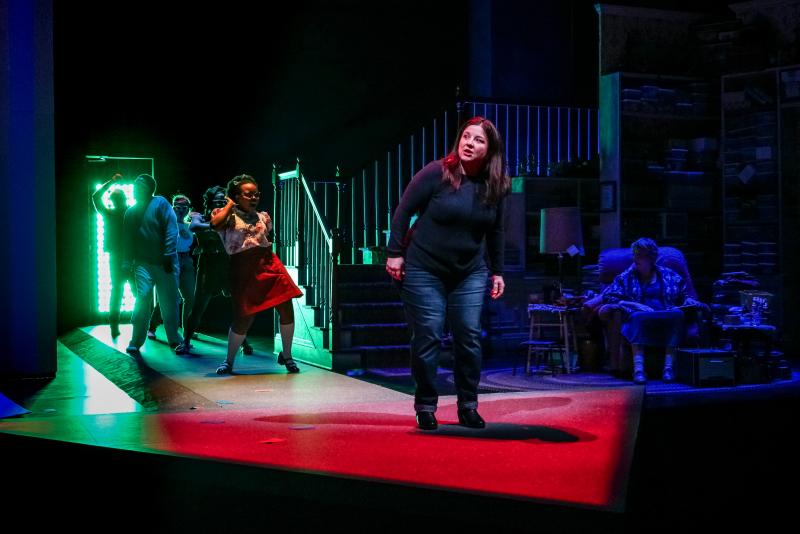 Author Lisa Kron is known for her one-woman shows. I am known for having issues with one-person shows, as they tend to be someone else's therapy on stage. Luckily Kron also understands that issue as she very self referentially mocks those kinds of shows in her play "Well", currently at the Seattle Rep, as she deconstructs shows like this and really all shows with her hilarious exploration that has "nothing to do with her relationship with her Mother!"
In "Well" there is no such thing as a fourth wall as the character of the author Lisa Kron (played by Sarah Rudinoff) and the character of her Mother Ann (Played by Barbara Dirickson) as well as the other actors in the show (played by Reginald Andre Jackson, Adrian LaTourelle, Chantal DeGroat, and Liz McCarthy) consistently talk to the audience and break out of the scenes they may be portraying. Lisa explains that we're going to be exploring the condition of wellness in both the physical and cultural as we use her and her Mother's experiences with debilitating allergies as well as their experiences with the integration of their community as a backdrop. But she insists the play is not about her and her Mother and there will be no big confrontation between the two of them healing any rifts within the play. But the play keeps getting away from her, largely due to interruptions from her Mother but also input from the other actors as well as the incarnation of her childhood nemesis Lori Jones (played by the hysterically sassy Emma Blessing) who keeps showing up to torment her.
This deconstruction of the archetype in conjunction with Kron's quite honest and natural writing style brings the show past it's potential pitfalls of self-indulgence and offers up a fascinating look at Kron's own life and issues along with the societal issues of race and wellness. And all this chaos and leaping in an out of the "play" could be jarring if it were not for the wonderful pace and staging supplied by director Braden Abraham.
The cast is superb with an ensemble that has no issues with going from characters in a scene to disgruntled actors in a play at the drop of a hat and each and every one deserves kudos. But Rudinoff and Dirickson, who not only have a very natural chemistry together but also play the Mother/Daughter dynamic beautifully, steal the show. Rudinoff is her usual powerhouse of a performer owning the stage from the instant she sets foot on it. And Dirickson could not be more adorably sweet as her invalid Mother making it easy for the rest of the cast and the audience to fall in love with her.
The show is a quick one act of a romp but filled with meaning they slip into our brains in between moments of hilarity. And so with my three letter rating system I give the Seattle Rep's production of "Well" a resounding YAY. Someone working out his or her own demons on stage can be painful. That is unless the author realizes how painful that can be and blows away the convention as Kron does here with glee.
"Well" performs at the Seattle Rep through March 5th. For tickets or information contact the Seattle Rep box office at 206-443-2222 or visit them online at www.seattlerep.org.
Born and raised in Seattle, WA, Jay has been a theater geek for years. He attends as many shows as he can around the country (read more...)