BWW Review: ACT's Near Perfect ROMEO + JULIET is the One We've Been Waiting For
Over the years, Dear Readers, I've seen many productions of Shakespeare's oft-produced tragedy "Romeo + Juliet". So many productions from so many levels of professionalism with so many different takes on how to tell the story. And to be honest, only one of them even came close to bringing the story of the star-crossed lovers to life. That is until now. ACT's current production with its vibrant staging and top-notch cast incorporating Deaf and hearing actors using American Sign Language in conjunction with the Shakespearean text has created a new standard by which all other R+J's must be judged from here on.
It's still the same story we know. Romeo (Deaf actor Joshua M. Castille) has fallen for Juliet (Gabriella O'Fallon) which would be a wonderful thing except he's a Montague and she a Capulet and their families are mortal enemies. But their love must thrive, so they make plans to secretly marry. However, the fates keep pulling them apart as their families' feud leads to deaths and Romeo is banished and the two heartsick lovers must find a way to be together in life, or in death.
Director John Langs is no stranger to Shakespeare, in fact he's responsible for my favorite Shakespearean production I've ever seen, his Hamlet from a few years back. And now, he's responsible for two of my favorites. His staging in the round is nothing short of genius as the actors utilize mobile fence pieces to indicate walls and locations, often scaling them delivering scenes from atop the structures. And said fences not only served to create one of the most romantic balcony scenes ever but also, with the help of Fight Director Geoffrey Alm, resulted in an absolutely stunning and innovative end to the death of Mercutio. And so much more.
And if all that weren't enough, then there's the ASL aspect. Having a Deaf actor in the lead role of Romeo brings in some communication challenges to the story but it's handled with such grace and even lends itself to heightening the emotion and clarity of the text. As Castille would sign his lines either an actor in the scene with him would translate, often Chip Sherman as Benvolio who brought in a delightful exuberance of their own to the moments, but we'll get to that, or other members of the ensemble would simply appear just off stage as a type of Greek chorus for Romeo taking turns for his lines and bringing an added layer of emotion as only a Greek chorus can. special kudos to Ellie Savidge who's listed as Sign Master and ASL Translator for what I can only assume was the herculean task of prepping the play and all the actors for this endeavor.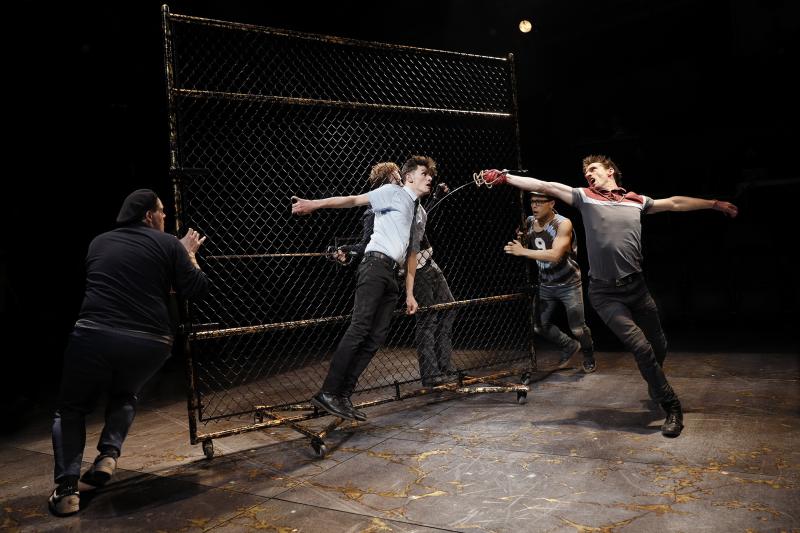 Langs has, once again, assembled an ensemble who is able to convey the Shakespearean text in a way that the intent is crystal clear and not just pretty words the audience must slog through. I don't know if it's his direction or the people he casts but there's always that extra something and here is no exception. Each member of the cast, many taking on double or triple roles, captures that transparency of intention making their characters shine. Darragh Kennan takes on both Mercutio and Montague, two very different roles yet both distinct and alive. And his "Queen Mab" speech was one of the best ever not to mention his death which he, very much in character, took into a realm of comedy. Amy Thone also pulls double duty as the Prince of the region and law of the land, and Juliet's faithful and hilariously loquacious Nurse. Her arc and journey for the nurse could have been a play unto itself it was so spectacular. I already mentioned Sherman with their exuberant translation but I cannot say enough about it. They managed to infuse so much vibrancy and life into the character and signing that you could see the close relationship between Benvolio and Romeo making the characters come alive even more. And beyond all that their performance was simply stunning. Speaking of stunning, Reginald Andre Jackson as Lord Capulet managed to take on some of the most thrown away moments of R+J and turn them into gold. Sure, there's his declaration of disowning Juliet if she disobeys him, which was one of the best moments of the night and the best I've seen (I keep saying that don't I?), but even small moments such as admonishing Tybalt for causing problems at the party, he managed to up the stakes and turn into a moment of glorious tension. Speaking of Tybalt, no one plays crazed like Ryan Higgins. He always brings in that sense of bubbling under the surface danger and here is no exception, making him a joy to watch. And I must mention Deaf actor Howie Seago who played Friar Lawrence along with Lindsay W. Evans as the meek Friar John translating much for him to incredible effect.
But the show is called "Romeo + Juliet" so what about the lovers? Castille is amazing in the role bringing in tons of nuance and heart without speaking much. His depth with the role is astounding as he captures the arc beautifully and the moments where he does let out a phrase or a sound become all the more powerful for their scarcity. O'Fallon manages a wonderful innocence with Juliet keeping her the young girl she is supposed to be. At times she came across as a bit lacking intent and surface acting making me wonder what play she was in. But her chemistry with Castille was palpable and their romantic scenes will make you believe in love again.
As I said, this is one of those near perfect productions. From Skip Mercier's minimal yet perfectly practical set, to Robert Aguilar's haunting lighting design, to Pete Rush's gorgeous costumes, to Robertson Witmer's ebullient sound design, to Langs staging and of course the stellar ensemble, this is a show not to be missed. And so, with my three-letter rating system, I give ACT's production of "Romeo + Juliet" a "the best R+J I've seen" WOW. Do not let this tragic love story pass you by!
"Romeo + Juliet" performs at ACT through March 31st. For tickets or information contact the ACT box office at 206-292-7676 or visit them online at www.acttheatre.org.
Related Articles View More Seattle

Stories

Shows
Born and raised in Seattle, WA, Jay has been a theater geek for years. He attends as many shows as he can around the country (read more...)