Florida Studio Theatre Opens Stage III Series With HOW TO USE A KNIFE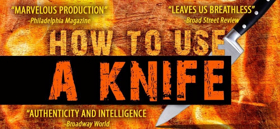 In the chaotic hustle and bustle of a Wall Street restaurant, Chef George gets a fresh start when he takes over this melting pot of a kitchen.
Two rowdy Guatemalan line cooks, a wet-behind-the-ears busboy and a reserved African dishwasher serve up drama nightly. The heat really turns up when the authorities arrive, looking for a wanted man. How to Use a Knife explores both the personal and moral questions that arise when the ugliness of the past boils over.
Set in the heart of a fast-paced New York kitchen, this gritty drama is the first production in Florida Studio Theatre's Stage III Series. A subscription to all three Stage III shows may be purchased for as little as $39. Tickets can be purchased online at www.floridastudiotheatre.org or by calling the Box Office at (941) 366-9000.