BAY MUSIC LIVE! Will Be Performed at The Van Wezel Featuring Jah Movement
Tickets go on sale Friday, May 7 at 10 a.m.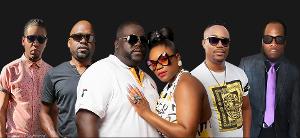 The Van Wezel Performing Arts Hall announces Bay Music Live! On Saturday, June 12, Jah Movement returns to the Van Wezel's lawn and terrace for an outdoor, socially-distanced performance. The event starts at 6:30 p.m. with music at 7 p.m. Lawn spaces and tables will be pre-arranged for social distancing, and guests can enjoy fresh air and a stroll on the Mangrove Bayou Walkway.
Tickets go on sale Friday, May 7 at 10 a.m. Lawn spaces on the grass accommodating up to 4 guests are $70. Guests reserving lawn spaces are encouraged to bring seating or blankets for their respective spaces if they do not want to sit directly on the grass. Spaces will be pre-arranged and marked by Van Wezel staff. Table seating for up to 4 guests is available for $100 per table. "Burgers on the Bay" crafted by Mattison's (hamburgers, cheeseburgers, chicken-burgers and veggie-burgers) as well as pizza options will be available for purchase at the event.
Since its launch in 2015, Jah Movement has kept its audiences dancing with live reggae music featuring its own touch of r&b, soul and funk. Winners of Creative Loafing's 2019, 2018 and 2016 'Best Reggae Band' in the Tampa Bay Area and runner up for the Sarasota Herald-Tribune's 'Best Local Entertainment' for 2016 and 2017, Jah Movement is made up of some of the best musicians in the South West Florida Region.
Tickets can be purchased at www.VanWezel.org, by visiting the box office or by calling the box office at (941) 263-6799. Box office hours are Monday through Friday from 10 a.m. to 4 p.m.
Future updates can be obtained from the Van Wezel's website at www.VanWezel.org.